HeartStrings Supplement: S10P - 6045
(use in conjunction with #S10 Frolicking Shamrocks)
Frolicking Shamrocks Wristlets
An adaptation of the HeartStrings #S10 Frolicking Shamrocks socks pattern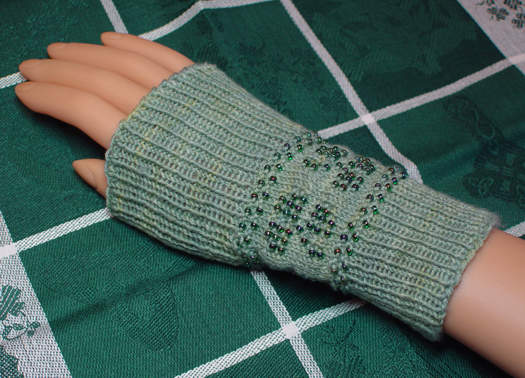 Celebrate more good luck and laughter in the Irish tradition by making wristlets to match your Frolicking Shamrocks socks. Even if you are not a sock knitter, these wristlets are charming to wear on their own.
Please note: For the complete set of instructions to make these wristlets, you will need the #S10 Frolicking Shamrocks pattern in conjunction to this supplemental write-up. Even if you don't have Frolicking Shamrocks socks pattern, this writeup will still give you an idea of how you can make wristlets from any of your other favorite socks patterns.
Sizing
Planned for 6" – 6½" in length, but can easily be made shorter or longer with adjustment in yarn amount. Main beaded area: 7½" finished circumference. These wristlets are ribbed below and above the beaded area for flexibility in fitting a range of hand sizes.
Tools and Supplies
115 – 125 yards of smooth fingering weight yarn.
Your choice of double point needles or circular knitting needles for knitting in the round: Size 1 US / 2.5 mm or size needed to obtain planned gauge. Needles one size larger than those used to obtain gauge.
Gauge: 8 stitches per inch over stockinette stitch.
576 seed beads size 8/0 (approximately 20g).
A small-eyed or collapsing eye needle for stringing the beads (e.g. dental floss threader).
Pattern Instructions (make 2)
In conjunction with the following instructions, refer to Preparation section, Abbreviations and Stitch Pattern (available both written and charted) in the #S10 Frolicking Shamrocks pattern.
String 288 beads.
With smaller size ndls, cast on 60 sts. Join into rnd without twisting.
Work 1¾" – 2" of ribbing as follows: * k1, p1; rep from * to end of rnd.
Knit 1 rnd.
Work the 25 rnds of the 20-stitch multiple version of Frolicking Shamrocks Stitch Pattern.
Knit 1 rnd.
Change to larger size ndls.
Work ribbing as before until 6" – 6½" from cast on edge or to desired length.
Bind off loosely.
Enjoy! Jackie E-S
©2006 Jackie Erickson-Schweitzer
Jackie E-S Design Collections — www.heartstringsfiberarts.com