Tips for Tension Blocking
Make blocking a pleasurable part of the lace knitting process

by Jackie E-S
Whether you call it BLOCKING or DRESSING or FINISHING, here are some tips to make this part of the lace knitting process a pleasurable activity rather than a chore.
When blocking, or "dressing" my knitted lace under tension, I like to use a wet blocking method. I fill a clean container or wash basin with lukewarm water and a small amount of mild detergent, mixing thoroughly. I submerge the knitted article into the water gently and soak for at least 30 minutes. Some fibers, especially silk, take a lot longer than you realize, to really get thoroughly wetted. Then drain and gently press out majority of water. Refill container with water at same temperature and rinse gently. Again press out majority of water. Press the article between two thirsty bath towels (do not rub).
I block under tension by "pinning out" the still-damp lace on a flat surface while gently stretching into shape and opening up the lace pattern nicely (more on "pinning out" below) The damp state allows the fiber to relax and stretch. The degree of tension you want to achieve can be just a little or a lot. Although you want think "handle gently", you really can go to quite an extreme in the degree of tension, as long as you stretch uniformly and not all in one area at a time.
For pinning out, definitely use rustproof pins or wires wherever they will touch the fabric. I use them regardless, just to be safe. Pins can be anything that is strong enough. I prefer T-pins, usually found at craft or wig stores. The pins I've typically seen these days sold as "rustproof" are nickle plated. As long as the coating isn't damaged, they are rustproof. In my area, I haven't recently seen any labeled as stainless steel, but that doesn't mean they aren't out there.
I personally don't use many pins in my tension blocking. Either I use high grade stainless steel welding rods, or a very smooth strong fine silk cording, in conjunction with the pins. The advantage I find in using rods or cording, is that it is easier to make adjustments, and overall for me is quicker than dealing with hundreds of pins.
There are knitting sources for blocking wires, but stainless steel welding rods seem to be the same thing and they work fine for me. You can get them at your local welding supplier and they are very inexpensive. What you are looking for is 3-foot stainless steel welding rods used for tig welding, and not the shorter ones that are coated with a flux that will leave deposits on your yarn/thread. Although welding rods come in various thicknesses, for my lace I use the finest available which is equivalent to about a 3/0 needle. You don't have to have points, but if you have a way to grind smooth points on the ends, I find it easier to weave wires with points through the edge of the knitting. These fine rods are flexible enough to handle gently curved pieces, as well as straight.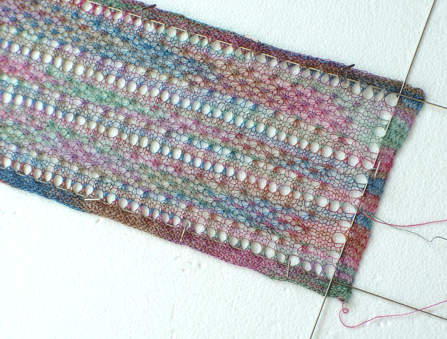 I use the silk cording method as a less frequent alternative. This method is good for odd-shaped pieces that I can't handle with the wires, or for a portable method of blocking "on the road". I just weave the cording through the edges of the lace, and stretch the cording out taut. Instead of a silk cord, I expect that you could use a smooth inelastic string like a 6-cord crochet cotton.
In both cases, my pins don't go through the actual knitting, but rather just occasionally hold the wires or cording taut.
It is very important to let the lace dry thoroughly in place before removing blocking pins. Again, this takes longer than the "dry to the feel" test, because likewise, the fiber surface can be dry but the interior still holds moisture. So, be patient. The time will depend on your climate. Rule of thumb – 24 hours.
The crowning moment is when you release the lace from its blocking devices and hold it up to see the lace in all its airy beauty!!
Also see Blocking in Progress.
Return to Index of Jackie E-S Articles & Tips.