What's NEW:Get It NOW
---
Newsletter Signup
---
♥

PRODUCTS

♥

The Design Collections
Easy Knitting
Scarves/Stoles
Faroese Shawls
Other Shawl Shapes
Sweaters & Vests
Socks & Fun Footwear
For the Hands
Neck & Up Coverings
For the Man
For Baby
Home Decor
Jewelry
Minis and Miscellany
Bookmarks
Toys
Holidays & Seasons
Comfort Collection
I Hate to Purl
All Beaded Patterns
PDF Catalog & Flyers
Patterns by Yarn Weight
Yarn Albums Showcase
Tutorials

---
♥

SHOPPING

♥

Printed Patterns
Downloadable Patterns
Kits & Yarn Paks
Notions and Tools
Shopatron Account Login
---
♥

STAY IN TOUCH

♥

Newsletter Archive
Jackie's Blog
---
A GIFT for You
Want to help me with some of the costs of providing free educational resources and newsletters? Your thank you donation, small or large, is very much appreciated.
---
"For what it's worth - I love Heartstrings patterns. They are clear and well presented and Jackie Erickson-Schweitzer, the designer, is just a lovely, inspiring woman - well worth supporting by the purchase of the pattern."

- Kimberly L.

"I just love the simplicity of your patterns and the complexity of their appearance."

- Maureen M.

"

"I enjoy your website. It is easy to use and full of information ..."

- Debby L.

"Your patterns are just fabulous ... unique and yet based on tradition."

- Jennifer C.



Terzetto Lace Mitts :: Victorian style fingerless gloves
HeartStrings knitting pattern #H69
Envision these Victorian elbow-length lace fingerless gloves gracing your hands in your own perfect setting of an afternoon tea on the lawn, or making the rounds of your dream mansion grounds.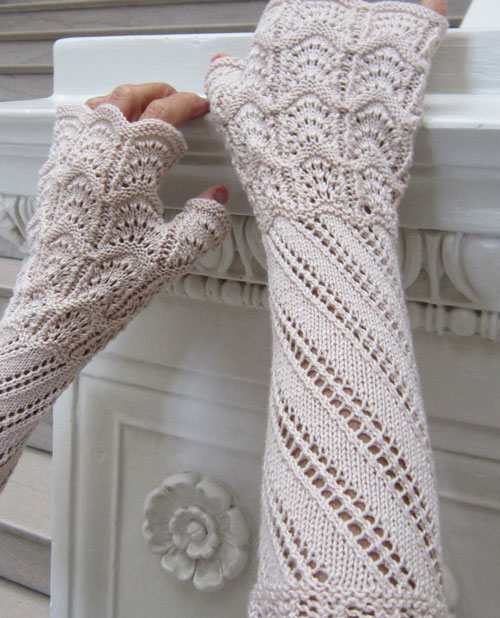 Printed pattern: $7 plus s&h

Now lower shipping charges. Shopatron will locate a retailer to fill your order promptly. Credit cards and PayPal accepted.

Instant PDF download: $7

Includes free updates and secure online access anytime, from anywhere, to view or print this pattern from the Digital Content Library in your Shopatron account. Credit cards, PayPal and Bill-Me-Later accepted.

Also available for sale at

other Download Sites

.
Cast on or +Queue at

Terzetto Lace Mitts are named for the threesome of lace stitch patterns used in their design. Let this trio of lace stitches sing to you while knitting and wearing these elegant near elbow-length Victorian style fingerless gloves.
(Terzetto is a musical term meaning a trio for instruments or voices.)
Yarn: Lace or light fingering weight
Features and options: 4 sizes; mirrored design for left and right mitts
The Terzetto Lace Mitts pattern was originally released in yarn from Sanguine Gryphon in a greenish color for their Steampunk collection. Since the yarn (and company) is no longer, I wanted to take the opportunity to re-knit and republish these fingerless gloves in the vision I originally had for them - i.e. in a classic Victorian white or off-white.
And here they are! The yarn is Crystal Palace Panda Silk in one of their new colors called Sand Dollar. The setting is the staircase in the Great Hall lobby of the New Orleans Museum of Art (NOMA).
What do you think? I hope you like them as much as I do! Thank you to Susan Druding of Crystal Palace for creating Panda Silk yarn that helped me achieve my vision.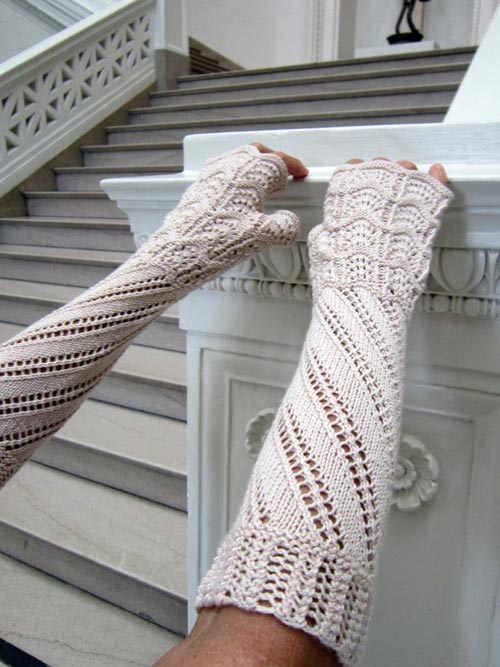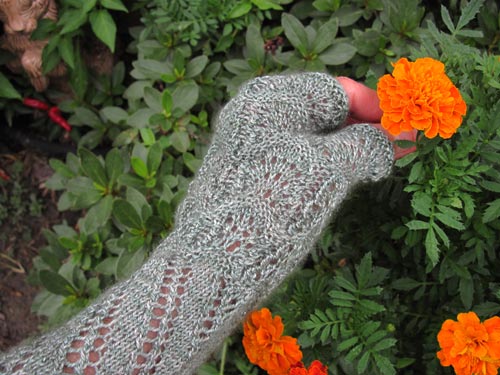 High-resolution photos are available on Flickr.
Get a free PDF preview of the pattern cover page with detaied specifications and supplies list.

Click picture to open document in another window. Requires Adobe Reader v7.0 or higher to view.
See more patterns for wristlets, fingerless mittens and other hand coverings in the Jackie E-S Design Collections.