WHAT'S NEW
---
Get News & Specials
Sign up for free
---
♥

PRODUCTS

♥

The Pattern Collections
Easy Knitting
Scarves/Stoles
Faroese Shawls
Other Shawl Shapes
Sweaters & Vests
Socks & Fun Footwear
For the Hands
Neck & Up Coverings
For the Man
For Baby
Home Decor
Jewelry
Minis and Miscellany
Bookmarks
Toys
Holidays & Seasons
Comfort Collection
I Hate to Purl
All Beaded Patterns
PDF Pattern Catalog
Patterns by Yarn Weight
Tutorials

---
♥

SHOPPING

♥

Downloadable Patterns
Ravelry
Craftsy
Patternfish
KnitHeartStrings
Printed Patterns
Kits and Supplies
---
♥

STAY IN TOUCH

♥

Newsletter Archive
Jackie's Blog
---
Free Gift
Want to help me with some of the costs of providing free educational resources? Every donation counts. Your donation, small or large, is very much appreciated. Thank you!
---
"Your patterns are just fabulous ... unique and yet based on tradition."

- Jennifer C.

"I just love the simplicity of your patterns and the complexity of their appearance."

- Maureen M.

"

"I enjoy your website. It is easy to use and full of information ..."

- Debby L.

"... I love Heartstrings patterns. They are clear and well presented and Jackie Erickson-Schweitzer, the designer, is just a lovely, inspiring woman - well worth supporting by the purchase of the pattern."

- Kimberly L.



Knitted Lace Blocking Magic
Do you believe in magic?

by Jackie E-S
Wasn't there a fairy tale about a toad and a prince? Do you believe in magic? Well, just compare the before and after of knitted lace!
You can see an unblocked work-in-progress (messy heap of knitting in the upper portion of this photo!) vs. the blocked swatch (lower). Look at the comparison here — You talk about a toad turned into prince(ss) - right?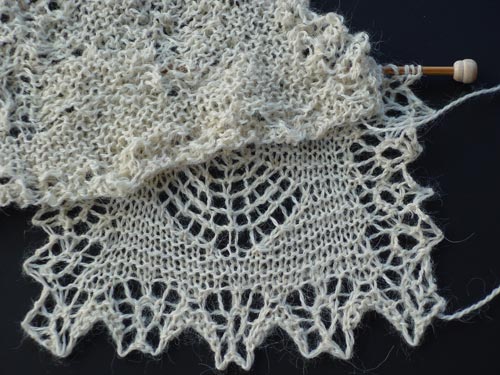 By the way, I did that swatch first so I can plan measurements, yardage amounts, etc. appropriately, as well as make sure early on that the end product will be as expected.
As much as you are probably going to say you don't like to swatch, I really do recommend for lace knitting that you not only swatch, but also wash and block that sample swatch in whatever way you are planning to do with the lace article you are are going to knit. This actually can save time so you know early on if you need to change course. It can make the difference between calamity and a pleasurable knitting experience. If you still remain one of the "I hate to swatch" bunch, you can consider doing a Blocking in Progress.
By blocking a smaller sample (or in-progress piece) as you will the finished article, you will have the confidence to move ahead (or take another course if not satisfied with the sample). And if moving ahead, you will have stress-free pleasure throughout the knitting of the project in anticipation of that magical moment of the final blocking to turn the toad into a princess.
Oh, and in case you are wondering what that is I am knitting, it is the narrow scarf version contained in the pattern for Elemental Changes.