Happy holidays,
No two ways about it. I think that December must be the fastest month of the year. At this time of the year there are so many extra happenings with family and community, special thoughts and preparations near and dear to our hearts, and sometimes extra knitting projects that we are rushing to finish in time for holiday giving.
I encourage you (while reminding myself, too!) to take a moment now and then to relax with our knitting needles, fondle some yarn, or whatever -- we owe it to ourselves to not overlook the everyday pleasures.
Enjoy the season!
Jackie E-S / HeartStrings FiberArts


---
Attention Newcomers - If you are receiving this newsletter from someone else and would like to start receiving your own free issues, just sign up by visiting my website at http://www.heartstringsfiberarts.com/e-news.shtm


---
The Beaded Winter Wonderland socks pattern is an enchanting combination of design motifs reminiscent of snowflakes, snow drifts, pine trees, and lightly fallen snow.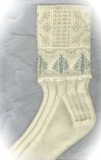 You'll have fun knitting and wearing these sparkling beaded socks with a delightful winter-themed scene.
---
Do you sometimes think you are following pattern instructions, then find out later your eyes fooled you? Maybe your first clue is that things are not working out. Or maybe something is just not making sense.
Here's a quick tip that might save you some time and frustration ... read your instructions out loud! Well, maybe you don't have to recite to everyone nearby, but definitely read at least in a whisper so that you form each word with your mouth, and even include punctuation.
You'd be amazed at how many times our eyes can fool us and go right past important 'signals' in the instructions. Reading out loud (even at a whisper) can slow you down a bit and force you to pay attention to the signals better.
---
Fan Mail for the Soft Cables Möbius
Lisa Keating writes ...
"I recently purchased the Soft Cables Möbius pattern. I just wanted to tell you how much I am enjoying this project. The pattern is one of the best values for my money I have seen in a long time. I love that I can use different weights of yarn. It is very well written, clear and concise. I am using Noro Cash Iroha. It is a beautiful project. THANKS!"
Of course, comments like this truly make my day and encourage me to continue doing the best I can in developing knitting patterns to delight and inspire your heart-felt creations. I appreciate Lisa (and so many others of you) in taking the time to write.
Lisa also mentioned that she had been inspired by the Soft Cables Möbius scarf that Wendy Johnson made and shared pictures of on her Wendy Knits blog.
---
HeartStrings FiberArts / Jackie E-S Design Collections
From the classic to the uniquely appealing.
Skill-building, comprehensive instructions.
Yarn-generic patterns for your creative freedom.
Specializing in Knitted Lace and Beaded Knitting.