Greetings -
Announcing 6 new patterns! This release is larger than usual because of the catch up from my design work that was interrupted by the hurricanes. I hope you'll find it was worth the wait.
Besides the new patterns to start the new year, I am introducing a guest column in Knitterly News and am pleased to have Linda Michaluk of Swallow Hill Creations as our first guest. Linda will share a useful and playful way to go about selecting beads to work with your yarn.
And finally, I am sharing with you a heart-warming story that Ellen Sandin of Earth Faire related to me.
Hope you enjoy. Happy knitting!
Jackie E-S / HeartStrings FiberArts


p.s. All quotes and articles by others are used only with permission granted by their writers. Please always respect the copyright and works of others.
---
Attention Newcomers - If you are receiving this newsletter from someone else and would like to start receiving your own free issues, just sign up by visiting my website at http://www.heartstringsfiberarts.com/e-news.shtm


---
I am pleased to announce 6 new patterns for lace and beaded fashion accessories.
#A13 Beaded Diamond Mosaic Ensemble
(beaded hat, crew socks and fingerless mittens)

#A21 Cat's Cradle Long-Ways Scarf

#A35 Fine Filigree Fingerlings
(3 styles of lace wrist and hand coverings)

#A99 Beaded Lace Wristlets
(3 styles of beaded wrist and hand coverings)

#A133 Beaded Basketweave Ensemble
(beaded scarf and split-cuff anklets)

#A135 Filigree Lace Ensembles
(neck warmer, hat and 2 styles of wrist warmers)
These new patterns are just reaching stores now, so hurry to be the first to enjoy knitting up some simple feminine elegance and fun beaded ensembles. Visit the What's New page for links to more information and pictures. http://www.heartstringsfiberarts.com/whatsnew.shtm


---
Selecting Beads to go with your yarn
by Linda Michaluk, Swallow Hill Creations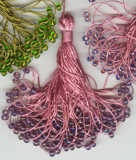 Selecting beads to go with yarn in beaded knitting is a very personal thing. The first questions to ask are -- do you want flash or depth; do you want texture or uniformity; will the piece be worn or displayed; does it need to be washable. I'm sure there are others but that is a start at least.
One thing I have found useful in terms of seeing how a bead will work with a fibre is to make a small bullion tassel. Thread some beads on your fibre - about 100 or so - and wind your fibre around a flat piece of cardboard. If you are working with a fine fibre (3 - 8 perle cotton, fingering sock wt, etc) think about making your cardboard between 3 - 4 inches long and go from there with larger fibre and beads. Decide where the bottom of the tassel will be and each time when you wrap your fibre around the cardboard, drop 2 beads so they are at the bottom end of the tassel. Finish off the winding, carefully slide the windings off the card and wrap around the neck of the tassel using your favourite method. Remember not to cut the ends of your tassel!
You can then stand back and see what happens to your combined beads and fibre - do the beads pop or blend; does the bead hang nicely or is the fibre squeezed; have your found that you have colour on your hands from the beads (i.e. did any of the colour come away from the bead - note, that while making this tassel is not the ultimate test of whether the beads will lose colour, you may be surprised at how often this little test results in colour on clammy hands!).
The little tassels can be quite pretty on their own and can be used as embellishments or they can be smushed about and generally abused as a test for how the bead will "wear". And, of course, if your beads are limited or pricey, you can always scrap the fibre and reclaim the beads once you have seen how they look together.
I use the bullion tassel quite a bit to see how beads will work with certain fibres and am often surprised at what happens. Some combinations I thought would be brilliant were less than interesting, and some that I thought would be dogs were fascinating.
I hope this gives you enough information that you can play. There is a lot of information on the web about making tassels and I am also in the midst of writing up a bullion tassel for one of my upcoming patterns.
Have fun!
Linda Michaluk
linda.michaluk@shaw.ca
Swallow Hill Creations Ltd
Beaded Bags, Bracelets and Accessories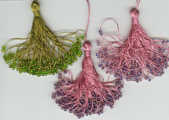 Click on picture for larger view.

Upper left -- Swallow Hill Creations mustard green rayon with a copper lined green bead. The copper lining in the bead picks up the gold tone in the fibre, while the green is somewhat of a contrast. The contrast is moderated by the copper lining in the bead.

Upper right -- Swallow Hill Creations dusty rose rayon with a silver lined red and blue striped bead. The silver lining provides a significant contrast that makes the bead "pop" visually, while the red and blue stripe causes your eye to cross the colour spectrum, resulting in a mauve type appearance.

Middle -- the same dusty rose rayon with a translucent iris washed amethyst bead. Because of the colours in the bead and absence of bead lining, this has the effect of being somewhat quieter as it more approaches tone on tone.
---
A Heart-warming (pulse-warming) Story
by Ellen Sandin, Earth Faire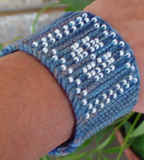 I wanted to share the following story with you -- I sent the basic story to my newsletter subscribers because I am so pleased and your pattern was such a major hit -- well, read on ...
My mother-in-law lives with us, at the amazing age of 95 and is in excellent shape both mentally and physically (knock on wood) except that her hands are very arthritic and always icy cold. So it was a couple of days before Christmas, and I had actually caught up on all the have-to-do's and was settling down to some would-like-to-do's. And it occurred to me that she might enjoy a pair of pulse warmers -- she is from Sweden and loves anything I can tell her is Scandinavian in origin anyway. So I sat down with some left-over fingering weight yarn, some 8/0 beads and your pattern for the Fleuron wrist warmers. I chose those as my mother-in-law is very tiny (less than 5 ft tall and maybe 95 lbs soaking wet) and these were the smallest design I had easily on hand and look lovely in their simplicity. And it took me only a few hours per pulse warmer and then both were done. When she opened up the package, she immediately put them on. By the end of the evening, her hands, normally really freezing to the touch, had warmed up to a higher temperature than mine. She was thrilled and so much more comfortable! I sat down the next day and made her another pair so she could have one to wear and one to wash and she has been wearing them ever since.
Then, a few days later, we were going to visit some friends who live in a big old draughty house -- they warned us to dress warmly for the visit -- and decided to make a pair for the wife. Lo and behold -- she sent me a note the other day thanking me profusely and saying that wearing them makes a tremendous difference to her comfort.
I knew that theoretically pulse warmers should help keep the body warmer in the cold winds of winter, but hadn't had any practical empirical evidence of it myself. And for those of us who have to shiver through winter or who have loved ones in the cold, I thought this was worth knowing. And it occurs to me as well that for the menfolk one could simply leave off the beads (or maybe not) and you have something that can be worn anywhere, over or under cuffs and really make a difference.
So I wanted to say thank you -- and yes, the sharing of this story is also the reason I need to restock on your wrist warmer patterns ... :-)
Ellen Sandin
ellen@earthfaire.com
Earth Faire
Beyond knitting, for the love of creation.
Yarn * Beads * Patterns * Books * Kits+Extras
---
HeartStrings FiberArts / Jackie E-S Design Collections
From the classic to the uniquely appealing.
Skill-building, comprehensive instructions.
Yarn-generic patterns for your creative freedom.
Specializing in Knitted Lace and Beaded Knitting.