Hi knitting friend,
Are you ready for the holidays? I am totally NOT. But that is usual for me and so I will just make an early resolution to start sooner next year, lol. Anyway, I definitely wanted to get this newsletter out to you with the new Winter Treats Contest. Details are below.
If you are anywhere close to Dallas, Texas next Tuesday December 1, come by and see me. I'll be guest speaker at the Dallas Hand Knitters Guild monthly evening meeting. The program is "Cables, Lace and Beads - adding patterns to your socks". This is the 4th installment in the guild's "Year of the Sock" year-long study of sock knitting. I'm really honored the guild invited me to lead this program. See the guild's website for more details and contact information.
Enjoy the newsletter, Jackie E-S / HeartStrings FiberArts
Attention Newcomers - If you are receiving this newsletter from someone else and would like to start receiving your own issues, I welcome you to sign up at my website http://www.heartstringsfiberarts.com/e-news.shtm
---
I love to see what other people do with my HeartStrings patterns and to hear the stories behind their making. I was particularly touched by this one ...
This was Kelly's first Faroese shawl and I am delighted she picked one of my HeartStrings patterns to knit - the All-Over Faroese Lace Shawl. She actually had started making it for herself in yarn dyed using the Gradiance technique she has developed for The Unique Sheep. Just as she was finishing the shawl, her mother-in-law was diagnosed with breast cancer.
She wrote on her Ravelry project page for Wool Therapy that she felt the shawl was meant to be her mother-in-law's all along. The colors were perfect for her and she will now have a warm yarn "hug" to wear as she faces treatments to cure her cancer. You can read more on my "Taking Time to Smell the Roses" blog.
Isn't the story heart-warming and the color transitions in the shawl are just stunning?! If you like this effect in yarn specially dyed for color transitions, you will want to check out the Gradiance Collection colorways offered at The Unique Sheep.
Got a story you'd like to share in a HeartStrings e-newsletter? Send it to me here to be considered.
---
Question –
Many beads are sold by weight only. How do I know how many beads I am buying?
Answer –
Weight estimates for round rocailles glass seed beads used in HeartStrings patterns are based on these approximate conversions (will vary slightly depending upon your choice of bead color and finish).

5/0 = 7 beads per gram
6/0 = 12 beads per gram
8/0 = 40 beads per gram
11/0 = 110 beads per gram
Got a question you'd like answered in a HeartStrings e-newsletter? Send it to me here to be considered.
Other resource articles about knitting with beads.
HeartStrings patterns for knitting with beads grouped by bead size used.
---
Are you ready for another contest? To go along with the theme of the seasons, the prize drawing is for one of the designs I've selected in the Christmas Knitting and Other Winter Treats design collection.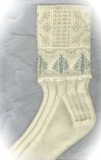 The Beaded Winter Wonderland is an enchanting combination of design motifs reminiscent of snowflakes, snow drifts, pine trees, and lightly fallen snow. You'll have fun knitting and wearing these sparkling beaded socks with their delightful winter-themed scene.
You can win a complete kit to make a pair of Beaded Winter Wonderland Socks. There are 4 color schemes from which to choose; each is themed to a time of the day. So be thinking of which time of the day is your favorite color.
To enter the contest, just send in your answers to the two questions below by December 5, 2009. You may click on this link to email me your entry.
Answers can be found on the HeartStrings FiberArts website if you don't know them already (if in doubt, check to make sure so your contest entry will be valid) –
What kind of yarn is used for the "snow&quot?


How many beads are needed for the trees in these socks?
Remember to click on this link to email me your answers by December 5th. Prize drawing will be made on Sunday, December 6, 2009 for all entrants with correct answers and the winner will be notified so I can get your mailing address. Announcement of winner will be made in the next newsletter. Have fun and good luck in winning!
---
Enablers to Get in the Holiday Spirit
Winter Holidays Screensaver (free download)
This 3D animated screensaver features a sampling of designs in the Christmas Knitting and Other Winter Treats Collection. The tumbling cubes will delight you and anyone passing by your computer while you are getting in the holiday spirit.
Make a new stocking for Santa and a companion mini-sock ornament for your Christmas tree, too! The kit includes 4 balls of the same yarn used for making the original models as shown in The Sock Calendar, individual pattern instructions in a clear sheet protector and handled project bag. Already have the book or individual pattern? A Materials Only supply pak is also available.
Christmas Stocking Holiday Card
You can read the story on my blog about this holiday greeting card I made more than 18 years ago as a gift to knitting friends. The card is actually a pattern for the Christmas stocking in the photo. The terminology and writing style pre-dates the offical launch of HeartStrings pattern line, but patterns like this are timeless. Available now in downloadable pdf format as a world exclusive at Patternfish.
I'll be back in a couple of weeks to announce a winner of the Winter Treats Contest Drawing. Be sure to get your entry in by the deadline of December 5, 2009.
Meantime, I will be converting to a new service to deliver the HeartStrings e-newsletters. There is nothing you need to do on your end; hopefully the conversion will go smoothly and I won't lose you!
Thank you for being part of HeartStringsFiberArts.com. Happy knitting,

p.s. Your thank you donation will be used to help me continue to provide you free educational resources and newsletters.
Please do not feel any obligation ... each person knows what they are capable of and is in their heart to do. Even an occasional donation, whether small or large, is very much appreciated.
HeartStrings FiberArts / Jackie E-S Design Collections
From the classic to the uniquely appealing for today's modern knitter.

Skill-building, comprehensive instructions to advance the art of knitting.

Yarn-generic patterns for your creative freedom.

Featuring innovative designs for Knitted Lace and Beaded Knitting based on tradition in updated techniques.