Greetings knitting friends,
I know that it has been way too long since I last sent out a newsletter. After doing a major change-out in my computers, fortunately I was able to recover the subscription list and am finally ready to resume HeartStrings Knitterly News.
It certainly feels good to be back online with the news to you. I will be on a regular newsletter schedule so that we can again have fun with contest give-aways, sharing knitting tips and Q&A's, and keeping up with what's going on at HeartStrings.
I hope you'll find some new inspirations for your knitting. So read on and enjoy the newsletter!
Jackie E-S / HeartStrings FiberArts
Attention Newcomers - If you are receiving this newsletter from someone else and would like to start receiving your own issues, I welcome you to sign up at my website http://www.heartstringsfiberarts.com/e-news.shtm
---
Red-White-Blue Kit Contest Drawing
Are you ready for another fun contest?
| | |
| --- | --- |
| | Since it is nearing Independence Day in the U.S., I thought it appropriate to offer a kit for something in red, white and blue. The contest prize is for a Yarn/Bead Kit plus pattern to make socks like those shown to the left. |
Here are the questions to answer for a chance to win. Answers can be found on the HeartStrings FiberArts website if you don't know them already (if in doubt, check to make sure so your contest entry will be valid) –
What is the official pattern title of the red-white-blue design shown in this picture? (Hint: check the holiday-themed design collections or beaded sock collection)


What is the title of one of the other HeartStrings patterns that has been designed to celebrate the red, white and blue? (I'd love to hear your favorite.)
Here are the details of how to enter for a chance to win! Just email me the correct answers to both of the questions above by Tuesday, June 15, 2010 to be entered into the contest.
Prize drawing will be made on Wednesday - June 16, 2010 for all entrants with correct answers and the winner will be notified so I can get your mailing address. Announcement of winner will be made in the next newsletter. Have fun and good luck in winning!
---
There also were new designs and re-publications earlier this year. Please visit the What's New page so you are sure to not have missed anything. (Pssst ... there are even sneak peeks of some of the new designs to be officially announced next month.
---
Q&A: Help with Handpainted Yarns
Handpainted yarns can sometimes have distinctive variations from skein to skein due to the serendipitous mixing of colors in areas where the applied dyes blend into each other. Some brands of handpainted yarns even advertise themselves as "one of a kind". If a single skein/ball of the handpainted yarn is sufficient for your project, then you are good to go. But if you will be needing a larger amount, then using some kind of method to alternate using yarn from each of 2 or more skeins is usually a good idea.
This question from a knitter came in:
I am carrying an unused ball of yarn up one side of my knitting. After 2 rows with 1 ball, I dropped that ball after completing my garter stitch edge and switched to the 2nd ball and continued doing this every 2 rows. After I completed a length of knitting I noticed that the edge where I was switching balls was thicker than the other side edge. How can I avoid this?
Answer:
If you are carrying yarns up only one edge, obviously that edge is going to be heavier/thicker because of the extra stranding. To get similar edges on both sides, consider working with 3 ends/strands instead of 2 (e.g. 3 balls, or 2 ends coming off 1 ball and another end coming off another ball).

Work row 1 with strand 1.
Drop strand 1; attach strand 2 and work row 2.
Drop strand 2; attach strand 3 and work row 3.
Drop strand 3 and pick up strand 1 from 2 rows below waiting on that edge. Work the next row.
* Drop the strand that you were just working with and pick up strand that is waiting for you on that edge 2 rows below, then proceed to work the row with the picked-up strand.
Repeat from *.

This is the technique that I use in my Troika Wrap-Around Faroese Shawl pattern (although for that, the idea is to use 3 different yarns in differing textures; but can work equally well in 3 strands of handpainted yarn).

Let me know if this suggestion helps.

---
In the next newsletter I will announce the contest winner and have some more treats for you. Thank you for being part of HeartStringsFiberArts.com. Happy knitting,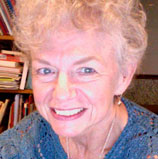 HeartStrings FiberArts / Jackie E-S Design Collections
From the classic to the uniquely appealing for today's modern knitter.

Skill-building, comprehensive instructions to advance the art of knitting.

Yarn-generic patterns for your creative freedom.

Featuring innovative designs for Knitted Lace and Beaded Knitting based on tradition in updated techniques.