Hi knitting friends –
Time has really sped by since last I wrote. And thus the longer length of this newsletter than most. I hope you've been having a good fall. There's been lots going on at HeartStrings and some exciting things coming up, too. So please read on to catch up on the news (and find a special offer included, too).
The Holiday Season is closing in. Remember that there are many beautiful small items that are ideal for gift-giving in the HeartStrings pattern collections. Check out smoke rings, hand coverings, and neck-warmers that I offer. See below for a start on some ideas from the most popular.
Happy Thanksgiving and all the best for the holidays!
Jackie E-S / HeartStrings FiberArts
Attention Newcomers - If you are receiving this newsletter from someone else and would like to start receiving your own issues, I welcome you to sign up at my website http://www.heartstringsfiberarts.com/e-news.shtm
---
small projects for gift-giving
Small, yet beautiful, projects are ideal at this time of the year to make for gift-giving. To keep the ideas flowing, here is a small sampling from popular ones this season –
The HeartStrings Cowl Dickey is a quick, easy-to-knit woman's dickey. The loose-fitting draped neckline results in a comfortable accessory that will fit almost anyone. Wear it with a plain sweater or shirt to add an exquisite touch.

Team up this pattern with sport weight luxury yarns (takes just 200 yards!) for a feeling of heavenly decadence.

The Flared Lace Smoke Ring makes a versatile accessory that can be worn around the neck or pulled over the head as an elegant head covering. The design features a stunning knitted lace pattern of ribs that radiate like a fan.

Team up with lace or fingering weight luscious yarns like alpaca, cashmere, angora, qiviut,merino/silk, etc.

This roll-brim hat features a decorative Norwegian braid band. Made in luxury yarn, its softness will bring warmth and comfort to body and soul.

Team up with your choice of worsted weight yarns.

Lusciously soft and warm, this lace neck muff is designed so that it can be worn in either a cowl or yoke style. Just two simple lace pattern rows are used to produce the zig zag ribbed lace stitch with pleasing reversibility and softly scalloped edges.

Since this project takes only a small amount of yarn (150 yards), it is ideal for an excuse to indulge in a special yarn to make a special gift.

These delightful fingerless gloves keep wrists and hands warm. The tapered fit, DK weight yarn and an easy-to-read lace stitch pattern make these simple and quick to knit. For symmetry, instructions are provided for making the left and right a mirror of each other.

Team up with a superwash DK weight yarn for practical everyday wear.

Now here is the ultimate in a quick-knit gift. Takes just 50 yards of worsted weight yarn.

This stunning little accessory can be used as both a detached collar and a fancy coronet headband or ear warmer.
---
Q&A for substituting circulars for dpn's
If you've been passing up sock patterns calling for double point needles (dpn's) because you'd prefer to use circulars, this Q&A might help.
Question from Claire:
I'm getting ready to start the Country Girl Socks pattern and notice it calls for putting the sock on 3 DPN's. I always knit two socks at a time on two circular needles ... Can you tell me if it will work with my method of sock knitting?
Answer:
Yes, you can use two circulars rather than dpn's. You can arrange the stitches on your circular needles however you prefer. Whenever there might be reference to particular dpn, just use markers to indicate which stitches would have 'belonged' to that needle.
---
Bi-Directional Lace Strips Stole in Philadelphia Fashion Show 2010
| | |
| --- | --- |
| | I was pleased that the HeartStrings Bi-Directional Lace Strips Stole I designed for Himalaya Yarn was requested by the TNNA Yarn Group for Philadelphia Fashion Week 2010. |
Thanks to Sherry Mulne for putting together this video of the Fashion Show. Watch for Bi-Directional Lace Strips Stole between 13:32/13:50 on the video hosted at YouTube.
---
upcoming episode of knitting Daily tv
| | |
| --- | --- |
| | Thanks to Anna Carner of Unicorn Fibre for including the White Lotus Stole model in her segment of Knitting Daily TV that was taped in October. The episode will air early next year. |
Deb Robson kindly presented this segment that featured Unicorn Fibre wash products. The segments are short (5.5 minutes) and, while not scripted, very succinct. So I hope you might catch a glimpse and mention of the White Lotus Stole.
The spot will be part of episode 603, and the series starts airing in, I think, mid-January. Next fall it will likely be available on the net, and following that on DVDs that you can buy, if you are like me and your public TV station does not carry the Knitting Daily series.
---
Results of the Silk Scarf Kit Contest
Congratulations to Cynthia Acheson in Duncan, BC Canada, winner of the Autumn Splendor Contest Drawing for the Silk Scarf Kit.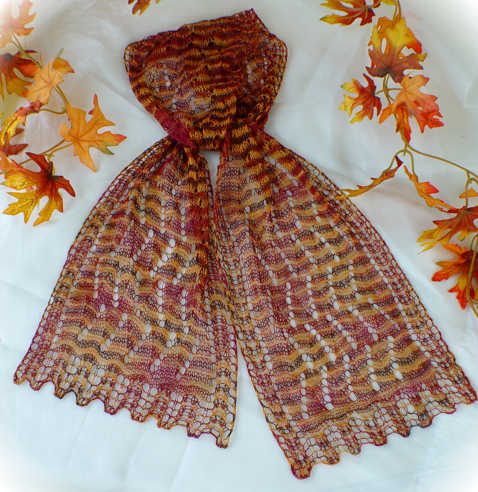 Here are the answers to the questions –
What is the official HeartStrings pattern name for this design?


Colorful Splendor Lace Scarf




In how many pieces is this scarf knitted?
Once piece.

Yes, I know that some of you 'guessed' that the piece was made in 2 pieces and grafted, but it is not. As explained on the website, Colorful Splendor is knitted in one piece end to end. I designed this scarf intentionally for the illusion of matching beginning and ending lace edges; thus avoiding any provisional casting on, grafting or sewing.
Rae I. wrote – I made this lovely scarf last year. The pattern is rhythmic and enjoyable to knit; almost meditative.
Susan A. wrote – Well, it could well be autumn splendor or spring splendor or whichever season fits the colors the knitter picks, so you called this scarf COLORFUL Splendor Lace Scarf, which seems exactly right.
You are right on about my reason for the name! I didn't want to lock people into the idea that this could only be for autumn (although the coloring of the yarn I used in the pictured model was definitiely my initial inspiration).
Now, some of you are probably anticipating another contest drawing?! Yes, those will return after the beginning of the year. Meantime, as a dedicated newsletter subscriber and loyal HeartStrings supporter, I have a special limited time coupon offer for you. Just select the coupon option at Paypal checkout and enter the coupon code HSFANEWSN for 10% off anything and everything in the HeartStrings store at Ravelry. Good on all downloadable patterns and eBooks for the remainder of this month, November 2010.
---
From Debby –
Question:
I'm hoping you can help me with some advice. I'm knitting a lace stole for my sister's wedding (it is for her) ... My question is how much can I expect the stole to increase in size when I block it? I'm using 3mm needles. I would like it to be no longer than about 65 inches. I need to know when to end. Is it a general rule of thumb that a piece of lace will typically increase in size by 25% after blocking?

p.s. I enjoy your newsletter and have made a baby blanket from one of your patterns.
Answer:
That 25% is a very rough guesstimate. It's good as

1. a figure to use in initial planning, but that will be followed by comparing the measurements of a test gauge both before and after blocking AS INTENDED for the finished item.

OR

2. as a rough planning tool for a project whose size doesn't really matter much.

The degree of increased size is going to vary on many factors: width- vs. length-wise, type of fiber, density of stitch pattern, type of blocking process (I recommend wet blocking as described in the Resources section of my website), how much tension is used during the blocking, etc.

Even if you had not done a test gauge before and after blocking, you can still do that now and know for sure. It's not necessary to do a separate nice-sized test swatch if you have some of lace stole already knitted; this article on Blocking in Progress will help.
---
Fall 2011: The Best of Interweave Knitted Lace
Exciting news for me (and I hope for you, too) – the upcoming anthology The Best of Interweave Knitted Lace will be released in Fall 2011, and Interweave has selected my article A Primer on Knitted Lace for inclusion.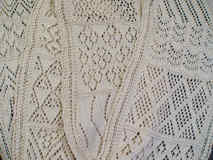 It's always great to have the chance to encourage even more lace knitters!
---
Thank you for being part of the HeartStrings FiberArts community.
Stay safe and enjoy your knitting!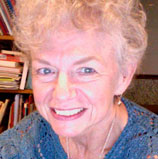 HeartStrings FiberArts / Jackie E-S Design Collections
From the classic to the uniquely appealing for today's modern knitter.

Skill-building, comprehensive instructions to advance the art of knitting.

Yarn-generic patterns for your creative freedom.

Featuring innovative designs for Knitted Lace and Beaded Knitting based on tradition in updated techniques.