Happy New Year!
This first HeartStrings newsletter of the year kicks off with a kit giveaway to celebrate the opening of HeartStrings FiberArts on Facebook. Be sure to read on for the details of how to enter your name in the drawing. Hurry, entries close Saturday, January 15.
We continue the fun with things like a survey for "What Kind of Project Are You"? and the LetsKnit2gether interview with Jackie E-S. Scroll down for all these and more, here in HeartStrings Knitterly News.
With warm wishes for a safe, healthy and fun year –
Jackie E-S / HeartStrings FiberArts
Attention Newcomers - If you are receiving this newsletter from someone else and would like to start receiving your own issues, I welcome you to sign up at my website http://www.heartstringsfiberarts.com/e-news.shtm
---
Kit Giveaway to celebrate the opening of HeartStrings FiberArts on Facebook
Please join me at the new HeartStrings FiberArts Facebook business page. To celebrate, I am having a drawing for a Sock Therapy Kit. This kit includes yummy Merino blend yarn, "chocolate" ribbon and pattern to make socks as shown. Comment entries close this Saturday, January 15 at midnight CST and I will announce the winner the next day.
This kit is the last of it's kind; I will not be making up any more, so it's quite special. I figured a drawing was the best way to give it to someone special, because otherwise I would have an impossible time choosing from all of my wonderful friends and fans.
So come on over now to HeartStrings FiberArts on Facebook and "Like" to become a friend/fan. Then comment under the tab for "Kit Drawing" letting me know you want to enter the drawing.
---
LetsKnit2gether Interview with Jackie E-S
In this latest episode of the LetsKnit2gether web video series/podcast, Jackie E-S chats with CAT Susch about how she got started as an independent knitting designer and shows some examples of her latest designs exhibited at the TNNA Summer 2010 Show.
Jackie E-S / HeartStrings Designs shown in the interview:
---
Take a fun survey: What kind of project are you?
Just for fun, take this easy survey. There's just one question, but I promise it will get you thinking about how you usually approach your knitting projects. Click here to cast your vote on "what kind of project are you?".
The Day Dreamer - The joy for you is the anticipation and the search. You dream of the ideal project as you surf books, magazines and the internet in search of that illusive project that will match the vision in your inner soul.
The Collector - The joy for you is in the yarn shopping for the phantom project that may or may never come to pass. Even putting a gorgeous skein of yarn on display as a centerpiece on your table, or a basket arranged with pretty balls of yarn, would be enough to give you satisfaction as a project well done.
The Dabbler - The joy for you is getting underway with needles and yarn in hand to become friends with your yarn. As you sample and swatch, the feel of fiber through your hands as it transforms into even the simplest of fabrics is enough to satisfy your longing to find another best friend.
The Starter - The joy for you is seeing those first few inches of your yarn being transformed into the beginnings of the final knitted item you envision. It's oftentimes a struggle to keep interest going beyond that, and your project was really destined all along as an UFO (unfinished object) rather than the completed sweater, or sock, or whatever that had originally been your intent.
The Long Distance Runner - The joy for you is in the process; the miles and miles of yarn that run through fingers as the project grows keep you in that continual feeling of euphoria. You know there is a finish line, but are not necessarily looking forward to when it is time to stop.
The Finisher - The joy for you is seeing the last few stitches being released from the needles. If you are a lace knitter, there is always a magic moment at the finale when the lace is blocked out to show all of its airy beauty.
The Gifter - The joy is in the giving, whether it is to someone else or even yourself! The project was meant to be used or worn all along, and that is the whole reason you set on the journey to make the item to begin with.
Feel free to share your thoughts and comments. I appreciate your time in taking the survey here. I will run a tally on January 25 and announce the results later this month.
---
Creating the White Lotus Stole
From trial swatches to finished project
While my design process has become more streamlined with practice, the order in which a design goes from concept to completion is seldom a straight-line course. There is ebb and flow, and gradual refinement toward an inner vision — many steps (sometimes backwards), time, patience — in plain words, work.
This is a brief story of my journey in creating the White Lotus Lace Shawl. Read the entire article on the Jackie E-S Blog ...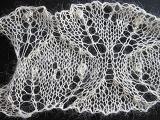 ---
Question from Stephanie:
Should I handwash socks before giving to the recipient?
Jackie E-S answers:
I always wash before giving, for socks or any other wearables. This removes any doubts that the item is thoroughly clean and fresh – even though you and I are clean people, there still can be hand oils/sweat that transfer to the yarn while we knit. Washing before giving also is a final test that the care instructions I include on a tag with the gift will work as planned for the recipient.

The act of wetting in the washing process helps the stitches settle in as uniformly as possible. Sometimes the yarns will soften and "full" a bit to futhermore making a better-wearing fabric for socks. And even a light hand blocking (or drying on sock blockers if you have them) helps the item look first-class.

You don't necessarily have to handwash, though. Many of the popular sock yarns are superwash and can be machine washed.

Happy sock knitting and giving!
Related resource article: Washing Socks: Hand washing method for deep cleaning delicate yarn
---
Thank you for being part of the HeartStrings FiberArts community.
Stay safe and enjoy your knitting!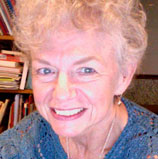 HeartStrings FiberArts / Jackie E-S Design Collections
From the classic to the uniquely appealing for today's modern knitter.

Skill-building, comprehensive instructions to advance the art of knitting.

Yarn-generic patterns for your creative freedom.

Featuring innovative designs for Knitted Lace and Beaded Knitting based on tradition in updated techniques.