Greetings –
I'm back with part 2 of the January edition of HeartStrings Knitterly News. Congratulations to Donna Wells, the winner of the Sock Therapy Kit that was announced in the last newsletter.
How did you compare to others who took the survey for "What Kind of Project Are You"? You can check out the tallied results below.
Read on for these and other articles I am looking forward to sharing with you.
Jackie E-S / HeartStrings FiberArts
Attention Newcomers - If you are receiving this newsletter from someone else and would like to start receiving your own issues, I welcome you to sign up at my website http://www.heartstringsfiberarts.com/e-news.shtm
---
Winner of the Sock Therapy Kit Drawing
Congratulations to Donna Wells, the winner of the random drawing for the Sock Therapy Kit announced in the last newsletter issue. Donna's name was chosen from all entries made at the HeartStrings FiberArts Facebook page. The winner received yarn and "chocolate"-colored ribbon to make the socks along with a full-color printed pattern. Just for fun and added therapy, I also threw in some chocolate mint swizzle sticks. These go well with hot coffee or tea. Yumm.
| | | |
| --- | --- | --- |
| | + | |
Although this was the last Sock Therapy Kit I had, you can still get the pattern to make the socks in your own choice of yarn and ribbon. Sock Therapy pattern is available for purchase as either an individual pattern, or as part of The Sock Calendar eBook (includes Sock Therapy and 12 other sock patterns).
Thank you to everyone who has posted and shared. It is heart-warming to have such a nice welcome from my friends/fans on Facebook. I am enjoying reading it all even though I may not be able to respond to everything. Watch for more contests and drawings to be announced in the future. Even if you think you never win anything, I want to give you more chances!
---
Results of the Survey: What kind of project are you?
The votes are in. How do you compare? Here's the tally from the survey announced in the last newsletter.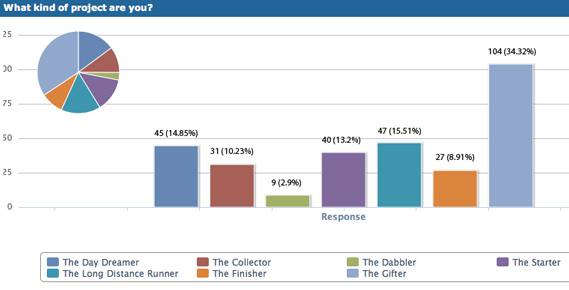 As you can see, The Gifter took the lead, with The Long Distance Runner and The Day Dreamer coming in as close second places. If you are interested in more details about the survey results, you can read about those at my blog.
I intentionally asked that only one project persona be chosen, which even for me was very difficult. This survey was just intended to be a fun exercise to reflect on our passion and motivation(s) for knitting. And thus why I had allowed for comments as an open-ended response as well.
Thank you so much for everyone's participation. It was fun for me, and I hope it was for you, too.
---
Knitter's ShowCase: Joy's Beaded Winter Wonderland Socks
I love to see projects that people have worked up using HeartStrings patterns. And I do count myself fortunate that I can actually see. There is a reason for that statement, so read on to find out why.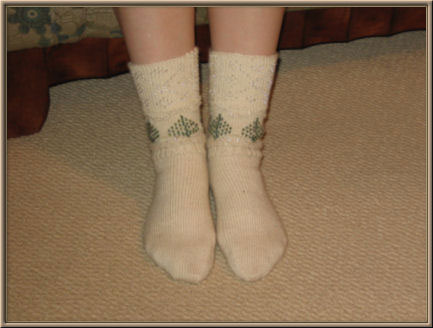 Here's winter-themed inspiration that should be right in keeping with the snowy weather that a good part or the country has been seeing. They are Beaded Winter Wonderland socks knitted by Joy Cyr (and yes, those are tiny beads that she has knitted into her lovely socks). The amazing thing (at least to me) is that she made these socks even though totally blind.
Joy actually sent me pictures and comments almost a year ago. I have since then had it on my to-do list to tell you about them — sometimes I can be terribly slow!
I hope that you will enjoy seeing and hearing Joy's story as much as I have. You can read the full story at the Jackie E-S Blog.
---
The Friday night Yarn Group Fashion Show just before opening day of TNNA Market is always a highlight. Here are video clips of two HeartStrings designs using yarns from Colinton and Himalaya respectively.
---
coupon special for valentines-themed patterns
Be My Valentine through February 14, 2011.

Visit the Ravelry store and enter coupon code

bemine

at checkout to get 14% off any of these specially selected heart-themed e-patterns:
Tell your friends (they'll love you for it). Gift someone (they'll love you even more for it!).
---
Thank you for being part of the HeartStrings FiberArts community.
Stay well, safe and enjoy your knitting!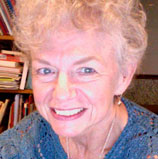 HeartStrings FiberArts / Jackie E-S Design Collections
From the classic to the uniquely appealing for today's modern knitter.

Skill-building, comprehensive instructions to advance the art of knitting.

Yarn-generic patterns for your creative freedom.

Featuring innovative designs for Knitted Lace and Beaded Knitting based on tradition in updated techniques.