Springtime greetings –
With spring comes renewal. Thank goodness, as I have returned after my 6 month furlough from designing. Read on for a heads up on the first batch of new patterns that will be formally released in a couple of weeks.
Whew! Taxes are behind me and now it is time to treat myself. Onto packing some knitting for a relaxing spring vacation break. Did you hear over at my blog that I have some great new shoes for walkin' around San Francisco?
I also need to decide about some knitting to take along. What kind of projects do you like to do when knitting in public? Please me decide by commenting to the question at the HeartStrings FiberArts Facebook page.
With Easter is coming up, it is no surprise we've had a run on Knitted Bunny pattern downloads. Of course, that could in part also be because of the cute "Chinese New Year Bunnies go to Mardi Gras" by Dena Rauch, winner of the Mardi Gras Viewer's Choice Contest.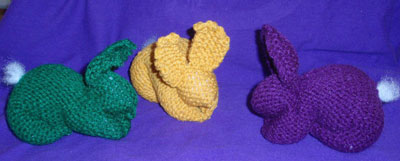 Also, thanks to Yvonne Pel for translating the Knitted Bunny pattern into Dutch and Swedish. These translations are available for free download here along with the English and Spanish versions.
Let's get on with the rest of the newsletter now. Wishing you a fantastic springtime. Happy knitting,
Jackie E-S / HeartStrings FiberArts
Attention Newcomers - If you are receiving this newsletter from someone else and would like to start receiving your own issues, I welcome you to sign up at my website http://www.heartstringsfiberarts.com/e-news.shtm
---
EASY DOES IT – Easy Knitting Patterns
A selection of patterns with the beginner in mind
I have had comments from some newsletter readers concerned about the difficulty of knitting lace. Since knitted lace can often look more complicated to do than it really is, people can be afraid to try.

To help you choose something easy and new to try, I've pulled together a variety of easy projects called the Easy Does It collection. These all use basic stitches in repetitive, easy-to-memorize patterns. Plus, my HeartStrings philosophy for knitting "lace" is that it doesn't have to be lace doesn't have to be in tiny yarns on tiny needles, and that especially applies to these patterns.
Not a beginner? Sometimes you just need some mindless knitting. So don't be shy of picking out an Easy Does It pattern now and then to work on. I do!
---
This specific question related to the Palette of Colors Shrug, but can apply in other situations to taking measurements to determine a size.
Question from Katie:
I am getting ready to start your beautiful shrug and was wondering how you recommend I measure myself for the size. Should I do a wingspan cuff to cuff measurement with my arms out straight to the side or a more relaxed, arms down at my sides, cuff up the arm to shoulder, across shoulder, down other arm to cuff measurement?

My wingspan is 53" and the more relaxed measurement is 62". Any advice you can give is very much appreciated!
Jackie E-S answers:
I'd split the difference between the 2 measurements. i.e. (53 + 62) / 2 = 57.5. Closest size is 58".

There's going to be some give to the fabric, so it's going to easily stretch to the 62. But you don't want it so oversized that it falls off your shoulders.

Does this make sense?
And Katie replies:
Thank you, thank you, thank you!!! Yes, it makes perfect sense and I can hardly wait to cast on for this beautiful shrug. I will pass along your advice to my other knitting friends who are making the shrug along with me.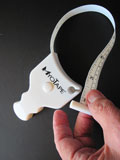 Related resource article if you are looking for a new measuring tape: A Nifty Measuring Tape
---
Here's a heads up on new patterns to look forward to soon at stores and download sites. Click the highlighted links to go to the accompanying webpage where there are photos and more information. I'll send out more announcements as these patterns become more widely available for the official publication release.
#H77 Buds in the Breeze. This light-as-a-breeze stole features a field of flower-like medallions centered with nupp "buds".
#H81 A Touch of Beaded Class. A touch of beads in alternating light and dark accent colors adds sparkle and stylish class to this lace fashion scarf that is wide enough to be worn as a shoulder stole.
#H83 Peek-a-Bead Scarf. Beaded accents nestled within colorful cushions of texture knitted fabric. (Preliminary webpage is posted with blog link to project-in-progress articles/pics.)
---
Did you know that many of the HeartStrings designs are sampled in handspun yarns? (That spinning wheel in the HeartStrings logo is no coincidence.)
In this and future newsletters, I'll occasionally be including articles about spinning. Feel free to share these articles with your friends. Even for non-spinners, there will almost certainly be something you and they find interesting.
Spinning a 2-ply laceweight yarn for a scarf
Sometimes I am asked about the laceweight yarns I have hand spun for scarves or shawls. At the top of my list of favorites, I like to spin a laceweight 2-ply yarn from hand-painted silk, cotton or fine wool blend. Here's how I approached spinning the yarn used in ... (read more)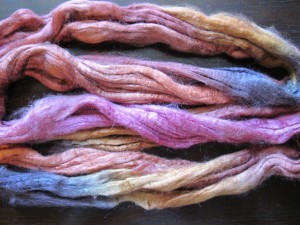 Thank you for being part of the HeartStrings FiberArts community. Please stay well, safe and enjoy your knitting.
Your friend in all things fiberly,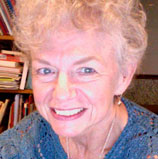 HeartStrings FiberArts / Jackie E-S Design Collections
From the classic to the uniquely appealing for today's modern knitter.

Skill-building, comprehensive instructions to advance the art of knitting.

Yarn-generic patterns for your creative freedom.

Featuring innovative designs for Knitted Lace and Beaded Knitting based on tradition in updated techniques.