Happy May!
This has been a busy month for me, with not only releasing 3 new patterns (see below), but getting even more new things ready to showcase and release at the TNNA Trade Show June 11 - 13 . This is the show where your yarn shops come to buy patterns and yarn. If you will be talking with your local yarn shop before then, let them know to stop by and see me at HeartStrings FiberArts booth #425.
Don't forget Father's Day June 19th. There's still time to knit something for Dad. For ideas and inspiration, see For the Man pattern collection.
Let's get on with the newsletter now. Hope you enjoy it. I can't wait to hear what you think of the new patterns this month.
Jackie E-S / HeartStrings FiberArts
Attention Newcomers - If you received this newsletter from someone else and would like to start receiving your own issues, I welcome you to sign up at my website http://www.heartstringsfiberarts.com/e-news.shtm
---
3 new HeartStrings patterns are available now at your favorite Yarn Stores (ask for them if they don't yet stock these patterns) or as pdf files from Download Sites.
#H77 Buds in the Breeze. As enjoyable to knit as it is lovely to wear. This light-as-a-breeze stole features a field of flower-like medallions centered with nupp "buds". The sample is made in Schaefer Audrey fingering weight merino/silk in one of their subtly solid botanicals colors called Indigo.
#H81 A Touch of Beaded Class. A touch of beads in alternating light and dark accent colors adds sparkle and stylish class to this lace fashion scarf that is wide enough to be worn as a shoulder stole. The sample is made in Colinton 1000, 100% Australian young goat mohair 2-ply fingering weight yarn.
#H83 Peek-a-Bead. Bead accents nestle within a honeycomb of colorful knit fabric. Self-shaping edges, along with a pleasingly reversible textured knit/purl design, make this scarf fun to knit and wear. The sample shown is made in Crystal Palace Sausalito color #8308 Monet.
---
HeartStrings Patterns By Yarn Weight … now cross-referenced to CYCA Standards
Looking for a HeartStrings pattern that can be used to knit the yarn weight type you have? HeartStrings Patterns By Yarn Weight is a cross-reference of all available HeartStrings patterns broadly classified by yarn thickness. I know this is a popular area of the website because it is a highly trafficked page. Recently, I have expanded that page to include cross-references to the Craft Yarn Council of America (CYCA) Standard Yarn Weight System.
You might wonder why I've had my own HeartStrings weight classification scheme all these years? Well, HeartStrings patterns have been around much longer than CYCA Standards. And even at that, the initial release of CYCA Standards didn't even recognize that lace weight yarn existed! So that would have left out a good number of HeartStrings patterns.
Now that "Lace" is finally a part of CYCA Standards, you might see these symbols on HeartStrings patterns going forward. What do you think? Do you like to see and use the CYCA yarn weight symbols when you are choosing yarns and patterns? Or does it not really matter to you? Please take this short survey to cast your vote.
---
May is my birthday month. And this year marks one of those significant milestones in life (but I'm not telling which, lol). To celebrate with you, I am starting a Birthday Club at the Jackie E-S / HeartStrings Fan Group on Ravelry.
Just be sure to have your birthday (month and day) entered into your Ravelry profile. Even if your birthday is not in May, enter it now if you have not already done so. That way you won't forget when your birthday month comes up.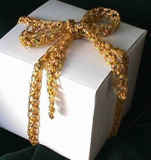 Continue to actively participate in the group throughout the year. Then sometime during your birthday month I will send a gift coupon for a HeartStrings pattern of your choice. Of course, we want to hear which one you decide on – do share!
Also, let your friends know about joining HeartStrings Fan Group on Ravelry. The more the merrier at the birthday party!
---
Spinning Jacob Wool – one fleece, many colors
Jacob sheep are small, multi-horned animals somewhat resembling goats. I love their spotted colors because of the fun I've had with their wool fleeces. From just one Jacob Sheep fleece, I can create a palette of tones from light to dark … (read more)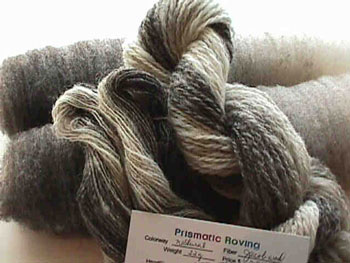 Feel free to share this and other articles with your friends. Even for non-spinners, there will almost certainly be something you and they find interesting.
---
Priceless because they just grow up too fast
Isn't this just too cute?!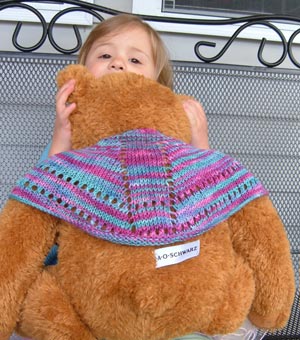 Doreen made Bear's Faroese Shawl for her precious granddaughter and gd's favorite teddy bear named (you guessed it) "Bear". You can bet it won't be long before that little girl is bigger than Bear! But undoubtedly the granddaughter will treasure that loving gift from Grandma Doreen for years and years to come.
Thank you Doreen for sharing Bear's Faroese Shawl with us. Want to make your own? Dolly Faroese Shawl
'Til next time, please stay well, safe and enjoy your knitting.
Your friend in all things fiberly,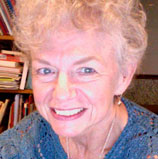 HeartStrings FiberArts / Jackie E-S Design Collections
From the classic to the uniquely appealing for today's modern knitter.

Skill-building, comprehensive instructions to advance the art of knitting.

Yarn-generic patterns for your creative freedom.

Featuring innovative designs for Knitted Lace and Beaded Knitting based on tradition in updated techniques.