Hi knitting friends,
What are your summer plans? vacation spots? special projects? just relaxing? too busy and just need to work (ugh)? — Please join HeartStrings fans on Facebook and let us know.
At the TNNA industry trade show earlier this month, the debut of the newest HeartStrings patterns was well-received. Thanks to the attending yarn shops for their enthusiastic support.
Now that the show is behind me, and once I complete sending pattern orders to the shops, I am looking forward to a mid-summer break with cooler weather. (In the summer, it's so hot here where I live!) Of course, I need to plan some knitting to take along. Anyone in the Portland, Maine or the Antigonish, Nova Scotia areas?
Take care and have a great summer!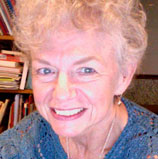 p.s. Remember to come celebrate the remainder of June and upcoming July birthdays at the HeartStrings Birthday Club thread on Ravelry.
Attention Newcomers - If you received this newsletter from someone else and would like to start receiving your own issues, I welcome you to sign up at my website http://www.heartstringsfiberarts.com/e-news.shtm
---
TNNA DEBUT PATTERNS AVAILABLE NOW
#A107 Reversible Eyelet Cables Stole
This classically stylish stole in hand dyed yarn features mock cables with a border of herringbone lace. A special technique is used in this pattern to alternate two balls of hand dyed yarn every row in a way that avoids both yarn strands being carried up the same edge. Fngering weight. Shown in Mountain Colors Bearfoot.
#A178 Times Two Sideways Reversible Scarf
Imagine the softest of handspun cashmere caressing your neck. The understated elegance of horizontal bands of subtle texture make this scarf handsome on both men and women. Fine fingering weight. Shown in Jade Sapphire Angelwings.
#H82 V-Start Triangle Lace Shawl
A flattering neckline and easy-to-knit lace patterns combine to create this appealing triangle lace shawl. Instructions are available for two sizes as well as guidance to easily adapt for other sizes. Laceweight. Shown in Mountain Colors Winter Lace.
---
#A43U Johnny Socks
This republication revisits classic socks styled for the man. Johnny Socks feature a textured pattern stitch of embossed ribs and diamonds on the leg. Fingering Weight. Shown in Tilli Tomas Sock Yarn. (replaces A43 with new photography and upgraded layout)
#S31 Fleur de Lace (aka Louisiana Socks) is now available as an individual pattern. In tribute to the state of Louisiana and Mardi Gras celebration, the French fleur de lis is outlined in lace embellished with gold beads against a purple and green background. Shown in Crystal Palace Mini Mochi and Miyuki galvanized gold beads. (originally published in the cd book 50 Socks - 50 States)
---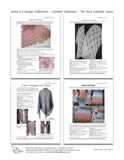 The June 2011 edition of HeartStrings 4-up PDF Catalog is now available for your convenient download viewing or printing. This is a free download and includes quarter-size sample cover page images of all HeartStrings patterns including the latest announced this month.
Enjoy looking through all the pattern designs in the HeartStrings collections at your leisure. This pdf catalog can be saved to view offline or printed as you choose. You can even load it onto your mobile device to take along shopping. Let this catalog inspire and enable your shopping pleasure at your favorite yarn shops or online stores that sell HeartStrings knitting patterns.
Remember that downloadable full-size sample cover pages are also available free for every pattern. Although the complete set of full size sample pages is no longer available as a downloadable catalog (it got too humongous!), you may still download a full-size sample cover sheet for any individual pattern you wish to view/print. As before, the link to the downloadable sample cover page for each pattern is located at the bottom of the online design collections catalog web page for that pattern.
---
Do you sometimes think you are following instructions, then find out later your eyes fooled you? Maybe your first clue is that things are not working out. Or maybe something is just not making sense. Here's a quick tip ... (read more)
---
Shopatron is the online-ordering service that HeartStrings uses to route orders of printed patterns to fulfillment partner yarn stores.
There is also a HeartStrings catalog of downloadable patterns on Shopatron that allows you to purchase patterns in pdf format and keep them in a digital content library in your Shopatron content for viewing or printing anytime you want (there is no expiry date and you also get free updates or upgrades of those patterns if, and whenever they are made).
The links to Shopatron are those "Shop Now" and "Buy ePattern" buttons you see on my HeartStringsFiberArts.com website (just in case you wondered what I was talking about).
I've been using the Shopatron service for years and generally it has been working well and has received favorable comments. Except for one thing ... some of you would have preferred to use Paypal rather than credit card entry. The good news is …. now you can. Shopatron and I are pleased to now be able to offer you this choice of payment at checkout. I hope you'll give it a try. Let me know what you think.
---
Bettie Sue wrote about the Colorful Splendor Lace Scarf with this question:
What a wonderful choice for my first choice for my first lace project! The combination of written and graph directions was a great way to learn … Now that it is all blocked, should I advise the wearer to have it dry cleaned when necessary, since she won't have blocking materials? I made it from KnitPicks'Shimmer -- alpaca and silk.
I answer:
Thank you for taking the time to write. I am glad you enjoyed making the Colorful Splendor Lace Scarf.
Usually I don't trust dry cleaners. Besides the fact that your recipient would be trusting your precious gift to harsh chemicals, the dry cleaning process is really done with a wet solution!
If you have blocked the scarf well to begin with, the next times it usually won't take much blocking to get it to look nice again. Especially with the alpaca and silk, probably just a light finger blocking on a flat surface (i.e. no special equipment needed) will be enough.
I'd advise the recipient to soak in mild detergent, then rinse (no agitation), press out majority of water while wrapped in a towel (don't twist), then finger block on any flat surface where some moisture will not be a problem. Leave the scarf lying flat until thoroughly dry. If the recipient does not have a large enough surface to lay the entire scarf flat in a single layer, it can be laid in a double layer to not take up as much room.
'Til next time, please stay well, safe and enjoy your knitting.
Your friend in all things fiberly,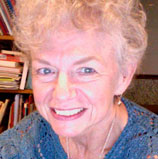 HeartStrings FiberArts / Jackie E-S Design Collections
From the classic to the uniquely appealing for today's modern knitter.

Skill-building, comprehensive instructions to advance the art of knitting.

Yarn-generic patterns for your creative freedom.

Featuring innovative designs for Knitted Lace and Beaded Knitting based on tradition in updated techniques.