Hi knitting friends,
I know, I know … it's been way too long since I had a newsletter for you. To make up for that a bit, I am doing an extra special giveaway right now! Details are included in this newsletter issue.
Fall is in the air and that means you are probably gearing up for cooler weather and the holiday knitting season. I hope you'll take this opportunity to look again at all the HeartStrings patterns that are available. Remember that it is easy to download a catalog of cover page thumbnails to browse at your leisure and mark up for your favs and wish list. 4-up PDF Catalog
There are also 3 new recently released patterns to entice you. I can't wait to see what you think. New for Fall 2011 catalog flyer
Read on for this and more in this month's edition of HeartStrings Knitterly News and Views ...
Jackie E-S / HeartStrings FiberArts
Attention Newcomers - If you received this newsletter from someone else and would like to start receiving your own issues, I welcome you to sign up at my website http://www.heartstringsfiberarts.com/e-news.shtm
---
New HeartStrings PATTERNS Available NOW
---
Rock Star Choker

Pattern #H85. Turn a plain outfit into something special with this dazzling lace collar worked in Tilli Tomas Rock Star, a sumptuous silk yarn plied with beads, or your choice of DK / worsted weight yarn.

More ...
---
V-Start Neck Kerchief

Pattern #H182. A flattering neckline and easy-to-knit lace patterns combine to create this appealing neck kerchief scarf using just 150 yards of lace weight yarn. Shown in Lorna's Laces

Helen's Lace

.

More ...
---
Pulled Salt Water Taffy Socks

Pattern #S32. The pattern stitch of these socks was designed to mimic the look of taffy being pulled as it is readied for its final stages of candy formation. The ribbed stitch also makes a good-fitting sock across a range of sizes. Shown in Lorna's Laces

Shepherd Sock

.

More ...
---
This hand-painted skein of Schaefer yarn reminds me of the blazing colors of fall. Would you like to win it? Just leave a comment on the Jackie E-S blog about which HeartStrings pattern you like best that could be made in this yarn (check the yarn details below). I'll do a random drawing on October 15th. Your comment will count as your entry into the drawing.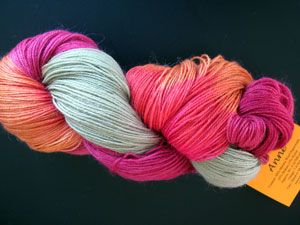 This is Anne, a 3-ply fingering yarn blend of Merino wool superwash, mohair and nylon. The skein is a huge 4 oz/560 yards. Care is Hand or Machine Wash. There is no color name on the label (this is probably a one-of-a-kind skein), but it appears to have been similar to the colorway called Emily Dickinson which Cheryl Schaefer used to dye on cotton/silk.
Remember to leave your email address on your comment so that I can contact you for your U.S. shipping address if you win! (sorry, I can only do U.S. shipping for this; if you are out of the country, please make arrangements with a friend)
Good luck!
p.s. For 2 chances to win ... Also leave a comment on the HeartStrings FiberArts Facebook fan page about the HeartStrings pattern you like best that could be made in this yarn, and it will count as an additional entry into the drawing and another chance to win. Don't forget to "like" HeartStrings so I can contact you if you win.
---
HeartStrings patterns for knitted jewelry make gift giving easy.

These small items work up quickly and can be easily personalized for individual tastes in color and bling.
pssst … There's even one that's free.
---
Free Guide to Using a Yarn Swift
Try the "ferris wheel" method for smooth reeling with less tension
An umbrella swift is a revolving device that holds a yarn skein under tension while the yarn is being wound off into balls or used directly on your project. Pictures usually depict the swift mounted so that the skein is held horizontally.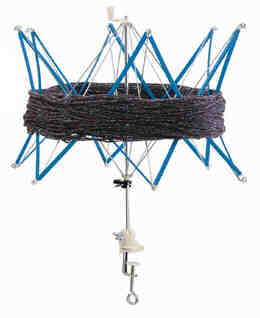 I find better results by mounting the swift so that the skein is held vertically, i.e. the swift revolves like a "ferris wheel". You don't have the possibility of the skein sliding down and off the ribs of the swift (a likelihood for slippery or large heavy skeins), and the yarn tends to reel off more smoothly with less tension (especially good for fine laceweight yarns). In this photo, the skein has been placed on the vertically mounted umbrella swift. Note that the ties for the skein are left on until ready to start reeling off.
This and other tips on using an umbrella swift is available in this free downloadable pdf document: Using an Umbrella Swift
Note: This document is set up as a 2-sided leaflet to be printed in landscape format on standard 8.5" by 11" paper and folded.
---
Q&A: Will this keep my edges from curling?
Mary, who knits baby afghans for Project Linus, asked this question about the Elegantly Simple Baby Blanket. My answer and her subsequent "ah! ah!" moment can help you better understand how you can control edges from curling in your other projects.
If I slip the first stitch as if to knit, will that help in keeping the edges from curling?
My answer:
The Elegantly Simple Baby Blanket pattern already includes detailed stitch instructions for the recommended type of selvedge stitch method to avoid curling. Just work the edge stitches as given in the pattern. i.e. slip the first stitch of each row as if to purl and with yarn held to front; knit the last stitch of each row. This gives you a chain stitch edge that has enough elasticity in the lace pattern to avoid both buckling and curling.

If you substitute a slip stitch as to knit, the edge stitch will be twisted and tighten up, causing your edges to more likely pull in vertically and cause the fabric to buckle.
Mary's "ah! ah! moment" answer:
Thank you so much for all your help. I now know why the edges on my knitting afghans curl.
Visit the Project Linus website.
---
Coming up next month ... A focus on one-skein knitting projects.
'Til next time, stay well and safe, and of course enjoy your knitting!
Best regards,
Jackie E-S / HeartStrings FiberArts
HeartStrings FiberArts / Jackie E-S Design Collections
From the classic to the uniquely appealing for today's modern knitter.

Skill-building, comprehensive instructions to advance the art of knitting.

Yarn-generic patterns for your creative freedom.

Featuring innovative designs for Knitted Lace and Beaded Knitting based on tradition in updated techniques.