Hi knitting friend -
Can it already be December?!
I must admit that this is the time that I need to be very careful I don't get too stressed out getting ready for the holidays. It should be fun, right?
So I wish you joy as you knit, and cook, and wrap gifts, etc. Most of all, keep the spirit of the season in mind as you celebrate (or not).
For the budget-minded, as well as those like me with limited time for making hand-made gifts, my newest pattern, Bitty Beady Christmas Tree might be the answer.
Read on about this, along with other articles that are (hopefully) helpful and interesting.
Happy knitting!
Jackie E-S / HeartStrings FiberArts
Attention Newcomers - If you received this newsletter from someone else and would like to start receiving your own issues, I welcome you to sign up at my website http://www.heartstringsfiberarts.com/e-news.shtm
---
Vote for the next kit drawing on Facebook
Please help pick the prize in the Special Appreciation Drawing for HeartStrings Facebook fans. VOTE HERE for which of these HeartStrings kits you'd most like to win. The first kit to get 100 votes will be offered as the prize in the HeartString Fans Appreciation Drawing.
Here are direct links to the Shopatron catalog for HeartStrings FiberArts where you can purchase now if you can't wait or decide on just one.
You just need to help pick which kit you'd like offered as the prize, plus be a fan of HeartStrings. You'll automatically be entered into the drawing of whichever kit reaches 100 votes first. There's nothing to purchase; nothing to guess; how easy can that be?
I appreciate your support and help in spreading the word about connecting with HeartStrings FiberArts on Facebook. Invite your friends and share on your own Facebook wall, Twitter, etc. about this drawing. The faster one of the offered kits gets 100 votes, the faster we can do the actual drawing! Remember to "Like" to become a fan of HeartStrings FiberArts on Facebook if you have not already. All fans at time of drawing will be entered.
---
Bitty Beady Christmas Tree

Pattern #H80. I've had this design concept on the list for quite a while (meaning years, lol), and never had quite gotten my act together. Well, this is finally the year that the muses have bestowed their creative juices to bring this pattern to conclusion. Bitty Beady Christmas Tree is a great use for small amounts of yarn to make low-cost holiday house-warming gifts, ornaments and package decorations.

More ...
Dragonfly Dreams

Pattern #H79. Dragonflies symbolize the illusion of light, thoughts and dreams in this knitted interpretation featuring lace, beads and Estonian gathered stitches.
I am pleased to be a 2nd runner-up honorable mention in the 10,000th Patternfish Design Competition. Thank you for your help! The Dragonfly Dreams pattern is available for purchase now at Patternfish for your knitting pleasure. More ...'
---
A Gift for You: Troika Scarf pattern
In the spirit of gift-giving this holiday season, I hope you enjoy this Troika Scarf Pattern. It is a stash-busting odd ball scarf that is super easy and knit sideways along the length in garter stitch. You'll also learn a technique to produce look-alike cast-on and bound-off edges.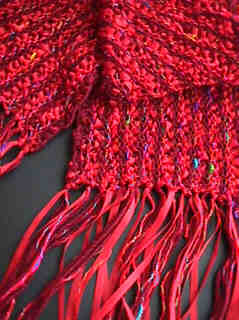 Wonder why I named this "troika"? It is for my method of using three different yarns in alternating sequence. It's great for odd balls or using small amounts of high-end yarns together with some more economical yarns, or even stash yarns you already have on hand.
Have fun!
---
Deco-organizing a spindle spinning collection
There's nothing more cost-effective than decorating with items you already own. And there's nothing more satisfying than organizing in a creative way. Put them together and you get "deco-organizing".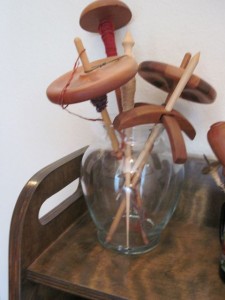 I invite you visit my blog for this article where I show some of the hand-spinning spindles I've collected on display as "decoration". Whatever you collect, I hope it helps you rationalize (and enjoy) collecting whatever tools and fibers you love.
---
From Glenys W:
Hi Jackie, just found out our secret Santa is being done in 2 weekend's time- 11 days! Wow, I'm going to be knitting solidly!
I haven't decided whether to knit the Flared Lace Smoke Ring in a 2 ply lace weight or a 4 ply fingering weight alpaca. Have you used the same number of stitches for either weight yarn? And, if so, what is the reasoning behind it?
Thanks Glenys
A: I've not done with 4-ply weight alpaca, but have done in both laceweight and 3-ply weight with same number of stitches and same size needles. In cases like this where the needle size is already larger than what would ordinarily be used with the yarn, the needle size is moreso the determinant of the resulting gauge rather than the yarn itself. The heavier yarn just fills in the spaces between stitches a bit more and produces a slightly firmer fabric.
From Shirley of Sydney Australia:
Dear Jackie, Have just discovered your wonderful site to-day, and I have already learned more than I ever knew before, so a big thanks to you and your team. A question; I am wanting to make snowflakes and leaves but I feel a little stiffening is in order. Can I use starch, or is there some other magic formula?
A: As to stiffening, yes by all means, stiffen your leaves and snowflakes if you feel it is needed for the type thread and use you are putting these to. (some people prefer not stiffening because they are using for clothing motifs, etc.) It is totally up to you.
My own preferences when I do choose to stiffen are to use plain laundry starch.
Other things that people sometimes use are sugar water or craft stiffeners. My own experiences are that the sugar water is sticky and can attract ants. The craft stiffeners can eventually yellow over time. That is why I choose not to use them. But of course I have not tried every product out there and sometimes new, improved products come on the market.
But for good-ol' basic tried and true stiffening, I don't think you can beat laundry starch.
---
I am always touched by comments from my HeartStrings newsletter audience. Each and everyone of them means so much to me. Here are two that I especially want to share from the recent newsletters.
~~~~~~
Kimberly S wrote:
Voted! You deserve it, not only for the pattern, but for your constant hard work and commitment to the knitting community. Thanks for all the joy you bring with you newsletters, your patterns, and your enthusiasm!
~~~~~~
Peff M (rozetoilegifts on etsy) wrote:
Am currently working on tiny knitted animal ornaments.
I also knit for charity and intend to use your bunny pattern to make some huggable toys for children in trauma to use. Did you know that fire departments carry teddybears and blankets for children who are evacuated from burning houses?
Sometimes these children leave without taking anything, so I make several at a time and donate them to the local fire and police departments.
~~~~~~
MammaDowney (on Ravelry) commented on Bitty Beady Christmas Tree:
THANK YOU for allowing a preview of your cover sheet :) I often pass by patterns-to-purchase because I can't determine the stitches or techniques used, and don't want to purchase patterns that include techniques I don't know or like :)
p.s. from Jackie: Pattern cover sheets of all HeartStrings patterns are always available for free download at the heartstringsfiberarts.com website. For example, scroll down to the bottom of the catalog page for Bitty Beaded Christmas Tree here, and you can download the PDF version of the pattern cover page to view or print.
---
Thank you for being a fan of HeartStrings and supporting subscriber of this newsletter.
Best regards,
Jackie E-S / HeartStrings FiberArts
HeartStrings FiberArts / Jackie E-S Design Collections
From the classic to the uniquely appealing for today's modern knitter.

Skill-building, comprehensive instructions to advance the art of knitting.

Yarn-generic patterns for your creative freedom.

Featuring innovative designs for Knitted Lace and Beaded Knitting based on tradition in updated techniques.