What's new for the New Year
I hope you have had good holidays and are ready to hit the road running in the New Year.
I have a lot to catch up on since I last wrote. It seems like a lot of things are earlier this year and it is really bunching up the calendar (even Mardi Gras is much earlier!).
So there are several several things I need to bring to your attention before it is too late, lol. I hope you will have time to read on now, rather than wait until later and maybe miss out on something.
To a good 2010!

Important TNNA Announcements
Where can you find Jackie E-S / HeartStrings at the TNNA Show this weekend?

This show is January 9 - 11 at the Convention Center in Long Beach, CA. General show information can be found at www.tnna.org
Sample models of the newest HeartStrings patterns will be on display in these exhibitor booths: Lorna's Laces, Buffalo Gold, Tilli Tomas, Mountain Colors, Jade Sapphire, Kreinik, Beadsmith, and Colinton Australian Angoras.
The full line of HeartStrings patterns will be available for ordering at Lorna's Laces (625). Selected patterns will be available at Buffalo Gold (442), Tilli Tomas (457) and Mountain Colors (733). For your convenient ordering of beads, Beadsmith (1257) will have a display rack set up of all beads called for in HeartStrings patterns.
Jackie E-S will also be doing a series of mini-demos, knitting antics and pattern signings on Saturday and Sunday, January 9th and 10th. Just a few minutes of your time and you'll be ready to create excitement back at your own shop by teaching a new twist on a technique to your customers. First-comers will be gifted a signed pattern for a project that includes the technique they saw demonstrated.
In all demos, see HiyaHiya needles in action. HiyaHiya offers high quality needles at a good price point. You'll see first-hand how great these needles work for all kinds of knitting antics.
---
Now Offering a Convenient Source for Ordering Beads
Looking for a good place to buy beads at wholesale to sell or kit with HeartStrings patterns?

With the help of Larry Weiss at Beadsmith, a special "Shop by Brand" section of their online wholesale catalog is now set up for HeartStrings patterns.
You can buy beads in retail-ready tubes or in bulk quantity to re-package and label yourself. Sign up for a wholesale account at the Beadsmith site or contact Larry 732-969-5300 x102 (ET) directly.
---
HeartStrings/Buffalo Gold Trunk Show and Traveling Sales Display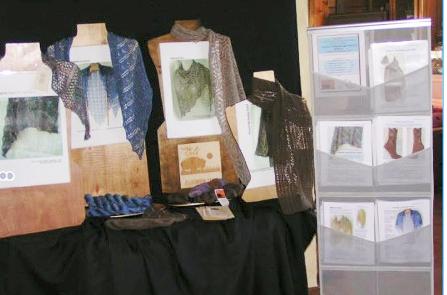 Cecil and Ron Miskin of Buffalo Gold have come up with a great trunk show featuring some of my HeartStrings patterns done in their yarns. the Trunk Show is self-contained, arrives in a 'trunk', including sales display props and complete easy instructions for set-up.
This trunk show is kicking off for sign-ups at the TNNA Show this weekend (booth 442). If you are carrying Buffalo Gold yarns, or are considering doing so, be sure to stop by.
---
Revamping of Online Ordering
The wholesale online ordering system will not be available while I go through some upgrades.
As background, the shopping cart/payment system I have been using is quite antiquated in terms of technology advances these days. And although it worked well (and most assuredly, still worked securely as I kept all compliance audits up-to-date), it sorely has been in need of things that will make your online ordering experience easier.
Of course, this does not mean that after the upgrade, that other options for ordering will discontinue. I am just trying to give you the best services and options that I can.
Meantime, please phone, fax or email your order. Thank you for your patience.
---
January 2010 Release Shipping Soon
Brand New for January 2010
Wholesale $3 each/min 3 each title.
Glitz and Beads Socks
The sparkle of metallic thread and shiny beads in these socks is sure to make your feet happy and feel like dancing. The beaded pattern echos the rhythmic sound waves of pulsing music to which we can imagine ourselves tapping in musical cadence.
White Lotus Stole
White Lotus features lovely scintillating organic forms enhanced by beaded nupps (beads and bobble-like texture). This pattern is planned for release mid January 2010.
Links of Diamonds Scarf
This jewel of a scarf has a beautiful shaped edge, undulating about the hexagonally clustered diamond shapes that appear to be linked together. For added glamour, incorporate glass beads as I did, or omit them if you prefer.
ATTENTION RETAILERS in the Auto-Ship Program – Your shipment of 6 each (or your already increased standing order quantity) of these three new patterns will ship the week of January 18, 2009. Please contact me before then if you want to add to your order and take advantage of the free shipping included with the auto-shipment program benefits. Not in the auto-shipment program yet? Contact Jackie E-S to sign up.
---
Classic Jackie E-S Designs Revisited for January 2010
From time to time, I revisit older patterns to update them with expanded content and/or new photography of sample models made in current yarns. Errant Ankles Laces Socks, Beaded Lace Scarf II and Crest of the Waves Lace Scarf are the latest in the series of Classic Jackie E-S Designs Revisited. These three newly updated patterns feature Mountain Colors yarn and are available for ordering and shipment anytime beginning now.
---
I welcome your comments and suggestions. Don't hesitate to let me know how I am doing and how I can serve you even better. Best regards,
Jackie Erickson-Schweitzer
HeartStrings FiberArts
53 Parlange Dr
Destrehan LA 70047
1-888-955-8094 (toll-free) or 985-764-8094
jackie@heartstringsfiberarts.com
---
HeartStrings FiberArts / Jackie E-S Design Collections
From the classic to the uniquely appealing.

Skill-building, comprehensive instructions.
Yarn-generic patterns to support the yarns you already stock.
Featuring patterns for Knitted Lace and Beaded Knitting.