Dear HeartStrings business partner,
Just a quick update on the schedule for new patterns. Also, I'll be closing the studio for summer vacation and wanted to give you a heads up to place orders for any HeartStrings patterns you need now.
Hope you are having a good summer!
Jackie E-S / HeartStrings FiberArts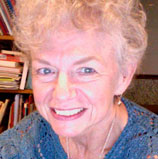 HeartStrings is closed for wholesale shipments July 16 - August 8. If you have a pattern order you need filled asap, please contact me no later than Thursday, July 15. Orders received after that will be queued for fulfillment after I re-open August 9.
You may also order HeartStrings patterns anytime from my full-line distributors Infiknit (800-408-1522) and Lorna's Laces (773-935-3803).
---
schedule for new patterns
The next autoshipments of new HeartStrings patterns are planned for sometime the week of August 16. The August shipment includes these 3 new patterns:
Pianissimo
Fairies and Flowers
Half-note Symphony
Advance shipment of the first 2 patterns is also available (regular shipping charges apply).
#W32 Pianissimo Lace Blouse

Softly with a whisper of lace, like fine classic music, this sweater is a masterpiece in concomitant simplicity and elegance.

This is a design at long last completed for publication. Pianissimo Lace Blouse began over 12+ years ago with a prototype made in a wool/silk yarn I hand spun. Then the idea went into hibernation for all these years, but never out of mind as something to eventually formalize and publish. Something with a musical theme is just too dear to my heart to let the music die.

A yarn with a soft hand and good draping quality such as a blend with bamboo, silk or Tencel is recommended. Pattern is sized for 34" - 39" (fingering weight) and 42" - 50" (sport weight) with 0 - 2" negative ease.

The sweater model photographed for the pattern (and shown here in the 36½" size) was made in Crystal Palace Panda Silk. I fashioned the 'buttons' from 10 mm green/purple fluorite gemstones. For you who saw this sweater at TNNA and drooled, your wait is over to get the pattern!

---

#H78 Fairies and Flowers Scarf

Dainty fairy motifs at one end of this scarf transform into flowers at the other end. Knit yourself a little magic this summer.

Shown in Kami Bison from Fibre-Isle International, a blend of bamboo/Merino/bison, but also lovely made in other yarns such as 2-ply cashmere and Zephyr wool/silk.

Beads for the fairy heads and flower buds are placed with the crochet hook method.

My knitters are having a lot of fun with this one - e.g. using pewter Zephyr and amthyst AB beads for "Fairies and Flowers in the Moonlight". Another idea is a tone-on-tone green cashmere and gold-lined crystal beads for "Fairies and Flowers in the Forest". What else can you come up with?

---

Sorry, no photo yet. I'll try to paint a
word picture to peak your interest.

#H72
Half-note Symphony Shawl

Concept: Semi-circular shawl in alternating wedges of 2 harmonious colors.

Features: Purl lace short-row wedges separated by spokes of garter stitch bands. Scooped neckline.

Yarn: Lace weight or light fingering weight. Model to be shown in the pattern is made in Tilli Tomas Symphony Kid Lace with Beads & Glitter, colors Atmosphere (light gray) and Eternal Diva (soft gray-blue)

This would be a good entry-level project for a beginning lace knitter, as well as providing a relatively mindless project to interest a more advanced knitter.
---
other recent new patterns to get now
The automatics for these new HeartStrings shawl/wrap patterns went out right away after TNNA last month and are available now for regular ordering and re-orders.
#H73 Bi-directional lace strips stole

This was a crowd pleaser in the TNNA Fashion Show. The stole is made in jewel-tone colors of narrow lace strips that are joined as the panels are knitted, thus eliminating the need for any sewing later on.

There are three sets of strips, each in a different color. The undulating edges around the stole and between the strips add movement and interest to this eye-catching stole.

This takes just 1 skein each color of Duke Silk by Himalaya Yarn, or DK/light worsted yarn of your choice.

---

#H74 lacy maizy wrap

Crisp outlines of cable stitches frame a back-drop of lace. This wrap is named after the corn fiber yarn in which it is shown here.

It will make an easy-to-memorize carry-along project for the summer (a simple knit-lace pattern sequence for RS rows, a simple purl-lace pattern sequence for WS rows, plus the cable twist row that is explained for both doing with a cable needle and without).

Made in Crystal Palace Maizy yarn (takes 3 50- balls) or similar hot-weather-friendly fiber, you'll be a cool knitter in more ways than one.

---

#H75 shallow sideways tri shawl

Looking for a stunning long wrap to make with just 400 yards? The traditional triangle shawl is redefined with a shallower profile worked side-to-side beginning with just 4 stitches.

The cable-ribbed lace pattern softens the edges in beautifully scultped outlines.

Shown in Jacques Cartier Qiviuk/Silk Blend (just 2 one-ounce balls). My knitters have also successfully test knit this is other laceweight and light fingering yarns such as Mountain Colors Winter Lace, Jade Sapphire Lacey Lamb, and SWTC TOFUtsies.
---
I welcome your comments and suggestions. Don't hesitate to let me know how I am doing and how I can serve you even better. Best regards,
Jackie Erickson-Schweitzer
HeartStrings FiberArts
53 Parlange Dr, Destrehan LA 70047
Phone: 888-955-8094 (toll-free) or 985-764-8094
Fax: 888-467-7840
Email: jackie@heartstringsfiberarts.com
---
HeartStrings FiberArts / Jackie E-S Design Collections
From the classic to the uniquely appealing.

Skill-building, comprehensive instructions.
Yarn-generic patterns to support the yarns you already stock.
Featuring patterns for Knitted Lace and Beaded Knitting.