Dear HeartStrings industry partner,
Fall is in the air and that means your customers are gearing up for cooler weather and the holiday knitting season. Are you ready to tempt them with some new HeartStrings patterns in your store?
Read on for the latest from HeartStrings ...
Best regards,
Jackie E-S / HeartStrings FiberArts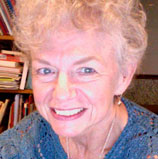 ---
New HeartStrings PATTERNS Available NOW
New for Fall 2011 flyer – free marketing materials available as downloadable pdf's: your choice of higher-resolution printable version or web-ready lower-resolution version.
---
Rock Star Choker

Pattern #H85. Turn a plain outfit into something special with this dazzling lace collar worked in Tilli Tomas Rock Star, a sumptuous silk yarn plied with beads, or your choice of DK / worsted weight yarn.

More ...
---
V-Start Neck Kerchief

Pattern #H182. A flattering neckline and easy-to-knit lace patterns combine to create this appealing neck kerchief scarf using just 150 yards of lace weight yarn. Shown in Lorna's Laces

Helen's Lace

.

More ...
---
Pulled Salt Water Taffy Socks

Pattern #S32. The pattern stitch of these socks was designed to mimic the look of taffy being pulled as it is readied for its final stages of candy formation. The ribbed stitch also makes a good-fitting sock across a range of sizes. Shown in Lorna's Laces

Shepherd Sock

.

More ...
---
ATTENTION retailers in the Auto-Ship Program – Your shipment of 6 each (or your already increased standing order quantity) of these 3 new patterns will be processed October 12, 2011 (or before if you are ready for them now, just let me know and I will send out right away). If you want to add to your order and take advantage of the free shipping included with the auto-shipment program benefits, please contact me before October 12. The cost for standing orders of the minimum of 6 each of these 3 patterns is just $60.00 including shipping.
---
I welcome your comments and suggestions. Don't hesitate to let me know how I am doing and how I can serve you even better. Best regards,
Jackie Erickson-Schweitzer
HeartStrings FiberArts
53 Parlange Dr, Destrehan LA 70047
Phone: 888-955-8094 (toll-free) or 985-764-8094
Toll-free Fax: 888-467-7840
Email: jackie@heartstringsfiberarts.com
---
HeartStrings FiberArts / Jackie E-S Design Collections
From the classic to the uniquely appealing.

Skill-building, comprehensive instructions.
Yarn-generic patterns to support the yarns you already stock.
Featuring patterns for Knitted Lace and Beaded Knitting.