Dear [fname],
Can it already be December?!
I must admit that this is the time that I need to be very careful I don't get too stressed out getting ready for the holidays. It should be fun, right?
So I wish you joy as you work, knit, cook, and wrap gifts, etc. Most of all, keep the spirit of the season in mind as you celebrate (or not).
For the budget-minded, as well as those like me with limited time for making hand-made gifts, my newest pattern, Bitty Beady Christmas Tree might be the answer.
Read on about this, along with other articles that are (hopefully) helpful and interesting.
Happy knitting!
Best regards,
Jackie E-S / HeartStrings FiberArts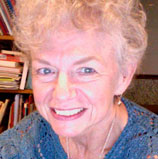 ---
Pattern #H80. I've had this design concept on the list for quite a while (meaning years, lol), and never had quite gotten my act together. Well, this is finally the year that the muses have bestowed their creative juices to bring this pattern to conclusion.

Bitty Beady Christmas Tree is a great use for small amounts of yarn to make low-cost holiday house-warming gifts, ornaments and package decorations. More ...
Printable pattern cover sheet in pdf format is here: Bitty Beady Christmas Tree. Feel free to use this for display in your store and marketing promotions.
I'd love to get a bunch of these patterns into your store for customers looking for last-minute, quick gifts to make. You can knit a bunch of Bitty Beady Christmas Trees in hardly any time. Make them for house-warming gifts, ornaments and package decorations. Easily transform them, too, into unique fiber jewelry with the simple addition of a clasp or coiless safety pin.
I know that this is running close to the holidays, but I promise to get the patterns out to you right away. The suggested retail is $6. Discounts applied per usual terms and minimums. Let me know if any questions.
Besides ordering directly through me, you also have the option to order through other wholesale distributors: Lorna's Laces, InfiKnit, ICG Crafts.
---
Knit a sample model – the pattern is on me
Your best selling HeartStrings patterns will almost certainly be the ones you have models for. Although I can't offer to make models for everyone, I'd love to give you a jump-start by offering a pattern of your choice to use for making a store sample. Just let me know which one along with the name and address of the sample model knitter who will be helping you. If you need help deciding, by all means, write or call me and we can discuss.
---
Deco-organizing a spindle spinning collection
[Please feel free to share this article with your customers. All I ask is that you acknowledge the source.]
There's nothing more cost-effective than decorating with items you already own. And there's nothing more satisfying than organizing in a creative way. Put them together and you get "deco-organizing".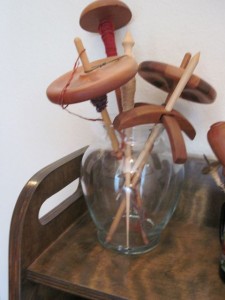 I invite you visit my blog for this article where I show some of the hand-spinning spindles I've collected on display as "decoration". Whatever you collect, I hope it helps you rationalize (and enjoy) collecting whatever tools and fibers you love.
---
From Shirley of Sydney Australia:
Dear Jackie, Have just discovered your wonderful site to-day, and I have already learned more than I ever knew before, so a big thanks to you and your team A question; I am wanting to make snowflakes and leaves but I feel a little stiffening is in order, can I use starch, or is there some other magic formula?
A: As to stiffening, yes by all means, stiffen your leaves and snowflakes if you feel it is needed for the type thread and use you are putting these to. (some people prefer not stiffening because they are using for clothing motifs, etc.) It is totally up to you.
My own preferences when I do choose to stiffen are to use plain laundry starch.
Other things that people sometimes use are sugar water or craft stiffeners. My own experiences are that the sugar water is sticky and can attract ants. The craft stiffeners can eventually yellow over time. That is why I choose not to use them. But of course I have not tried every product out there and sometimes new, improved products come on the market.
But for good-ol' basic tried and true stiffening, I don't think you can beat laundry starch.
---
I am always touched by comments from my HeartStrings newsletter audience. Each and everyone of them means so mcuh to me. Here are two that I especially want to share from the recent newsletters.
~~~~~~
Kimberly S wrote:
Voted! You deserve it, not only for the pattern, but for your constant hard work and commitment to the knitting community. Thanks for all the joy you bring with you newsletters, your patterns, and your enthusiasm!
~~~~~~
Peff M (rozetoilegifts on etsy) wrote:
Am currently working on tiny knitted animal ornaments.
I also knit for charity and intend to use your bunny pattern to make some huggable toys for children in trauma to use. Did you know that fire departments carry teddybears and blankets for children who are evacuated from burning houses?
Sometimes these children leave without taking anything, so I make a several at a time and donate them to the local fire and police departments.
~~~~~~
MammaDowney (on Ravelry) commented on Bitty Beady Christmas Tree:
THANK YOU for allowing a preview of your cover sheet :) I often pass by patterns-to-purchase because I can't determine the stitches or techniques used, and don't want to purchase patterns that include techniques I don't know or like :)
p.s. from Jackie: Pattern cover sheets of all HeartStrings patterns are always available for free download at the heartstringsfiberarts.com website. For example, scroll down to the bottom of the catalog page for Bitty Beaded Christmas Tree here, and you can download the PDF version of the pattern cover page to view or print.
---
I welcome your comments and suggestions. Don't hesitate to let me know how I am doing and how I can serve you even better. Best regards,
Jackie Erickson-Schweitzer
HeartStrings FiberArts
53 Parlange Dr, Destrehan LA 70047
Phone: 888-955-8094 (toll-free) or 985-764-8094
Toll-free Fax: 888-467-7840
Email: jackie@heartstringsfiberarts.com
---
HeartStrings FiberArts / Jackie E-S Design Collections
From the classic to the uniquely appealing.

Skill-building, comprehensive instructions.
Yarn-generic patterns to support the yarns you already stock.
Featuring patterns for Knitted Lace and Beaded Knitting.