WHAT'S NEW
---
Get News & Specials
Sign up for free
---
♥

PRODUCTS

♥

The Pattern Collections
Easy Knitting
Scarves/Stoles
Faroese Shawls
Other Shawl Shapes
Sweaters & Vests
Socks & Fun Footwear
For the Hands
Neck & Up Coverings
For the Man
For Baby
Home Decor
Jewelry
Minis and Miscellany
Bookmarks
Toys
Holidays & Seasons
Comfort Collection
I Hate to Purl
All Beaded Patterns
PDF Pattern Catalog
Patterns by Yarn Weight
Tutorials

---
♥

SHOPPING

♥

Downloadable Patterns
Ravelry
Craftsy
Patternfish
KnitHeartStrings
Printed Patterns
Kits and Supplies
---
♥

STAY IN TOUCH

♥

Newsletter Archive
Jackie's Blog
---
Free Gift
Want to help me with some of the costs of providing free educational resources? Every donation counts. Your donation, small or large, is very much appreciated. Thank you!
---
"Your patterns are just fabulous ... unique and yet based on tradition."

- Jennifer C.

"I just love the simplicity of your patterns and the complexity of their appearance."

- Maureen M.

"

"I enjoy your website. It is easy to use and full of information ..."

- Debby L.

"... I love Heartstrings patterns. They are clear and well presented and Jackie Erickson-Schweitzer, the designer, is just a lovely, inspiring woman - well worth supporting by the purchase of the pattern."

- Kimberly L.



Russian Join
Joining yarn with interlocking loops
A Russian Join is a technique for joining the ends of two yarn or thread together. I am not sure where the name comes from, and probably would name it "interlocking loops" to be more descriptive. If I were to use the Russian Join, it would usually be when I wanted to join yarn in two colors (so that the colors did not overlap as would happen with the "stitching together" method). But you can use it to join yarn in the same color, too.
Step 1: Thread the first yarn end into a tapestry or sewing needle. Starting at least 4" from the end of that same yarn strand (and exactly where you want the color of this yarn to end, assuming the other yarn is a different color), stitch up and down in the direction away from the end for about 3".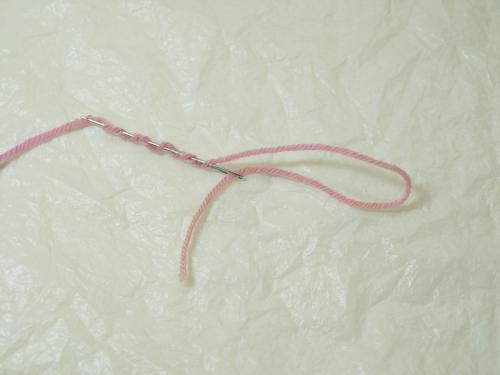 Step 2: Pull the needle through, leaving a small loop at the end.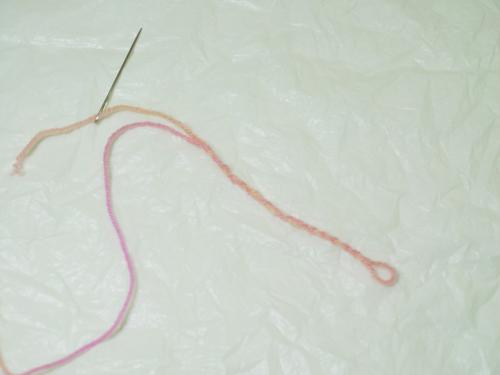 Step 3: Take the second yarn and pass it through the loop in the first yarn.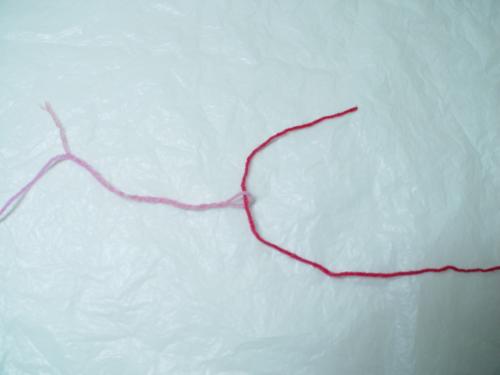 Step 4: With the second yarn, repeat step 1. This will result in two interlocked loops of yarn, with each end threading back through its own strand.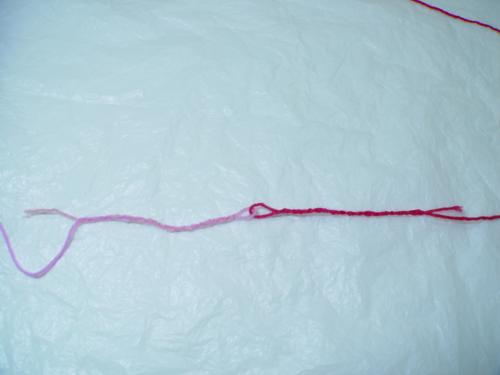 Step 5: Pull the ends of each yarn until the loops are snugged up around each other. Trim off the ends at an angle where they exit the strand (or for extra security in handling very slippery yarns/threads, weave separated plies of the yarn/thread into the completed fabric).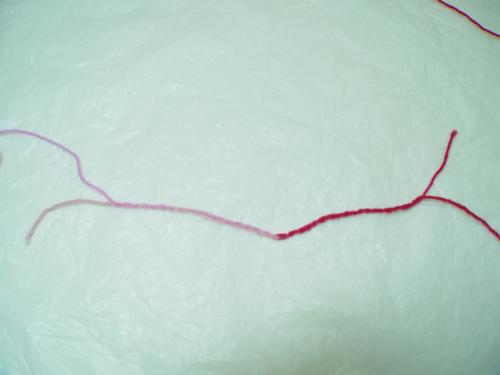 For other methods of joining yarn, see Stitching Together and Splitting Plies and Re-twisting.
Return to Index of Jackie E-S Articles & Tips.