Selecting Beads to Go with Your Yarn
Guest article by Linda Michaluk, Swallow Hill Creations
Originally published in issue #81 of Knitterly News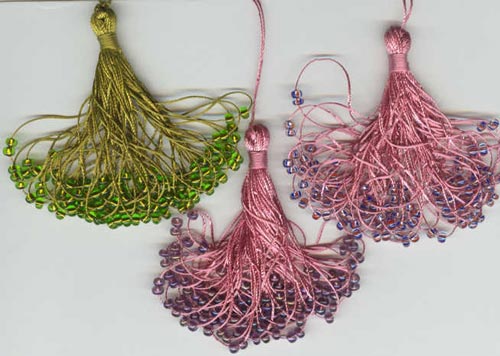 Selecting beads to go with yarn in beaded knitting is a very personal thing. The first questions to ask are -- do you want flash or depth; do you want texture or uniformity; will the piece be worn or displayed; does it need to be washable. I'm sure there are others but that is a start at least.
One thing I have found useful in terms of seeing how a bead will work with a fibre is to make a small bullion tassel. Thread some beads on your fibre - about 100 or so - and wind your fibre around a flat piece of cardboard. If you are working with a fine fibre (3 - 8 perle cotton, fingering sock wt, etc) think about making your cardboard between 3 - 4 inches long and go from there with larger fibre and beads. Decide where the bottom of the tassel will be and each time when you wrap your fibre around the cardboard, drop 2 beads so they are at the bottom end of the tassel. Finish off the winding, carefully slide the windings off the card and wrap around the neck of the tassel using your favourite method. Remember not to cut the ends of your tassel!
You can then stand back and see what happens to your combined beads and fibre - do the beads pop or blend; does the bead hang nicely or is the fibre squeezed; have your found that you have colour on your hands from the beads (i.e. did any of the colour come away from the bead - note, that while making this tassel is not the ultimate test of whether the beads will lose colour, you may be surprised at how often this little test results in colour on clammy hands!).
The little tassels can be quite pretty on their own and can be used as embellishments or they can be smushed about and generally abused as a test for how the bead will "wear". And, of course, if your beads are limited or pricey, you can always scrap the fibre and reclaim the beads once you have seen how they look together.
I use the bullion tassel quite a bit to see how beads will work with certain fibres and am often surprised at what happens. Some combinations I thought would be brilliant were less than interesting, and some that I thought would be dogs were fascinating.
I hope this gives you enough information that you can play. There is a lot of information on the web about making tassels and I am also in the midst of writing up a bullion tassel for one of my upcoming patterns.
Have fun!
Linda Michaluk
Swallow Hill Creations Ltd
Beaded Bags, Bracelets and Accessories
Beads and Yarns in above photo
Upper left -- Swallow Hill Creations mustard green rayon with a copper lined green bead. The copper lining in the bead picks up the gold tone in the fibre, while the green is somewhat of a contrast. The contrast is moderated by the copper lining in the bead.

Upper right -- Swallow Hill Creations dusty rose rayon with a silver lined red and blue striped bead. The silver lining provides a significant contrast that makes the bead "pop" visually, while the red and blue stripe causes your eye to cross the colour spectrum, resulting in a mauve type appearance.

Middle -- the same dusty rose rayon with a translucent iris washed amethyst bead. Because of the colours in the bead and absence of bead lining, this has the effect of being somewhat quieter as it more approaches tone on tone.
---
Return to Index of Articles & Tips.