WHAT'S NEW
---
Get News & Specials
Sign up for free
---
♥

PRODUCTS

♥

The Pattern Collections
Easy Knitting
Scarves/Stoles
Faroese Shawls
Other Shawl Shapes
Sweaters & Vests
Socks & Fun Footwear
For the Hands
Neck & Up Coverings
For the Man
For Baby
Home Decor
Jewelry
Minis and Miscellany
Bookmarks
Toys
Holidays & Seasons
Comfort Collection
I Hate to Purl
All Beaded Patterns
PDF Pattern Catalog
Patterns by Yarn Weight
Tutorials

---
♥

SHOPPING

♥

Downloadable Patterns
Ravelry
Craftsy
Patternfish
KnitHeartStrings
Printed Patterns
Kits and Supplies
---
♥

STAY IN TOUCH

♥

Newsletter Archive
Jackie's Blog
---
Free Gift
Want to help me with some of the costs of providing free educational resources? Every donation counts. Your donation, small or large, is very much appreciated. Thank you!
---
"Your patterns are just fabulous ... unique and yet based on tradition."

- Jennifer C.

"I just love the simplicity of your patterns and the complexity of their appearance."

- Maureen M.

"

"I enjoy your website. It is easy to use and full of information ..."

- Debby L.

"... I love Heartstrings patterns. They are clear and well presented and Jackie Erickson-Schweitzer, the designer, is just a lovely, inspiring woman - well worth supporting by the purchase of the pattern."

- Kimberly L.



Survey Results – What Kind of Project Are You?
Here is the tally of results from the "What Kind of Project Are You?" survey taken January 6 - 23, 2011. If you missed it, you can see the just-for-fun project definitions that were posted on the Jackie E-S blog. For easy reference while taking the survey, the definitions were also included in detail within the survey itself.
Thank you so much for everyone's participation. It was fun for me, and I hope it was for you, too.
This graph shows the relative number of project personas reported by 307 survey respondents. (You can click the graph to enlarge in a separate window.)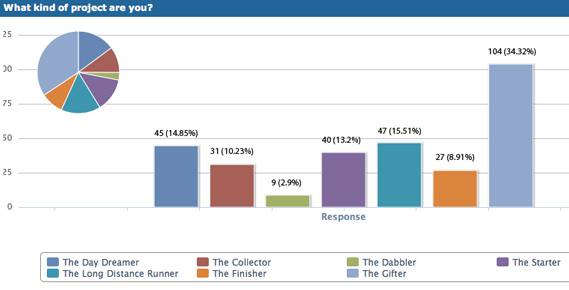 I intentionally asked that only one project persona be chosen, which even for me was very difficult. This survey was just intended to be a fun exercise to reflect on our passion and motivation(s) for knitting. The Gifter took the lead, with The Long Distance Runner and The Day Dreamer coming in as close second places.
Survey Comments
I think you will also have fun reading the comments below that were left by survey respondents. The survey comments were optional, yet 126 respondents (nearly half) left these additional responses. (any names are removed to keep individual identities anonymous in these survey result)
---
It's hard to pick just one.
---
considering I'm knitting to deadlines now, finishing is definitely key :) but I do like the initial sketching, swatching, etc that goes with a new design.
---
I had a time determining whether "The Long Distance Runner", or "The Finisher" was the pick. They seem eternally twined! This is great poll, it really stirs your imagination.
---
I'm a Collector and a Starter.
---
Getting it done means you can start anew.
---
I am far more interested in the project and doing it than having and using the finished product. So I make them and give them away....both I and the giftee win.
---
I'm actually a combo between the Day Dreamer and the Long Distance Runner.
---
I love seeing the joy in my friends and family when I give something hand made.
---
Prior to finding out that my 39 year old daughter and her husband are finally having a baby (a girl!) 90% of my knitting was for charity, baby sweaters and mittens being my specialty. Though currently I am feverishly working on baby sweaters for my granddaughter, I will continue to knit for charity as I retired two weeks ago ! A great time of life, to be sure.
---
I have the concentration of a gnat.
---
I know I'm "The Gifter" because I have to remind myself that it's okay to make something for myself once in a while.
---
Actually I fall into several categories. The day dreamer, collector and the gifter .
---
I'd say I'm a Long Distance Runner....with a "Finisher" side.
---
With many elements of "The finisher", once my dream project is underway.
---
What a fun exercise. Thanks! I'm a dabbler also. :-)
---
Honestly, I'm a good mix of the Day Dreamer, the Collector, and the Finisher. I like to daydream and browse patterns, buy yarn for them and other things and savor the beauty of it, but I do also knit things and when I do I want to see them finished desperately. I selected Collector, though, because I sure can shop way faster than I can knit! :)
---
I'm a gifter, with some collector thrown in. When I travel, I love to buy yarn, and rarely have a pattern in mind (sometimes can't read the patterns that are for sale in the shops), but the yarns can be sooo tempting you just can't resist!
---
I can't click on any one of them -- they all describe me at different points in a project. I generally have more than one project in progress, so I'm everywhere at once. At the moment, however, I'm being monogamous since I have a few gift due dates (two babies due in February -- mailed one gift already and the second is about 2/3 finished -- so monogamy is better just now). Then there's the lacy alpaca shawl I'm planning for my mother (who has two of your patterns already -- comfortghan and shortened version of a shawl). I already have her yarn and am thinking about the pattern. Looking at my Ravelry project page, I think I keep very little of what I knit. Hmm. Time to fix that?
---
I very rarely knit for myself,even though I usually have needles in my hands. I 'll make something for myself if it's functional such as a hand bag or felted yarn holding baskets.
---
It is really impossible to pick one as I consider myself to be all of the above characters. So, I just chose the first one on the list
---
I'm all about process and technique. Once I see and understand what's happening , I don't exactly lose interest, but other questions and ideas begin to nudge the current project out of the limelight. I WANT to finish, but I know perfectly well that most of my projects will spend some quality time in the UFO realm before they 're done.
---
My almost 4-year-old granddaughter's appreciation is priceless ....she has slept in several of the hats I have knitted for her.
---
I love knitting, seeing the finished product, and giving to others whenever I can .
---
I can haradly wait to finish a project so I can start another!
---
Once I know the project is going to work the way I want - I start dreaming of the next, and have a hard time plodding through to the end. Sometimes I have a finishing streak - and actually do finish my UFO's into FO's!
---
I am a starter with a huge yarn collection, although I have projects in mind for about 1/2 of the yarn.
---
I am definitely a Starter - enjoying seeing the pattern form and then think to myself well that's pretty - next!
---
For several years I've been searching for a pattern for a lacey knitted Christmas tree skirt. This year I stopped looking and more or less designed and knit my own , but discovered I am NOT a designer, but, as Elizabeth Zimmerman would say, "A blind follower." Sure wish someone, maybe you, would design one!
---
To some extent though all of these apply.
---
I'm really all of them....
---
I'm some of each (esp. a collector), but there's a bit of a panicky feeling if I don't have something else on the needles as I finish a project.
---
I wish I were more of a finisher! Unfortunately, I have start-itis, and lots of projects call my name & make me start them before I've finished others. Sigh.
---
Thinking that I am every one of these at one time or another but the one I strive to be the long distance runner and gifter. Thank you for food for thought.
---
I start making Christmas gifts in January, a process which continues all year, with a break when necessary to make a birthday or anniversary gift. Some of my projects are knitted, some are crocheted, and some are done in counted cross stitch.
---
i work on two or three projects at a time and it's wonderful when each is finished
---
Could have picked a couple of others, but I do love the process!
---
I think I am both a gifter and a starter. It was hard to choose!
---
I am definitely the day dreamer, and for me, it sometimes begins with the yarn and at other times, it begins with the pattern. I have many, many patterns, and sometimes , when I pick out a yarn I want to knit with, I just can't find the "right" pattern . I will spend endless hours searching and searching until I find the "right" one , but when the finished project appears, it has all been worth it!
---
I am constantly knitting and crocheting just for the fun of it. When complete, I decide who will get that project. It is funny to see how my friends try to send hints my way about what my next project should be (and of course who would deserve it the most).
---
Never given it much thought but this made me realize I like to finish each and every project I start.
---
We currently own 16 alpacas. After shearing each year, we have their fleeces made into luxurious, fabulous yarn. It is my great joy to knit or crochet with this beautiful product and give most of it away so that others will come to learn about the fabulous alpacas and their gift to us in their glorius fleece!!! Our yarn is always in natural colors that these animals were blessed with. No dyes whatsoever are used. We have fabulous colors to choose from. Therefore, each scarf or hat made is a one of a kind and a truly elegant item! Much of the knitting/crocheting is done out in the pastures with these animals when weather permits. Ahhhh.... so relaxing!
---
The joy of knitting is to make something unique to give to someone else.
---
The Collector is also a good description considering my yarn stash.
---
I dont have many friends that knit and that is all I ever want to do-knit for them ! Find the perfect pattern(one that suits their style), then the perfect yarn(one that compliments them and the pattern), and make them something from the heart, which is reflected when I give it to them. I also find great comfort in yarn and have often found myself in my LYS just walking around enjoying all the new yarn , touching. A trip to the yarn store can turn your day around-even if you dont buy anything. If more people knit, less would be in therapy!
---
My strongest feature is as a Dabbler, but I've got a bit of the Long Distance Runner and the Finisher in me. I do finish nearly all of what I start, but it's the starting of a new project, with new yarn and a new pattern, that I enjoy most. I mainly hurry to finish so that I can start something new!
---
All the categories seem to apply to me at some time, but the process of knitting is what keeps me hooked. I love the process, the feel of the fiber in my fingers .
---
I actually think I have a little of all of them, but I do so enjoy the feeling of casting off those last few stitches and admiring a project well done!
---
Actually I am a conglomerate of Collector, starter, finisher and a long distance runner. Guess that makes me a mutt.
---
I'm a Day Dreamer that actually does finish select projects--after a long and exhaustive search for the special project!
---
Most of my knitted projects are given away: (1) my not so local cancer clinic receives hats, and (2) gifts for family members. Do keep a hat now & then plus some of the squares knit to learn new techniques or new stitches or testing for yarns that look best with various stitch patterns.
---
This was tough, because I couldn't really pick just one project. I'm a combination of the Day Dreamer, the Dabbler, the Starter, and the Gifter.
---
I also could be called a collector and do finish most of my projects eventually, and love to give knitted items. This was a hard choice!
---
I think I'm a cross between a Day Dreamer, a Collector, a Dabbler, and a Gifter, with a little of the Starter thrown in for good measure. I may get enthused about a project, but lose interest when I find errors in the instructions or find it too difficult to do -- then it becomes a UFO.
---
Totally unrealistic to want only one answer. Most of us are at least two or three of the "projects" listed above. Maybe more if we are honest with ourselves. LOL
---
I love the perspective this survey has given me!
---
I'm a shocke for casting on new projects and then wondering why I never finish stuff ! I have to discipline myself to do it and it's blooming hard. :-)
---
Although I am a "Day Dreamer", I must say that I finish most of my projects. The serious knitted is probably a combination "Project'.
---
I really fit into the last 3. It was hard to settle on one...
---
I enjoy making and giving gifts away, and I so enjoy watching the my recipient open and enjoy their I have lovingly made for them.
---
Definitely a process knitter, not a product knitter. I love the fun in new techniques and patterns. Always swatch a pattern before committing to a whole project. Ronna
---
I love color and texture, and buying yarn is a way to satisfy these cravings :) So I'm primarily a Collector but also somewhat of a Starter and a Gifter. I NEED to become more of a Finisher!!
---
I am a bit of a "Dabbler" too.
---
I am also the Day Dreamer. I enjoy particularly knitting and crocheting for my family. My grandaughters keep me busy. Thank you and have a wonderful 2011.
---
i love to start things and mostly i do finish them in a timely manner but there are always some that just linger on and patiently wait for me to get interested in them again.
---
I am really a combination. I start out as The Daydreamer, loving the research for that special project. Then I become the Long Distance Runner...loving every part of the process, thinking of the project and the person for whom I knit. Then I am The Gifter because I love making anything handknit for my family and friends , really enjoying the look of surprise on their faces when the gift is opened.
---
I do love the hunt but when I start something I have to finish it. I do give most everything away. What I really am is the time wisher. If I only had more time for all the projects I want to do.
---
It's evident that I'm a process knitter. I don't even want to count the number of projects I have on the needles currently. Keeps me from becoming bored. At least , that's the way I rationalize it. This was fun.
---
I can see myself in each of these descriptions!
---
Am also a Day Dreamer
---
Day Dreamer is just the start of the project; I then move on through all the other parts of the project and finishing with either Finisher or Gifter. Each stage carries its own delight.
---
Love to knit - if I didn't gift I would run out of room in the house.
---
I'm also a collector. Need to become a finisher.
---
I get bored after all the initial steps and want to start something else.
---
I'm not really just one of these at all. It's true I start more projects than I finish, hence my choice. I get bored if the lace patterning is too repetitive - I need things to be changed up enough to maintain my attention and keep my creative mind happy. I won't even start a project if the charts are too fiddly or cryptic to bother with, yet I've knit plenty of vintage German lace and didn't mind the translation one bit. On the other hand I do finish many projects and love the magic of blocking finished projects. The bigger and more repetitive or cumbersome the project, the less likely I am to finish it. These days I'm usually smart enough to know to not even bother starting such a project, or even buy the pattern! Call me a middle of the road lace knitter!
---
I am definitely "The Starter" but a bit of "The Collector" as well. I feel that one can never have too many beautiful patterns, especially your lacy ones, Jackie ... I have knitted at least 6 of them in the last 12 or 13 years, and more to finish one fine day! Be well, be happy and wishing an early Happy Valentine's Day to you!
---
I so enjoy seeing family and friends wear a new scarf or a shawl. I'm not very adventurous because I don't feel I have the skill to tackle a more complicated project.
---
Absolutely it can sometimes be a struggle to see a project to the end when so many other patterns and yarns are beckoning to me, but anticipating the final sense of satisfaction and pleasure in looking at the completed piece keeps me going.
---
i wish i was a finisher and/or gifter but sadly i'm not :(
---
I just love to make things to give to someone.
---
There was a time when the whole project WAS just finding and getting just the right pattern. At least now I actually DO some of them, finish them, block them and give them away so I can start all over again!
---
I love to knit things to give to friends and family. Because of what goes into each project I tend to want to give to people who I know will appreciate the fact that it is hand made. I decided to try and finish each item about a week before I give it so I can enjoy looking at it and enjoy that sense of accomplishment.
---
Unfortunately, thanks to a nasty medication, it takes me a very long time to finish a project but. . . . I can't help looking and touching and, yes, I've been known to put yarn in a bowl as a centerpiece on my dining room table.
---
I really love touching yarn!
---
I love seeing the pleasure people get upon opening a gift to find it was hand made !
---
I am all of these!
---
It was so hard to choose! I enjoy finishing projects and I also enjoy giving things away.
---
I think I'm on the 'cusp' between 'The Long Distance Runner' and 'The Finisher'. I enjoy the whole process from the idea, through buying the yarn, to watching as the project emerges like a butterfly from a chrysalis. There is no denying that the pleasure of those last few stitches and making up brings a great sense of completion . :-)
---
I think I could tick at least the first four boxes! But I suspect the thing that motivates me most is the hope of finding the 'perfect' project - and the pleasure looking for it
---
I prefer projects that aren't TOO involved and will make a nice gift.
---
I love to see hand knit items on others! and that they enjoy them!
---
I enjoy it all but the best part is ALWAYS giving it away and seeing what joy knitting can bring.
---
I definately enjoy the process of a project. Once I'm done- I'm on to the next!
---
I have "starter-itis", and sometimes start 2 projects in a day...and I probably already have 3-4 going. There's just something about diving in and seeing what develops that I love. However, the "Finisher" also describes me, as I love finally completing all those start-ups. I guess I just love it all!
---
99% of my needlework is done as gifts or donations to charity. I do reserve a small amount for my own use. The joy is in the making and in seeing the reaction of those whose receive the finished project.
---
I love to see the joy in someone's face when I give them a finished project. I even love making something for someone and know they will enjoy it if I gift it to a charity.
---
I eventually finish but it is a struggle! Scarves and shawls are hard because they are so long!
---
Hard to decide which one I am so many sound lilke me. Guess this once fits me best .
---
I'm really a combo of the long distance runner and the gifter!
---
I really think I'm a combination of The Long Distance Runner, The Finisher, The Day Dreamer, and The Gifter.
---
Actually I'm a Collecting Starter! Now I'm retired I am into using my stash so hopefully some Long Distance Running now....
---
I love to knit and I have unfinished project,I get sidetracked looking a projects I want to do.I think I have a little of all the projects
---
But a close 2nd and 3rd choice were the finisher and the gifter :)
---
Definitely a starter first, but I am also a gifter. Most everything I knit ends up going somewhere, hopefully to be used. This was fun - had to think about it a bit.
---
You're right, i'm the 1st 3 projects.
---
As much as I see each of these in myself and vice versa, I think the starter is where I am at right now. A strong second in the Gifter. Hopefully I will become a Finisher over time.
---
Definitely a Day Dreamer. But the Starter nightmare and Gifter fairy visit me often !
---
I love giving and it makes me feel awesome to have such an inner need to give... knowing that it all comes from God!
---
I love knitting so much. It is never for me. I have made at least 25 of your Elegant Baby Blankets and some I have made longer for us adults.I live near Cleveland Ohio so you know we need the blankets here. Jacquie
---
I think I passed the S.A.B.L.E. phase a while back! I've been trying to knit from stash lately, & will continue that as much as possible. That said, I do plan to swing by my LYS later today!
---
I seem to be a combination of projects. While I certainly enjoy the hunt for new patterns and yarns, I also have a large number of UFOs and the projects I do finish are all gifted to family and friends.
---
I sometimes waste valuable knitting (or other task) time by searching through pattern books, touching different yarns, and imagining all the wonderful things I COULD be making. But I also LOVE when a project is finished and I can hold it up without any needles attached.
---
I've always believed that you should display what you make by making it usable and putting it on wearable items so it can be enjoyed by all.
---
Of course I am a part-time Starter and really a Gifter at heart but I love researching and dreaming about new projects.
---
The day dreamer become in fact, in a collector...
---
As soon as a project is finished, I'm looking for something else to knit, and kind of go into "withdrawal" until I'm settled with another project (or two).
---
I am really all of the above, but most of all, the joy I receive from knitting is not only imparting my knowledge of the art of knitting, but giving an article that was made just for that special someone in mind!
---
Definitely ~ I fully enjoy seeing the item come full circle and then once it is blocked I enjoy it again!
---
I enjoy the learning of new stitches and once master the challenge, I often find that I put the project aside and move on.. I only have 7 projects started but they are old, maybe 2 years or more -- not good.
---
Based on the number of UFOs I have going, I just hope to finish a few before I die ! That being said, I love to knit up quick projects for gift giving, but I've always got something on the needles waiting in the wings.
---
I have learned, finally, that it OK to stop if there is no joy in either the yarn or the pattern. Of course, this never happens if I'm doing one of your patterns :)
---
I make too many gifts, so many in fact that I never get them done by the intended time! I wish I could stop, but I just can't seem to!
---
I find that a majority of my knitting projects are destined for others - loved ones , charities , friends and of course, babies! The first thing to mind when a friend is expecting - oooh goodie! a new project challenge!
---
I don't think that I have ever kept anything that I have made. Maybe a Christmas stocking, but everything else is gone.
---
I want to be a Long Distance Runner when I grow up!!
---
I love to do the planning for a project that's uniquely mine. Sometimes it takes years to match the yarn with the pattern but it's so worth while.
---
p.s. There were also a some comments that were posted on the Jackie E-S blog. You are welcome to add any additional comments there, especially if you missed the official survey.