Troika Scarf pattern
With look-alike cast-on and bound-off edges, this super easy scarf is knit sideways along the length in garter stitch.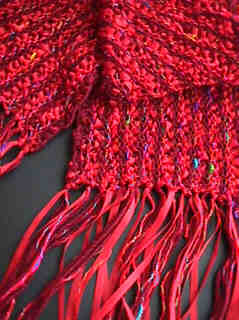 The scarf is named "troika" for the method of using three different yarns in alternating sequence. It's great for odd balls or using small amounts of high-end yarns together with some more economical yarns, or even stash yarns you already have on hand.
Troika Scarf is a free online pattern valued at $5.00. If you like this pattern, please support the continued development of new HeartStrings knitting designs by making a donation or by purchasing any of the for-sale patterns. Suggestions for other HeartStrings patterns using the Troika method of changing yarns are Easy Asymmetry Wrap and Troika Wrap-around Faroese Shawl.
Yarn and Needles
For a scarf sized approximately 12" wide by 40" long plus fringe, allow 1 skein each of 3 different yarns in sport weight to chunky, approximately 100 to 120 yards each.
This pattern adapts easily to longer and wider versions just by starting with more stitches and knitting more rows. Allow additional yarn if you are making a larger scarf or stole.
A mixture of weights is fine. For lots of color and textural interaction, choose your yarns in a harmonious color scheme, each in a different texture. For example nubby or glitzy (textured loop), shiny and smooth (ribbon, viscose, or chenille), and fuzzy (mohair or fake fur). Check your yarn stash or shop odd-ball sales. Remember that finer yarns can be held together and used as one.
Size 10½ to 11 US (7.00 to 8.00 mm) needles
Size J or K crochet hook
Gauge: about 2½ sts per inch over garter stitch
Note: Gauge and needle size are not terribly important -- these are guidelines only, so use whatever you have that is close and just have fun.
Instructions
Designate your yarns as first yarn, second yarn, and third yarn. The first yarn will be used for your cast on edge, and is suggested for your bound off edge as well. So if one of your yarns has more yardage than the others, use this as your first.
With crochet hook and first yarn, leave a tail of 10" - 12" (or desired fringe length plus 1" to 2"), then chain 100. Cut yarn at 10" - 12" and bring through last loop. With second yarn and knitting needle, leave 10" - 12" tail, then pick up and knit into each "bump" of a chain stitch (100 sts). Cut yarn at 10" - 12".
Note: You may also cast on in your usual way, but this method of using a chain stitch foundation will give you matching edges for your scarf.
With third yarn, * leave 10" - 12" tail and attach at beginning of row in the last stitch you made. Knit the row. Cut yarn at 10" - 12".
Repeat from * likewise with first yarn, then second yarn, then third yarn again. Continue repeating this sequence, or vary as desired.
As you progress, knot together the ends from each 2 rows along sides for fringe, beginning with chain row.
Continue until desired width, or yarn is running out. Tip: End with your second or third yarn.
With first yarn, bind off VERY LOOSELY to match widthwise stretch of the cast-on edge. When all stitches have been bound off, cut yarn leaving a 10" - 12" tail for fringe and pull tail through remaining stitch. Tip: You may want to use an even larger needle for the bind off. Or use the Suspended Stitch Bind Off (see techniques box below).
Finishing
Hand wash according to most restrictive yarn's care instructions. Lay flat to dry. Cut yarn ends evenly to desired fringe length.
Suspended Stitch Bind Off
If you have a tendency to bind off too tightly, try this method for a looser edge with nicely uniform loops that don't get sloppy.
Knit 2. * With left needle point, pull first stitch over the second stitch, but do not remove the stitch off the left needle (i.e. you are suspending, or deferring dropping that stitch off the left needle). Going around front of that stitch with your right needle, knit the next stitch. Now slip both stitches off left needle. You will have 2 stitch loops on your right needle. This completes the binding off of one stitch. Repeat from * across all stitches.
When all stitches have been removed from left needle, with left needle point pull first stitch over the second stitch, dropping that stitch off left needle point. Cut yarn leaving tail of 10" - 12" for fringe, and pull tail through remaining stitch.
Caution: Instructions are written assuming you are knitting stitches off your left-hand needle point onto your right-hand needle. If you are working instead from right needle to left, please adjust instructions to agree with your direction of work.
Enjoy! Jackie E-S
© 1998,2000 Jackie Erickson-Schweitzer. This pattern may be freely distributed for non-commercial purposes only, as long as distributed in its entirety including copyright notice and origination.
---