| Home of HeartStrings | What's New | Design Collections | Store Locator |
| Tips | Resource Links | Meet Jackie E-S | Search |


THE SOCK CALENDAR Gallery

Featuring the creativity of knitters inspired by Summer Solstice, the June pattern in The Sock Calendar: Socks For all Seasons.

Get ready before the long, hot days of summer with these airy, lightweight socks in tropical colors.
---
Knitted by Ellen S who says ... inspired by the beaded version of the June Summer Solstice sock by Catherine W on your website, I began playing with beads and the basic design. I've put green silver-lined size 6/0 beads between pairs of purls (p2 slip bead, p2) on every Row 1. I love the way the beads mirror the eyelet design.... Thanks for the fun....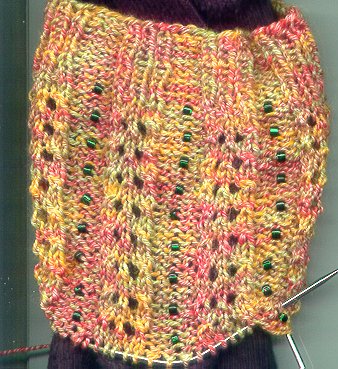 Return to Summer Solstice Gallery room.
---
Do you have TSC socks you have made and would like to display in the Gallery?
Request information here for submission procedures.


---
| Home of HeartStrings | What's New | Design Collections | Store Locator |
| Tips | Resource Links | Meet Jackie E-S | Search |


Last revised July 16, 2003