| Home of HeartStrings | What's New | Design Collections | Store Locator |
| Tips | Resource Links | Meet Jackie E-S | Search |


THE SOCK CALENDAR Gallery

Featuring the creativity of knitters inspired by Yankee Doodle, the July pattern in The Sock Calendar: Socks For all Seasons.

Celebrate the 4th of July, Dominion Day and Bastille Day as Catherine does ... or choose your favorite colors for these comfortable sport socks with a different angle on stripes.
---
Knitted by Kathy A with yarn that she says were "left-overs in cotton something". Whatever the something was, they turned out great Kathy. Thanks for sharing.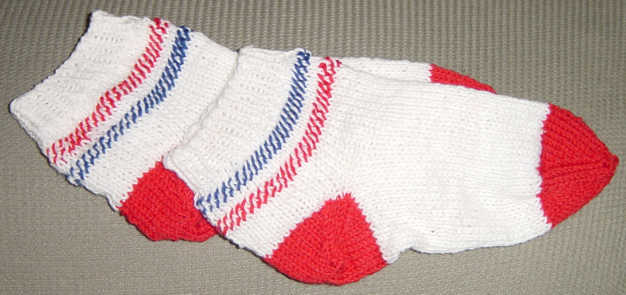 Return to main TSC Gallery.
Return to Yankee Doodle Gallery room.
---
Do you have TSC socks you have made and would like to display in the Gallery?
Request information here for submission procedures.


---
| Home of HeartStrings | What's New | Design Collections | Store Locator |
| Tips | Resource Links | Meet Jackie E-S | Search |


Last revised July 26, 2003