| Home of HeartStrings | What's New | Design Collections | Store Locator |
| Tips | Resource Links | Meet Jackie E-S | Search |


THE SOCK CALENDAR Gallery

Featuring the creativity of knitters inspired by KoolAid Kidz Socks, the August pattern in The Sock Calendar: Socks For all Seasons.

A perfect project for the last days of summer. Let children pick out the colors (and scents!) they want for back-to-school socks...and help with the dyeing for a fun science project.
---
Knitted by Debbie S. Debbie says ... These are my version of the August Kool-aid socks. I monkeyed with the size to make them fit me, first of all. The yarn is Berella Country Garden sport weight superwash in light heather grey, and I used the microwave and grape and black cherry flavor to get the colors. They were fun to make, but they're even more fun to wear!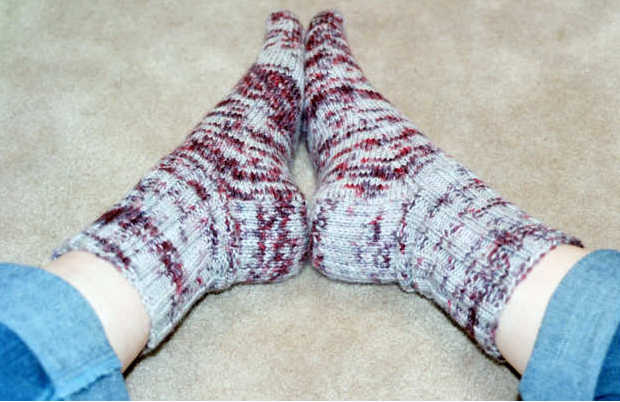 Return to main TSC Gallery.
Return to Kool-Aid Kidz Socks Gallery room.
---
Do you have TSC socks you have made and would like to display in the Gallery?
Request information here for submission procedures.


---
| Home of HeartStrings | What's New | Design Collections | Store Locator |
| Tips | Resource Links | Meet Jackie E-S | Search |


Last revised October 24, 2003