| Home of HeartStrings | What's New | Design Collections | Store Locator |
| Tips | Resource Links | Meet Jackie E-S | Search |


THE SOCK CALENDAR Gallery

Featuring the creativity of knitters inspired by Autumnal Equinox, the September pattern in The Sock Calendar: Socks For all Seasons.

Here's a different take on ribbing that provides a contoured, textured rib...attractive in both variegated and solid-colored yarns.
---
Knitted by Carol B in Cherry Tree Hill yarn. She says ... They are easy and gorgeous. I used #2 needles and Cherry Tree Hill yarn.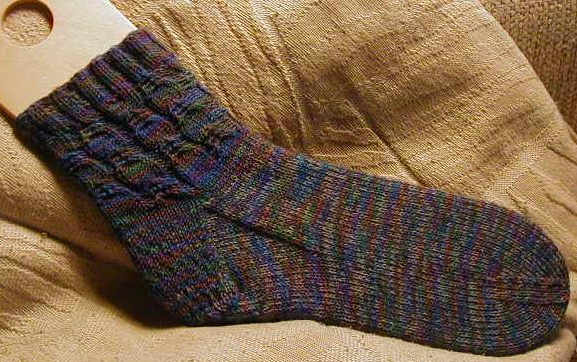 Return to Autumnal Equinox Gallery room.
---
Do you have TSC socks you have made and would like to display in the Gallery?
Request information here for submission procedures.


---
| Home of HeartStrings | What's New | Design Collections | Store Locator |
| Tips | Resource Links | Meet Jackie E-S | Search |


Last revised May 30, 2003