WHAT'S NEW
---
Get News & Specials
Sign up for free
---
♥

PRODUCTS

♥

The Pattern Collections
Easy Knitting
Scarves/Stoles
Faroese Shawls
Other Shawl Shapes
Sweaters & Vests
Socks & Fun Footwear
For the Hands
Neck & Up Coverings
For the Man
For Baby
Home Decor
Jewelry
Minis and Miscellany
Bookmarks
Toys
Holidays & Seasons
Comfort Collection
I Hate to Purl
All Beaded Patterns
PDF Pattern Catalog
Patterns by Yarn Weight
Tutorials

---
♥

SHOPPING

♥

Downloadable Patterns
Ravelry
Craftsy
Patternfish
KnitHeartStrings
Printed Patterns
Kits and Supplies
---
♥

STAY IN TOUCH

♥

Newsletter Archive
Jackie's Blog
---
Free Gift
Want to help me with some of the costs of providing free educational resources? Every donation counts. Your donation, small or large, is very much appreciated. Thank you!
---
"Your patterns are just fabulous ... unique and yet based on tradition."

- Jennifer C.

"I just love the simplicity of your patterns and the complexity of their appearance."

- Maureen M.

"

"I enjoy your website. It is easy to use and full of information ..."

- Debby L.

"... I love Heartstrings patterns. They are clear and well presented and Jackie Erickson-Schweitzer, the designer, is just a lovely, inspiring woman - well worth supporting by the purchase of the pattern."

- Kimberly L.



Easy Knitted Circular Center Start
How to avoid the struggle of beginning the center of a circularly knit piece

by Jackie E-S
Glenda Clemmons wrote:
Jackie, I always read all of the newsletters and visit your website often. I've become quite obsessed with knitting lace! For your question and answer: I would LOVE an easier way to start a round piece than trying to hold 6 or 8 stitches on 3 double pointed needles. Right now I'm figuring out the number of stitches for the 3rd or 4th round and start with a crocheted ring and by the second round have the number of stitches (usually 12-20) for the 3rd or 4th round. Most of the time this works well, but it does feel like cheating a bit. Any suggestions would be appreciated. And thanks again for all the hard work you put in on the newsletter.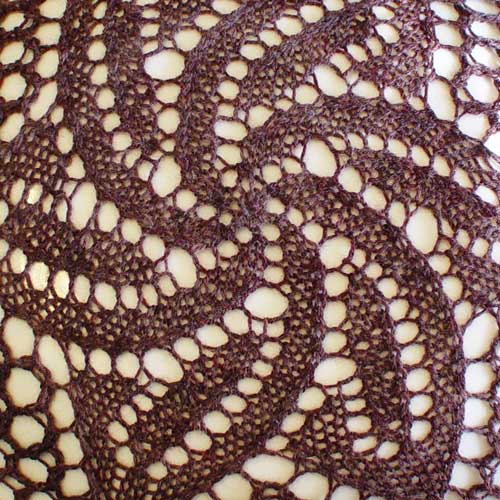 My answer --
Never feel that you are cheating. If it works for you, that is the most important thing. However, you might find this easy circular start technique helpful to add to your knitting bag of tricks.
I suggest you practice with heavier weight yarn than you might typically think of using for knitting lace. For the instructions below, I am going to assume you are doing something like a typical lace doily with 6 sections. For patterns with other than 6 sections, just adjust for the correspondingly different stitch counts.
To begin: Make a slip knot and put it on one of your double point needles as the first cast-on stitch. Then cast on 5 more stitches to the same needle. (i.e. you now have a total of 6 stitches on the needle)

I know you are going to ask … No, it doesn't really matter what type of cast on. I usually use long tail cast on for this, but you could alternatively use your favorite knitted-on cast on.
Foundation row: Using a 2nd double point needle, turn and purl across the 6 stitches.
Increase row: Still using only two double point needles, turn and work as follows — [yarn over, knit 1] 6 times. You now have a total of 12 stitches on one of your double point needles. Note: this row replaces the first increase round on typical 6-section doily patterns.
Lasso the cast on stitches: Beginning with the cast-on stitch the furthest from the cast-on yarn tail, pull tail through lower loop of each cast-on stitch using either a threaded tapestry needle or crochet hook.
Distribute stitches on three of your double point needles (i.e. 4 stitches on each needle). Arrange double point needles for circular knitting. Mark beginning of round.
Plain round: With your 4th double point needle, knit the 12 stitches.
Cinch 'em up: Pull cast-on tail to close circle snugly. Do not cut the yarn end yet as it will be easier to see if there is any need to tidy up the center after the knitting of the item has been completed. Now you are ready to proceed with your next increase round of the typical doily pattern.
| | |
| --- | --- |
| | If you enjoy having a project that you can work as your practice piece, let me suggest Lace Doily Beret. The above circular center start is used in this beret and can help you practice for actual doilies you might want to make later in lighter weight threads and smaller needles. |
Do you have a Question about knitting technique or skill? Please email me and I will consider it for an upcoming Q&A.