Hi knitting friends –
There's lots going on in this month's newsletter. So I'll let you get right into the fun stuff. Enjoy!
Jackie E-S / HeartStrings FiberArts
Attention Newcomers - If you are receiving this newsletter from someone else and would like to start receiving your own issues, I welcome you to sign up at my website http://www.heartstringsfiberarts.com/e-news.shtm
---
red-white-blue contest results
Congratulations to Marla (mrssebo) in Ohio, the winner of our Red-White-Blue Kit Drawing Contest. Marla receives a kit to make Patriotic Bead Striped Socks.

Even if you entered and did not win this contest, I hope you will try again in the next one. More details below.
Just for the record, here are the answers to the questions for the Red-White-Blue contest –
What is the official pattern title of the red-white-blue design shown in this picture?

Patriotic Bead Striped Socks




What is the title of one of the other HeartStrings patterns that has been designed to celebrate the red, white and blue? (I'd love to hear your favorite.)

Your answer could be any of these three: Yankee Doodle Sport Socks, Mini Lace and Beaded Flag, Patriotic Socks.
Thank you to contest entrants for sharing what your favorite was of these other three HeartStrings patterns that have been designed to celebrate the red, white and blue. Actually, some of you had 2, or even all 3, as favorites! That's ok, and it is heartening to hear you like the HeartStrings patterns so much. So, taking into consideration the split votes, etc., here was the % breakdown in responses:
41% Patriotic Socks
33% Mini Lace and Beaded Flag
26% Yankee Doodle Sport Socks
What are we going to do with these numbers? Read on for a fun sale!
---
Enter the Sizzling Summer Contest Drawing for this colorful Market Bag Kit.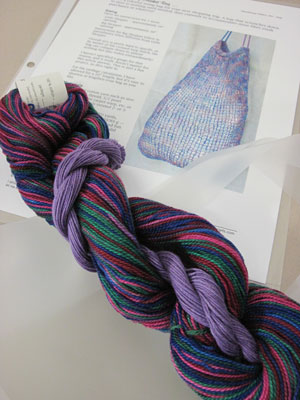 Here are the questions to answer for a chance to win. Answers can be found on the HeartStrings FiberArts website if you don't know them already (if in doubt, check to make sure so your contest entry will be valid) –
What is the characteristic of the stitch pattern used for this bag that makes the knitting go so quickly?


Besides the nifty stitch pattern, what other skill-building technique is included in the pattern for making this market bag?
Just email me the correct answers to both of the questions above by Thursday - July 15, 2010 to be entered into the contest.
Prize drawing will be made on Friday - July 16, 2010 for all entrants with correct answers and the winner will be notified so I can get your mailing address. Announcement of winner will be made in the next newsletter. Have fun and good luck in winning!
---
"100% off" red-white-blue pattern sale
Get savings on downloadable patterns for the three designs that were referred to in question 2 of our recent Red-White-Blue Contest. The % savings correspond to the poll results (which add up to 100%, and that is why this is a "100% off" sale, lol). Buy them all and with your savings you'll have enough to buy almost any other HeartSrings pattern you want! Hurry, sale ends July 4, 2010.
Sale prices are good through July 4, 2010 and apply only to downloadable patterns for these designs available on Ravelry. Click the pictures to see the sale price on the Ravelry page for that design.
---
Visit the What's New page for these and other patterns recently released, plus some sneak peeks of patterns coming later this summer.
---
Does this sound like you? From Anki in Sweden –
Question:
I wonder if you could help me with a knitting problem? I have knitted for many years and like advanced patterns but I'm never satisfied with my cables. The left side of the cable and the following purl stitches get looser than the right side of the cable. I have tried to hold on tighter but it doesn't look as good as I want it to. I'm a bit pedantic with everything I do and this problem makes me avoid cable patterns.
Answer:
You likely put a tad bit more yarn in your purl stitches than in your knit stitches. This is not noticeable enough except probably in the case where you additionally have the extra length of yarn passing between back (knit stitch) followed by motion to the front (purl stitch). Then the tad bit of extra looseness of the purl stitch gets pulled back into the space between the left side of cable and the purl stitch. There are 2 possible ways to remedy – take your pick to see which might work better for you:

1. Purl the stitch after the cable as usual. THEN before making the next stitch, tighten the tension.

By delaying the tightening on the yarn until after the first stitch following the cable has been made, you will be less likely to overtighten and stretch out the yarn, which can actually make things worse!

2. Throw or pick the yarn for the purl stitch opposite of usual.

This can shorten the distance the yarn has to go between the transition from knit to purl, thereby lessening the chance of slackness. Since the mount of the stitch will be opposite of usual, remember to take this into consideration on the next row/round so that you don't end up with a twisted stitch that you did not want.
---
. . . so you can make bunnies . . .
This idea came in from Bonnie of Maryland:
[The Knitted Bunny is] At the top of my queue for my nephew's child due in June. I'll use the swatch from the baby blanket I have queued and top the package with the bunny. Cute!

From now on, I think a lot of my swatches will be bigger so I can turn them into bunnies.
What a great idea. It makes me want to start a swatch for a baby blanket right now!
---
In closing, and to not let you think I have forgotten my northern neighbors, Shalla of Ontario makes this suggestion: "Those Summer Lace Anklets would look lovely done in Canada's red and white, don't you think?"
Yes, I do!
I'll be back in a few days with a short announcement about a special design I had already timed for release in conjunction with Canada Day celebration.
Then, in the next regularly scheduled newsletter we will continue with more summer contest fun and knitting talk.
Meantime, enjoy your summer and knit happy!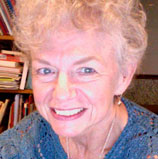 HeartStrings FiberArts / Jackie E-S Design Collections
From the classic to the uniquely appealing for today's modern knitter.

Skill-building, comprehensive instructions to advance the art of knitting.

Yarn-generic patterns for your creative freedom.

Featuring innovative designs for Knitted Lace and Beaded Knitting based on tradition in updated techniques.