Hi knitting friend –
In keeping with the celebration of St. Patrick's Day this month, the theme of this newsletter is "going green". You'll see why as you read on. There's even a special St. Pat's celebration discount coupon (but hurry, just like St. Pat's Day itself, the coupon is good only through March 17th).
I hope you enjoy the specials and other articles in this month's newsletter.
Irish blessings and good cheer,
O'Jackie E-S / HeartStrings FiberArts
Attention Newcomers - If you are receiving this newsletter from someone else and would like to start receiving your own issues, I welcome you to sign up at my website http://www.heartstringsfiberarts.com/e-news.shtm
---
When you hear "green", what do you think of? I think of St. Patrick's Day, Spring, environmental conscience, and obviously the color green itself. So here's little bit of each of those –
St. Patricks Day Coupon Discount
Visit the Promotions | Coupons and Specials page at the HeartStrings website for the list of qualifying patterns and their links at the Ravelry Store, plus a free bonus write-up for making Hand Warmers to go along with Frolicking Shamrocks Socks pattern.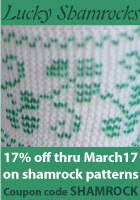 The Holey Ecofont
Now here's an interesting concept — environmental fonts. The idea is to save costs and resources by leaving tiny little holes during printing, thereby saving on ink or toner. Read on ...

A Decluttering Solution for Plastic Bags
I didn't even realize that I wanted this plastic grocery bag holder until I happened to be surfing around the web (has that ever happened to you?). The handsome sleek design is an extra bonus to feeling good about recycling and organizing in style.
Knit a Natural Fibers Market Bag
For environmental conscience, there is something very satisfying about bringing my own reusable eco-friendly bags on shopping trips. I especially like to use yarn made of natural fibers such as cotton, linen or hemp. Here's the Crossed Loop Market Bag I designed in an interesting knitted stitch that works up as quickly as crochet.
Vernal Equinox Sale
The Vernal Equinox on March 20th at UTC 23:21 (hope I have that right, lol) marks the beginning of Spring in the northern hemisphere. Vernal Equinox is also the title of the socks designed by Catherine Wingate for the month of March in The Sock Calendar. In celebration, the individual downloadable pattern for Vernal Equinox is on sale in the Ravelry Store (no coupon code needed for this one).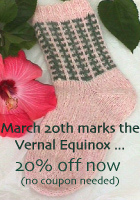 ---
Lace Maple Leaf Socks KAL
I don't want you to miss the opportunity to participate in the March/April Knit-A-Long for knitting Lace Maple Leaf Socks. It is being held on Ravelry.
Visit the official KAL group thread here for rules, prizes, and posting progress pictures of your socks.
There is also a Chat thread to ask questions, talk about your yarn choices, etc.
Will we see you there? Thanks to Crystal Palace Yarns for sponsoring the KAL and donating prizes.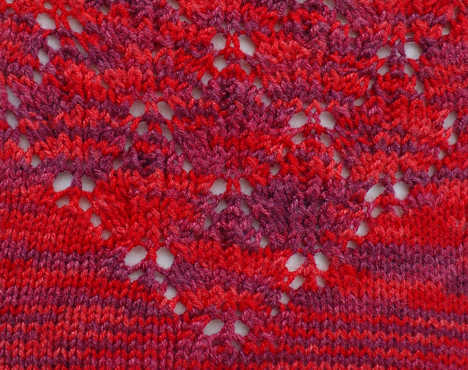 Unwind, A Fiber Arts Retreat
Nancy's Knit Knacks is holding their first annual retreat in Blowing Rock, NC. It is being held April 29 - May 2, 2011 in the beautiful mountains of North Carolina. They will have 60 attendees coming to relax, knit and learn. There will be workshops, evening programs and lots of time to socialize and to explore the area. Registration closes March 25th or as soon as all spots are filled.
Details and Registration are at www.unwindgetaway.com
I spent much time enjoying the mountains of NC, and Blowing Rock holds fond memories. Alas, I myself will not be able to attend. But I have sent a book of 12 patterns for each retreat attendee. So I will be there with you in spirit and sponsorship!
p.s. You can see a list of all Unwind Sponsors here.
---
5 Favorite Tips for Knitting with Handspun
Good advice for commercial yarns as well!
A number of years ago, I took a comprehensive workshop with Rita Buchanan on Knitting with Handspun. In going through some of my old file drawers in efforts to downsize to near-paperless, I came across a short write-up I had compiled of notes taken at this workshop 15 years ago! (SOAR '95)
Here are my "top 5″ favorite take-aways that have served me well through all these years. Whether it is something new to you or just a reminder, I hope you find them useful when knitting with hand spun yarn or even choosing commercially spun yarn for your projects. Read on for 5 Favorite Tips for Knitting with Handspun ...
---
From Trial Swatches to Finished Project
While my design process has become more streamlined with practice, the order in which a design goes from concept to completion is seldom a straight-line course. There is ebb and flow, and gradual refinement toward an inner vision — many steps (sometimes backwards), time, patience — in plain words, work.
To get a glimpse into the design process, here is a brief photo journey in Creating the White Lotus Lace Stole ...
---
If you've been at the HeartStringsFiberArts.com website recently, you may have noticed a small change. I am available for online chat now and then throughout the week. If you see the "Live Help Online" button, click to say "hi" and chat a bit if you need help finding anything at the website.

A few people have already stumbled upon this and been surprised that it really is me on the chat! Of course, that is not my picture up there; it's just one of the generic buttons provided with the service I use. I actually had thought about taking a picture of me with my phone headset, but I figured that would be a little over the top, lol.
There are no pre-set hours for when I will be online, though. We will just see how things go for now. Even if I am not online, you can now conveniently send a message to my dedicated email support address just by clicking the "Live support Offline" button (which is what the above button switches to automatically when I go offline).

Don't worry, you can still reach me by any of the other ways that you may have been using, including the dedicated toll-free phone support line.
Do remember that I have a life, too, though. I will respond to you as soon as possible if by chance I am unavailable. So be sure to leave an email address or phone number with your message as to where I can reach you.
Thank you for being part of the HeartStrings FiberArts community. Please stay well, safe and enjoy your knitting.
Your friend,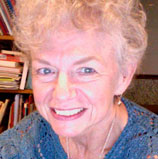 HeartStrings FiberArts / Jackie E-S Design Collections
From the classic to the uniquely appealing for today's modern knitter.

Skill-building, comprehensive instructions to advance the art of knitting.

Yarn-generic patterns for your creative freedom.

Featuring innovative designs for Knitted Lace and Beaded Knitting based on tradition in updated techniques.