TNNA Show Preview
The National NeedleArts Association Trade Show - Summer 2011
See what's new and exciting with HeartStrings at the upcoming TNNA Summer Trade Show. Be sure to mark your show floorplan to stop by HeartStrings FiberArts booth #425 and and the booths of these other vendors.
(Note: This is a preliminary list only. At show time in my booth, I will have a complete listing of vendors related to patterns and models I have on exhibit.)

Greater Columbus Convention Center
Columbus, Ohio
June 11 - 13, 2011 (with Sample It! being held June 10th)
---
Sample It! - Ballroom 2, Friday 5 – 6 pm
(the night before the show opens)
You can't miss HeartStrings FiberArts at Table #1. If you are a retailer, be sure you have pre-registered with TNNA for this event (it is free).
At Sample It, I'll be offering: A PATTERN TASTING. This event-only special pattern set includes 8 different patterns selected from the newest Jackie E-S / HeartStrings shawl, scarf and sweater collections of knitted lace and beaded knitting designs. Plus $10 Show coupon! All for only $30 (well, actually only $20 after you use your $10 coupon for a qualifying order placed during the regular show).
I hope you'll come see me Friday night. Then again when the show opens!
Also of note at Table #23, Colinton will be offering one-ball Tucker Box Kits to make the HeartStrings Coronet Collaret in one of their new dye inclusion jewel-tone colors.
---
Fashion Show - Market Stage on the show floor, Saturday 10:30 am
The venue and timing for the Yarn Group Fashion Show has changed from its isia; Friday evening in the big ballroom to Saturday morning on the show floor just after the hall opens. The Market Stage is at the rear center of the show hall. After the fashion show presentation, models will parade through the aisles wearing each garment.
I hope you will clap for HeartStrings new design being presented at the fashion show: A Touch of Beaded Class. Thanks to Colinton Angoras for sponsoring this entry. I hope you will clap long and hard for this design!
---
New Product Area - just inside the show floor entrance
The venue and timing for the "Discover What's New (new product table)" has also changed as of this show. Along with the Great Wall of Yarn, it has moved from the outside lobby area to just inside the entrnace to the show floor. This area will be open for an additional hour everyday before the show (TNNA's original schedule was to only allow viewing during show hours - yikes! so at least this is somewhat of a concession).
I hope you will look for HeartStrings there. I'll be showcasing one of the new designs in my little section of real estate on the new product table. And I am planning on having a little surprise coupon there that you can use back in my booth #425.
---
HeartStrings FiberArts - booth #425
This is the headquarters for HeartStrings knitting patterns. I'll again be ably assisted by KyleAnn Williams. We are looking forward to showing you around the displays of new models and patterns.
I'll have binders with cover pages of the full line of HeartStrings patterns that you can peruse at your leisure. With over 200 patterns in the line, I won't have all models on hand at the show, though. So if there is something that you especially would like to see in person, please let me know beforehand so I can bring it to the show.
p.s. We have chocolate to share, too!
p.p.s. The HeartStrings booth is right next to the Yarn Group Comfort Zone. So if you'd like to rest a bit or just gather your thoughts, we'll have you covered there, too.
---
Colinton Australian Angoras - booth #303
The new "Colinton Tucker Box" kits product line has expanded to offer two more HeartStrings designs in addition to the White Lotus Stole kit debuted in January.
These complete project kits feature Colinton's silky worsted-spun 100% Kid Mohair yarn, top quality glass beads, original HeartStrings pattern, and Unicorn Fibre Wash/Rinse. All three come in choice of natural color yarn or (new for the June show) any of 7 different jewel tones.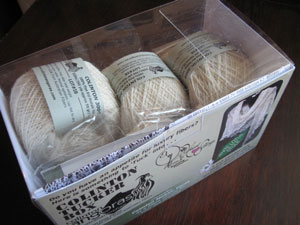 Video clip of White Lotus Stole on the Fashion Show Runway
---
Crystal Palace - booths #301/400/402
The recent new Pianissimo Lace Blouse and the Lacy Maizy Wrap models made in Crystal Palace yarns will be on display in my booth #425. To order yarn, Crystal Palace won't be far away (just down the aisle from me and close to the hall entrance).
Susan often has some of the HeartStrings patterns knit up in her yarns, too (it's a most pleasant surprise even to me to see them made up in her yarns). So do let me know if you see something I might have missed.
---
Himalaya Yarn - booth #915
Anni Kristensen will have stunning models of select HeartStrings designs knitted in Himalaya Yarn's Duke Silk. These two Special Edition HeartStrings patterns feature Duke Silk yarn will be available to add to your show order, as well as the Bi-directional Lace Strips Stole released at last June's TNNA show.
| | |
| --- | --- |
| Soft Cables Mobius | Spiral Nebula |
Video clip of Bi-directional Lace Strips Stole on the Fashion Show Runway
---
ICG Crafts - booth #1535
ICG Crafts specializes exclusively in the wholesale distribution of craft leaflet designs to independent craft shops worldwide. HeartStrings patterns are being distributed through ICG to see whether this venue is of value to shops that also carry other crafts such as cross-stitch and therefore might benefit in combining orders of other pattern leaflets. To sign up as a retailer at ICG, you do not have to be a cross stitch shop, however. This can also help shops with fill-in orders of HeartStrings patterns that do not otherwise meet minimums through regular pattern or yarn-exclusive distribution channels.
---
Jacques Cartier Clothier - booths #1235/1334
The recent new Shallow Sideways Tri Shawl model made in Jacques Cartier Qiviuk Silk Blend will be on display in my booth #425, as well as models for 3 other patterns previously published using qiviut (under the label of Windy Valley Musk Ox). The Jacques Cartier booth located on the "other side of the hall" is the place to see these yarns in person and to place orders.
They often have some of the HeartStrings smoke ring and sweater patterns knit up in their yarns, too (it's a most pleasant surprise even to me to see them made up in those luscious yarns). I hope they will have some of those models on hand for you and I to see!
---
Jade Sapphire Exotic Fibres - booths #209/211/213/215
Jane Saffir and I were booth neighbors a couple of shows ago and she asked me to try out some of her yarns. The Hug-Me-Tight design in her scrumptious Silk Cashmere yarn is the first outcome of that encounter, and you may order the pattern directly from her.
New for this show: Times Two Reversible Sideways Scarf knitted in Lacewing 100% Handspun Cashmere. This yarn reminds me of the proverbial "soft like butta". There's no way someone could resist putting this scarf around their neck!
---
Lorna's Laces - booths #926/928
Lorna's Laces is a full-line distributor for HeartStrings patterns. Beth Casey, Amanda Allen Jarvis (recently married!) and the rest of the crew at Lorna's Laces will have a catalog binder of the entire line of HeartStrings patterns available for you to peruse and order (if you don't see the catalog binders, just ask, as they sometimes get shifted around during the show).
New for this show: Amanda had HeartStrings Modern Romance Socks worked up in their new sock yarn Solemate using the new color Magnificent Mile. Be sure to check it out at the Lorna's Laces booth.
p.s. 2 more reasons for you to stop by the Lorna's Laces booth: I just heard from Amanda that she also had Everybody Wants Socks and Down and Up Lace Socks made up for display at the show. I don't know yet in what colors, so it's going to be a surprise even to me.
---
Mountain Colors - booth #420/422/424
This is my neighbor right across the aisle from HeartStrings FiberArts booth #425. That will make it convenient to see sample models of all 9 HeartStrings designs done in Mountain Colors yarn, then do one-stop shopping for yarn and patterns.
New for this show: 2 brand new patterns debuting in June!
One is a dual-sized tri-shaped shawl planned for either the smaller 600 yard put-up of Winter Lace Junior, or the 1200 yard put-up of the regular Winter Lace - thus giving you and your customer the option of price point you want for your project.
The other new pattern is a classically stylish stole made in Bearfoot and the new colorway Harmony Garnet. Check out this model while you are at the show because it uses a special technique to alternate two balls of hand dyed yarn every row in a way that avoids both yarn strands being carried up the same edge.
---
Schaefer Yarn - booths #111/113/115
New for this show: Buds in the Breeze. This light-as-a-breeze stole features a field of flower-like medallions centered with nupp "buds". Model is made in Audrey 50% Merino wool/50% cultivated silk in the color Indigo.
I'll have the new Buds in the Breeze on display in my booth #425, but it's just a couple of aisles over to where Cheryl has yarn for this stole as well as 6 other HeartStrings patterns showcasing Schaefer yarns.
---
The Buffalo Wool Co. - booths #462/462A
Continue on down the 400 aisle from the HeartStrings booth and you will dead end into what you're more familiar with as Buffalo Gold.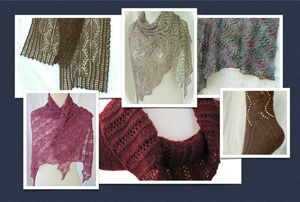 There you can do one-stop shopping for yarn and any of the 7 HeartStrings patterns that have been made up in pure bison and blended yarns. Schedule a date while you are there at their booth for the traveling Trunk Show of Jackie E-S Designs, too!
---
Tilli Tomas/Planet Earth Fiber - booths #641/740
I gave a hint to many of you about Half-Note Symphony at last June's TNNA show when the concept for this design was brewing in my head. If you did not attend the January show, then be sure to come by HeartStrings booth #425 to see the model. Then mosy on over a couple of aisles to do one-stop shopping at the Tilli Tomas booth for yarn and any of the 12 HeartStrings patterns featuring Tilli Tomas yarns.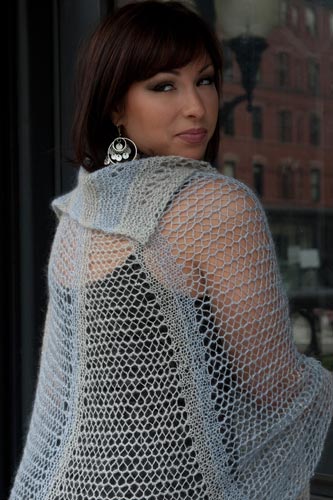 New for this show: Tilli Tomas/Planet Earth Sock yarn. A new model of HeartStrings Johnny Socks has been made in this and I am working on some other republications of classic sock patterns in this yarn for Country Girl Socks and Sock-Not Lace Leggings.