| Home of HeartStrings | What's New | Design Collections | Store Locator |
| Tips | Resource Links | Meet Jackie E-S | Search |


THE SOCK CALENDAR Gallery

Featuring the creativity of knitters inspired by Everybody Wants Sox!, the October pattern in The Sock Calendar: Socks For all Seasons.

Just in time for gift knitting season...here's a crew sock that's quick, simple, and handsome...in sizes for all your family and friends!
---
Knitted by Jackie E-S in Heirloom Argyle blue tweed.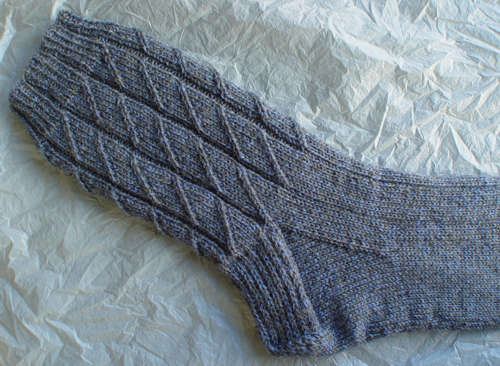 Jackie says ... I knitted these gift socks for a man friend. Since my friend picked out a fingering weight rather than the sport weight called for in the pattern, I used my gauge in this yarn (8 stitches per inch) to recalculate stitch count. I was able to simply follow the 72 stitch instructions in the pattern to fit the circumference of his leg/foot. Other minor variations in the pattern: I substituted a round turned heel instead of the square Dutch heel. And also extended a 7,1 rib down the instep for better elasticity in accommodating his slightly differently-sized feet.
Return to Everybody Wants Sox! Gallery room.
---
Do you have TSC socks you have made and would like to display in the Gallery?
Request information here for submission procedures.


---
| Home of HeartStrings | What's New | Design Collections | Store Locator |
| Tips | Resource Links | Meet Jackie E-S | Search |


Last revised November 9, 2003