Dear HeartStrings business partner,
In time for your customers looking for new patterns for their fall knitting, shipments of the Early Fall release of HeartStrings patterns are being prepared as I write. More details below.
I've returned from summer break and am in full swing again. I apologize for the glitch that occurred while gone with the answering service for my wholesale phone numbers. My machine did not reset after a power outage. During regular hours I'll now usually be here to take your phone call directly, but just in case, the answering machine is working again.
Best regards,
Jackie E-S / HeartStrings FiberArts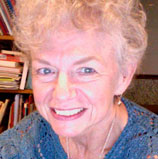 new patterns ship this week
There is a nice mix of designs in the Early Fall 2010 release of HeartStrings patterns to inspire your customers who are looking for great projects to knit for the Fall.
Auto-shipment standing orders are being prepared as I write. If you would like to order and are not on auto-ship, you can email or phone me now and I will get the patterns you want sent out to you as soon as possible.
Any questions or need help with your order? Don't hesitate to ask.
The Early Fall 2010 release includes these 3 new patterns:
Half-note Symphony Shawl
Fairies and Flowers Scarf
Pianissimo Lace Blouse
#H72
Half-note Symphony Shawl

This semi-circular lace shawl, in alternating wedges of 2 harmonious colors, features a fluted hem and scooped neckline turned back into an asymmetric collar.

Purl lace short-row wedges, separated by spokes of garter stitch bands, gradually narrow as they encircle the shawl.

Planned for lace weight or light fingering weight yarn. The model is shown in Tilli Tomas Symphony Kid Lace with Beads & Glitter, colors Atmosphere (light gray) and Eternal Diva (soft gray-blue).

This would be a good entry-level project for an aspiring lace knitter, as well as something to interest more advanced knitters.

---

#H78 Fairies and Flowers Scarf

Dainty fairy motifs at one end of this scarf transform into flowers at the other end. Knit yourself a little magic this summer.

Shown in Kami Bison from Fibre-Isle International, a blend of bamboo/Merino/bison, but also lovely made in other yarns such as 2-ply cashmere and Zephyr wool/silk.

Beads for the fairy heads and flower buds are placed with the crochet hook method.

---

#W32 Pianissimo Lace Blouse

Softly with a whisper of lace, like fine classic music, this sweater is a masterpiece in concomitant simplicity and elegance.

This is a design at long last completed for publication. Pianissimo Lace Blouse began over 12+ years ago with a prototype made in a wool/silk yarn I hand spun. Then the idea went into hibernation for all these years, but never out of mind as something to eventually formalize and publish. Something with a musical theme is just too dear to my heart to let the music die.

A yarn with a soft hand and good draping quality such as a blend with bamboo, silk or Tencel is recommended. Pattern is sized for 34" - 39" (fingering weight) and 42" - 50" (sport weight) with 0 - 2" negative ease.

The sweater model photographed for the pattern (and shown here in the 36½" size) was made in Crystal Palace Panda Silk. I fashioned the 'buttons' from 10 mm green/purple fluorite gemstones. For you who saw this sweater at TNNA and drooled, your wait is over to get the pattern!
---
[This comes from Carol Tomany of Infiknits, one of the HeartStrings distributors. I wanted to pass it along so you would be aware of this new show and its upcoming date. jes]
I just wanted to let you know that we will be exhibiting at the first (for a long time anyway) wholesale knitting trade show in Canada. September 19, 2010, just North of Toronto in Stroud at the Innisfil Recreation Ctr.
The show is being hosted by Cabin Fever. It is cash and carry - great for saving on shipping. There is a small admission charge which is refunded in the form of "funny money," if you buy from the vendors who will have lots of great stuff, new stuff & bargooons!!! More details at http://www.knittrade.com
If you are in the area, come for the day - 11:am to 5:pm. If you are a little further away come for the weekend. There are Outlet Malls, The Slots, Canada's Wonderland is just a little south, the Niagara Wine Festival is on that week and there is always Toronto - with theatre, museums galleries and more!
It's a great way to see Canadian wholesale suppliers for those who would like something a little different in their shops.
Have a great day! Carol
Infiknit (800-408-1522)
---
Fashion trends for fall and winter are seeing a leaning toward cables. Lace knitters can enjoy cables, too, with these HeartStrings patterns.
Be sure to let your customers know you have them for sale by displaying a sample cover page of each pattern in the bin with a yarn you carry appropriate for the project. Links to free printable sample cover pages are given here for your convenience (or you can also always find the links to sample covers toward the bottom of each pattern page on the website for these or any other HeartStrings patterns).
#H60 Put on the Glitz Shrug

Delicate cable lace is knitted cuff to cuff for a lusciously flowing shrug.

#H61 lace and cables scarf

Trellis lace combines with an interwoven lattice of reversible knit-purl cables.

#H74 lacy maizy wrap

Crisp outlines of cable stitches frame a back-drop of lace.

#H75 shallow sideways tri shawl

The cable-ribbed lace pattern softens the edges in beautifully scultped outlines.

#H78 Fairies and Flowers Scarf

A cable twist and eyelets define the body and wings of the fairies, while a bead (placed with the crochet hook method) represents the head.

#S27 A Feat of Twist Socks

The design of these lace and cable-icious sandal socks was inspired by a twist on the saying "A Twist of Fate".
---
I welcome your comments and suggestions. Don't hesitate to let me know how I am doing and how I can serve you even better. Best regards,
Jackie Erickson-Schweitzer
HeartStrings FiberArts
53 Parlange Dr, Destrehan LA 70047
Phone: 888-955-8094 (toll-free) or 985-764-8094
Fax: 888-467-7840
Email: jackie@heartstringsfiberarts.com
---
HeartStrings FiberArts / Jackie E-S Design Collections
From the classic to the uniquely appealing.

Skill-building, comprehensive instructions.
Yarn-generic patterns to support the yarns you already stock.
Featuring patterns for Knitted Lace and Beaded Knitting.