Hope your year is off to a good start. And I hope to help in making it even better with cross-marketing opportunities and future new products to entice your customers. For example, I've just completed setting up a page on Facebook for HeartStrings FiberArts and wanted to give you the opportunity to be recognized there in my favorites.
Also, in this brief newsletter I touch on few tips you most likely already know, but maybe have not thought about or acted on in a while. What better time than the new year to see what 'old' things can be done with a new (or re-energized) twist.
As always, I am here to work with you in making HeartStrings patterns a best seller in your stores.
Jackie E-S / HeartStrings FiberArts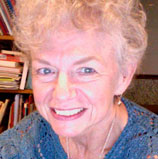 HeartStrings FiberArts is now on Facebook
The new HeartStrings FiberArts business page on Facebook is now live. If you are a member of Facebook, I invite you to come on over and "like" the HeartStrings FiberArts page as an additional means of keeping up with what is going on at HeartStrings between newsletters.
I'd also love to give you added exposure in the Facebook knitters community on my Favorites pages. If you have a Facebook business page, please send me an invite to "Like" your page and I'll be happy to add it to my favorites.
---
That little extra personal touch pays off
Here is a comment that a customer made to one of the shops that handles orders of my HeartStrings patterns.
"I'm glad to have this opportunity to tell you how pleased I was with the "personal touch" in the form of a hand-written note using my first name on the packing slip. I also appreciate your offer to help if I have questions. Thank you very much for your prompt service. It was also nice to know that you, too, are in New Hampshire. Thank you for a great experience!!"
You can't help but feel that the little extra touch (and time) this shop takes with their individual attention has paid off (and will continue to pay off) with loyal, satisfied customers.
I am so thankful to have shops like this providing such excellent service to customers who purchase my HeartStrings patterns. That leaves a good impression all around.
Do you have a story to share about customer satisfaction?
---
turn over pattern inventory more quickly?
Here are some ideas from one of my distributors about how to turn over pattern inventory more quickly. See Divineknits with Infiknits
Does an idea here spark interest in you trying it (or re-trying it with a new twist)? Do you have other ideas that have worked for you? Do you have other ideas that you think might work?
---
I welcome your comments and suggestions. Don't hesitate to let me know how I am doing and how I can serve you even better. Best regards,
Jackie Erickson-Schweitzer
HeartStrings FiberArts
53 Parlange Dr, Destrehan LA 70047
Phone: 888-955-8094 (toll-free) or 985-764-8094
Toll-free Fax: 888-467-7840
Email: jackie@heartstringsfiberarts.com
---
HeartStrings FiberArts / Jackie E-S Design Collections
From the classic to the uniquely appealing.

Skill-building, comprehensive instructions.
Yarn-generic patterns to support the yarns you already stock.
Featuring patterns for Knitted Lace and Beaded Knitting.