Dear industry partner,
Things have been really busy and exciting around the HeartStrings studio. I've been looking forward to this month's newsletter, too. I hope you enjoy it and find it useful.
Read on for the latest from HeartStrings ...
Best regards,
Jackie E-S / HeartStrings FiberArts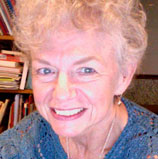 ---
Whether your customers are looking for a small, quick project in skinny yarn on tiny needles, or a full-size project with thicker yarn on larger needles, I've got something new this month for each.
Lace Cross

Pattern #A98. This ornate Lace Cross is knitted using an interesting seamless construction. It can be used as a bookmark, communion gift, or mounted and framed. Makes a nice friendship gift, too. Let someone know you care.

More ...
Moose Lace Afghan

Pattern #N37. This attractive, practical afghan is an example of "moose lace", i.e. lace knitted in a heavier yarn than usual. The lace makes this afghan lighter in weight for its size, yet pleasingly warm and snuggly.

More ...
Both of these patterns are available now for order by regular wholesale terms. Let me know what you'd like along with other patterns you need to re-stock or are inspired by in the next article, and I will get them out to you right away so you can take advantage of the knitting "high season".
---
Part 1: A Focus on One-Skein Projects
As the holidays quickly approach and gift-making is top-of-mind, here are suggestions of HeartStrings patterns to help your ====== customers breeze through their list.
These are all quick-knit projects using small amounts of yarn. Teaming these patterns along with single balls of your high price-point yarns that you might be looking to move along better, or even odd balls, helps both your customers and you to make a good deal.
Many of the styles and sizes of wrist warmers/wristlets take less than 100 yards. Here are some recommended favorites:
Whimsies and minis do double-duty as both gifts and ornaments or package decorations. These take hardly any yarn (I don't think I saw anything over 40 yards, and usually quite a bit less), so are practical on the budget or multiples could be done with just one ball. Check out all the ideas in the HeartStrings Doilies & Coasters, Ornaments, Bookmarks and Jewelry Collections. Here are a few holiday-themed ones to give you a preview:
Toys are great for kids, including the young at heart of all ages. How about making cuddly Teddy Bears? It's just another chance to enjoy both the making and the giving!
I hope this gives you plenty of ideas and fun to suggest in your shop. Next up in Part 2 will be suggestions for projects with less than 300 yards.
---
Q&A: Where to get heart "pin"?
Several people have asked me about where to get a heart "pin" like the one photographed with the V-Start Neck Kerchief Scarf.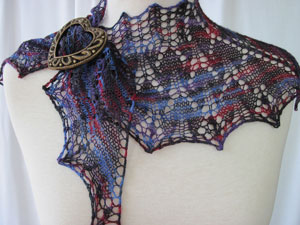 My answer:
The heart scarf decoration shown in the main picture is actually a belt/sash buckle. Just pull the narrow ends of scarf through each side of the buckle and arrange as desired. You can probably look in places that sell novelty/art deco accessories or sewing stores that have an interesting variety of findings. Or use those search terms on the web, and it might bring up something interesting on one of the auction sites or whatever. Have fun!
Perhaps this will prompt you to think of ways that things intended for one use might be used in a different way.
---
Love these Hiya Hiya interchangeable knitting needles
I'm trying out the Hiya Hiya interchangeable knitting needles (and a few other cute goodies). Want to see? At this link to my Jackie E-S blog, you'll also see how knitting the new Lace Cross pattern begins.
---
I welcome your comments and suggestions. Don't hesitate to let me know how I am doing and how I can serve you even better. Best regards,
Jackie Erickson-Schweitzer
HeartStrings FiberArts
53 Parlange Dr, Destrehan LA 70047
Phone: 888-955-8094 (toll-free) or 985-764-8094
Toll-free Fax: 888-467-7840
Email: jackie@heartstringsfiberarts.com
---
HeartStrings FiberArts / Jackie E-S Design Collections
From the classic to the uniquely appealing.

Skill-building, comprehensive instructions.
Yarn-generic patterns to support the yarns you already stock.
Featuring patterns for Knitted Lace and Beaded Knitting.