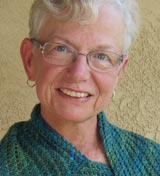 Dear industry partner,

If you don't recognize the design pictured in this month's newsletter banner, it's because it is a brand new pattern release for this month: Swags of Lace Crescent Scarf.

Yikes, I have been VERY busy in my temporary Colorado design studio these last weeks before returning recently to my Louisiana studio. Thank you for your patience and understanding during my extended break.

The good news is that I have 4 new designs (including Swags of Lace above) readying to ship for your *|MMERGE3|* customers' pleasures. Check them out below.
Enjoy the newsletter!

---
New Designs for October!

I am pleased to offer these newest designs as part of the HeartStrings pattern collections. Featured yarns are Panda Silk and Mini Mochi by Crystal Palace.
| | |
| --- | --- |
| Swags of Lace Crescent Scarf | Fantasy Leaves Scarfette |
| | |
| --- | --- |
| Misty Soft Infinity Tube Scarf / Cowl | Beaded Crescent Neck Lace |

Want to see the actual cover page of the pattern? Just click on the pictures to above download a pdf sample. I've also provided a quick summary below:

#H95 Swags of Lace Crescent Scarf
Dress up your wardrobe with this fluid scarf. Sparkly beads frame a crescent of interleaved chevrons of knit lace. MSRP $7.50

#H138 Fantasy Leaves Scarfette
An excuse to wear a "scarf" as knitting art! Fantasy Leaves Scarfette is knitted as a long garland of leaf medallions connected by I-cord stems. Wear it artfully draped about the neck to fit the mood or your forest nymph persona. MSRP $7.50

#H97 Misty Soft Infinity Tube Scarf / Cowl
Misty Soft is knitted and finished as a continuous loop with no edges and no wrong side showing. The double-sided fabric is SO cuddly. MSRP $7.50

#H93 Beaded Crescent Neck Lace
Simply beautiful — Lace for your neck. Adorn your neckline with a crescent of color and beads. MSRP $6

These patterns will be ready to start shipping next week. Please let me know what you need and I will be happy to help you.

Note: If you are on auto-ship, you are already scheduled to be shipped your standing order of 6 each of these new patterns. Need more of these patterns or any others? Call or email me to add to your order before your automatic standing order ships next week Oct 30, and your entire entire order ships free.


---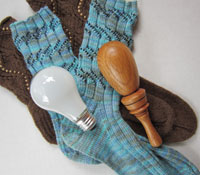 Don't have a fancy sock darning egg? An old-fashioned incandescent light bulb works, too. You say you don't know how to darn a sock? Read on about how to repair a sock with a knit-in-place patch.