Dear HeartStrings business partner,
Time has really sped by since last I wrote. I hope you've been having a good fall. There's been lots going on at HeartStrings and some exciting things coming up, too. So please read on to catch up on the news.
The Holiday Season is closing in. Remember that there are many beautiful small items that are ideal for gift-giving in the HeartStrings pattern collections. Check out smoke rings, hand coverings, and neck-warmers that I offer. See below for a start on some ideas from the most popular.
Happy Thanksgiving and all the best for the holidays!
Warm regards,
Jackie E-S / HeartStrings FiberArts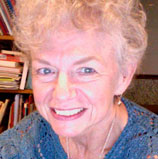 small projects for gift-giving
Small, yet beautiful, projects are best sellers at this time of the year when gift-giving is high on the minds of knitters. To keep the ideas flowing, here is a small sampling from popular ones this season –
The HeartStrings Cowl Dickey is a quick, easy-to-knit woman's dickey. The loose-fitting draped neckline results in a comfortable accessory that will fit almost anyone. Wear it with a plain sweater or shirt to add an exquisite touch.

Team up this pattern with sport weight luxury yarns (takes just 200 yards!) for a feeling of heavenly decadence.

The Flared Lace Smoke Ring makes a versatile accessory that can be worn around the neck or pulled over the head as an elegant head covering. The design features a stunning knitted lace pattern of ribs that radiate like a fan.

Team up with lace or fingering weight luscious yarns like alpaca, cashmere, angora, qiviut,merino/silk, etc.

This roll-brim hat features a decorative Norwegian braid band. Made in luxury yarn, its softness will bring warmth and comfort to body and soul.

Team up with your choice of worsted weight yarns.

Lusciously soft and warm, this lace neck muff is designed so that it can be worn in either a cowl or yoke style. Just two simple lace pattern rows are used to produce the zig zag ribbed lace stitch with pleasing reversibility and softly scalloped edges.

Since this project takes only a small amount of yarn (150 yards), it is ideal for encouraging your customers to indulge in a luxury fiber to makes as a special gift.

These delightful fingerless gloves keep wrists and hands warm. The tapered fit, DK weight yarn and an easy-to-read lace stitch pattern make these simple and quick to knit. For symmetry, instructions are provided for making the left and right a mirror of each other.

Team up with a superwash DK weight yarn for practical everyday wear.
---
An additional online ordering service for HeartStrings patterns is now available to you. ICG (Independent Creative Group) has their own professional quality equipment to print, package and ship your order within one business day. This service is exclusive to retail shops. To be set up for online ordering access, just register with ICG with proof of your established business. Then order online any time day or night, or call/email an ICG customer service agent to place orders during normal business hours.
Currently, only part of the line of HeartStrings patterns is available through ICG. More will be added as requested. If there is a HeartStrings pattern that you want that is not yet offered at ICG, let me know and I will move it up on the priority list to have them set up.
---
Bi-Directional Lace Strips Stole in Philadelphia Fashion Show 2010
| | |
| --- | --- |
| | I was pleased that the HeartStrings Bi-Directional Lace Strips Stole I designed for Himalaya Yarn was requested by the TNNA Yarn Group for Philadelphia Fashion Week 2010. |
Thanks to Sherry Mulne for putting together this video of the Fashion Show. Watch for Bi-Directional Lace Strips Stole between 13:32/13:50 on the video hosted at YouTube.
---
upcoming episode of knitting Daily tv
| | |
| --- | --- |
| | Thanks to Anna Carner of Unicorn Fibre for including the White Lotus Stole model in her segment of Knitting Daily TV that was taped in October. The episode will air early next year. |
Deb Robson kindly presented this segment that featured Unicorn Fibre wash products. The segments are short (5.5 minutes) and, while not scripted, very succinct. So I hope some of you and your customers might catch a glimpse and mention of the White Lotus Stole.
The spot will be part of episode 603, and the series starts airing in, I think, mid-January. Next fall it will likely be available on the net, and following that on DVDs that people can buy.
---
Fall 2011: The Best of Interweave Knitted Lace
Exciting news for me (and I hope for you, too) – the upcoming anthology The Best of Interweave Knitted Lace will be released in Fall 2011, and Interweave has selected my article A Primer on Knitted Lace for inclusion.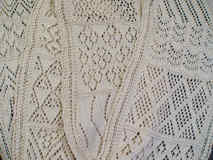 It's always great to have the chance to encourage even more lace knitters!
---
I welcome your comments and suggestions. Don't hesitate to let me know how I am doing and how I can serve you even better. Best regards,
Jackie Erickson-Schweitzer
HeartStrings FiberArts
53 Parlange Dr, Destrehan LA 70047
Phone: 888-955-8094 (toll-free) or 985-764-8094
Toll-free Fax: 888-467-7840
Email: jackie@heartstringsfiberarts.com
p.s. Yes there are some new patterns a-brewin'. Stay tuned!
---
HeartStrings FiberArts / Jackie E-S Design Collections
From the classic to the uniquely appealing.

Skill-building, comprehensive instructions.
Yarn-generic patterns to support the yarns you already stock.
Featuring patterns for Knitted Lace and Beaded Knitting.