Spring greetings,
With spring comes renewal. Thank goodness, as I have returned after my 6 month furlough from designing. Read on for a heads up on some of the new patterns in the works for May/June.
So, I'll be finishing taxes this week and the designs are in the hands of the test knitters. To reward myself, I am taking a spring vacation break.
Please note that HeartStrings is closed for wholesale shipments April 16 - 27.
Remember though that other distributors are available to handle your HeartStrings pattern orders.
April 14 - 17, 2011 is the Online Needlework Show. This is a chance for you to take part in a virtual wholesale-only tradeshow of the needlearts. HeartStrings Knitting Patterns will be represented by ICG Crafts.
Best regards,
Jackie E-S / HeartStrings FiberArts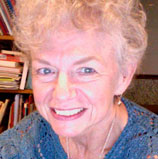 ---
EASY DOES IT – Easy Knitting Patterns
A selection of patterns with the beginner in mind
Since knitted items can sometimes look more complicated to do than they really are, people can be afraid to try. This is especially true of lace knitting, even when it is in relatively thick yarn on larger needles.

To ease your customers into trying something new in HeartStrings patterns, the Easy Does It collection is a variety of easy knitting patterns that can help you guide them in their choice.
Not a beginner? Sometimes you just need some mindless knitting. So don't be shy of suggesting Easy Does It patterns to your more skilled customers, too.
---
If you've been at the HeartStringsFiberArts.com website recently, you may have noticed a small change. I am available for online chat now and then throughout the week. If you see the "Live Help Online" button, click to say "hi" and chat a bit if you need help finding anything at the website.

A few people have already stumbled upon this and been surprised that it really is me on the chat! Of course, that is not my picture up there; it's just one of the generic buttons provided with the service I use. I actually had thought about taking a picture of me with my phone headset, but I figured that would be a little over the top, lol.
There are no pre-set hours for when I will be online, though. We will just see how things go for now. Even if I am not online, you can now conveniently send a message to my dedicated email support address just by clicking the "Live support Offline" button (which is what the above button switches to automatically when I go offline).

Don't worry, you can still reach me by any of the other ways that you may have been using, including the dedicated toll-free phone support line.
---
New designs are in the works. Thank you for your patience. Here's a heads up on new patterns for you and your customers to look forward to soon. Click the highlighted links to go to the accompanying webpage where there are photos and more information. I'll send out more announcements as these patterns become available.
#H77 Buds in the Breeze. This light-as-a-breeze stole features a field of flower-like medallions centered with nupp "buds".
#H81 A Touch of Beaded Class. A touch of beads in alternating light and dark accent colors adds sparkle and stylish class to this lace fashion scarf that is wide enough to be worn as a shoulder stole.
#H83 Peek-a-Bead Scarf. Beaded accents nestled within colorful cushions of texture knitted fabric. (Preliminary webpage is posted with blog link to project-in-progress articles/pics.)
There are other designs that I hope to be able to share with you next month and have available for ordering at the TNNA Columbus Show in June.
Note: These previews are for upcoming new design publications that are relatively close to publication date. You know how "Murphy" can be with unanticipated glitches, though. Final editing and testing can delay publication date. I know you appreciate our doing our best to bring you the best in enjoyable, complete and accurate patterns.
---
Are you already carrying spinning supplies, or are thinking of it? I encourage you to consider HeartStrings as pattern support for your spinning supplies area. There are more and more of the yarn/dyeing companies that are making lovely fibers available to hand spin into yarn.
Did you know that many of the HeartStrings designs are sampled in handspun yarns? (That spinning wheel in the HeartStrings logo is no coincidence.)
In this and future newsletters, I'll occasionally be including articles about spinning. As with other marketing resources, feel free to share these articles with your customers. Even for non-spinners, there will almost certainly be something you and they find interesting.
Spinning a 2-ply laceweight yarn for a scarf
Sometimes I am asked about the laceweight yarns I have handspun and used to knit scarves or shawls. At the top of my list of favorites, I like to spin a laceweight 2-ply yarn from hand-painted silk, cotton or fine wool blend. Here's how I approached spinning the yarn used in ... (read more)
---
… Peggy's Shawl, that is. KyleAnn Williams is a good friend and fellow knitter. She happens to be a designer in her own right, as well as a knitting teacher. And that is why I am particularly flattered that she became so enamored of the Peggy's Shawl I had designed. I've lost count of how many ... (read more)
| | |
| --- | --- |
| Here is Peggy's Shawl knitted by KyleAnne Williams in Crystal Palace Kid Merino. Isn't it lovely? More details | |
---
I welcome your comments and suggestions. Don't hesitate to let me know how I am doing and how I can serve you even better. Best regards,
Jackie Erickson-Schweitzer
HeartStrings FiberArts
53 Parlange Dr, Destrehan LA 70047
Phone: 888-955-8094 (toll-free) or 985-764-8094
Toll-free Fax: 888-467-7840
Email: jackie@heartstringsfiberarts.com
---
HeartStrings FiberArts / Jackie E-S Design Collections
From the classic to the uniquely appealing.

Skill-building, comprehensive instructions.
Yarn-generic patterns to support the yarns you already stock.
Featuring patterns for Knitted Lace and Beaded Knitting.