Dear HeartStrings retailer,
At TNNA earlier this month, the debut of the newest HeartStrings patterns was well-received. Thank you for the enthusiastic support. Orders taken at TNNA were processed this past week and auto-shipments will be processed this coming Wednesday, June 29th. Besides the 3 new patterns included with standing auto-ship orders, you may also request 2 new re-publications be added into your order. Read on …
I'll be closing the studio for mid-summer break July 7th - 21st, and wanted to give you a heads up to place orders for any HeartStrings patterns you need now. There will be no wholesale shipments from my location during the break. Email, phone and fax orders can continue to be placed anytime and will be queued for shipment as soon as possible when the studio reopens. For alternate source if needed, contact another HeartStrings distributor.

Take care and have a great summer!
Best regards,
Jackie E-S / HeartStrings FiberArts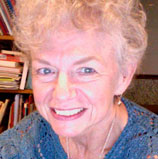 ---
TNNA DEBUT PATTERNS SHIPPING NOW
New for Summer 2011 flyer – free marketing materials available as downloadable pdf's: your choice of hi-res printable version or web-ready faster download lo-res version
ATTENTION retailers in the Auto-Ship Program – Your shipment of 6 each (or your already increased standing order quantity) of these 3 new patterns will be processed June 29, 2011 (or before if you are ready for them now, just let me know and I will send out right away). If you want to add to your order and take advantage of the free shipping included with the auto-shipment program benefits, please contact me before June 29. The cost for standing orders of the minimum of 6 each of these 3 patterns is $67.50.
#A107 Reversible Eyelet Cables Stole
This classically stylish stole in hand dyed yarn features mock cables with a border of herringbone lace. A special technique is used in this pattern to alternate two balls of hand dyed yarn every row in a way that avoids both yarn strands being carried up the same edge. Fngering weight. Shown in Mountain Colors Bearfoot. $3.75 wholesale
#A178 Times Two Sideways Reversible Scarf
Imagine the softest of handspun cashmere caressing your neck. The understated elegance of horizontal bands of subtle texture make this scarf handsome on both men and women. Fine fingering weight. Shown in Jade Sapphire Angelwings. $3.75 wholesale
#H82 V-Start Triangle Lace Shawl
A flattering neckline and easy-to-knit lace patterns combine to create this appealing triangle lace shawl. Instructions are available for two sizes as well as guidance to easily adapt for other sizes. Laceweight. Shown in Mountain Colors Winter Lace. $3.75 wholesale
---
#A43U Johnny Socks
This republication revisits classic socks styled for the man. Johnny Socks feature a textured pattern stitch of embossed ribs and diamonds on the leg. Fingering Weight. Shown in Tilli Tomas Sock Yarn. $3.25 wholesale (replaces A43 with new photography and upgraded layout)
#S31 Fleur de Lace (aka Louisiana Socks) is now available as an individual pattern. In tribute to the state of Louisiana and Mardi Gras celebration, the French fleur de lis is outlined in lace embellished with gold beads against a purple and green background. Shown in Crystal Palace Mini Mochi and Miyuki galvanized gold beads. $3.75 wholesale (originally published in the cd book 50 Socks - 50 States)
---
The June 2011 edition of HeartStrings 4-up PDF Catalog is now available for your convenient download viewing or printing. This includes all the latest patterns announced in this newsletter as well as other updates made since the June 2010 edition.
Enjoy looking through all the pattern designs in the HeartStrings collections at your leisure. This 4-up Catalog can be saved to view offline or printed as you choose. For yarn shops, this catalog is a good way to display information about HeartStrings Knitting Patterns in a limited amount of space.
Remember that downloadable full-size sample cover pages are also available for every pattern. Although the complete set of full size sample pages is no longer available as a downloadable catalog (it got too humongous!), you may still download a full-size sample cover sheet for any individual pattern you wish to view/print. As before, the link to the downloadable sample cover page for each pattern is located at the bottom of the online design collections catalog web page for that pattern. These are lower resolution than the actual printed patterns (primarily for download speed on your end), but should be good enough for printed samples alongside suggested yarns in your shop (i.e. hint-hint to the customer).
Remember too, photos are available of all sample models to use in your promotions and on your website. You can grab any web-ready photos you need off my heartstringsfiberarts.com website. If you need high resolution photo files for particular pattern(s), contact me. (I am working towards setting up a directory where you can get high resolution photos self-serve, but I am not there yet.)
---
Spinning Jacob Wool – one fleece, many colors
Jacob sheep are small, multi-horned animals somewhat resembling goats. I love their spotted colors because of the fun I've had with their wool fleeces. From just one Jacob Sheep fleece, I can create a palette of tones from light to dark … (read more)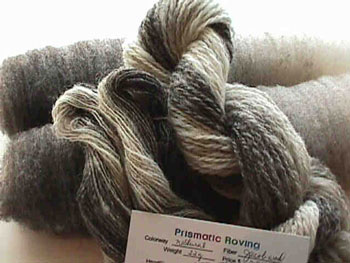 Please feel free to share this article with your customers. Even for non-spinners, there is information I think they will find interesting.
---
Complete Kits for 3 HeartStrings Designs
Colinton Angoras offers "Tucker Box" kits for 3 HeartStrings Designs. These complete project kits feature Colinton's silky worsted-spun 100% Kid Mohair yarn, top quality Japanese glass beads (for the Stole kits), HeartStrings pattern, and Unicorn Fibre Wash/Rinse. All 3 kits come with choice of natural color yarn only, or with dye packet in any of 7 different jewel tones.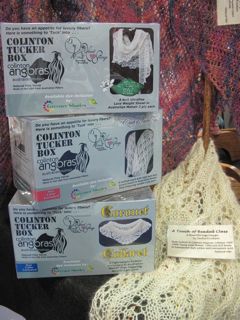 Please contact Colinton Angoras for kit pricing and orders.
---
I welcome your comments and suggestions. Don't hesitate to let me know how I am doing and how I can serve you even better. Best regards,
Jackie Erickson-Schweitzer
HeartStrings FiberArts
53 Parlange Dr, Destrehan LA 70047
Phone: 888-955-8094 (toll-free) or 985-764-8094
Toll-free Fax: 888-467-7840
Email: jackie@heartstringsfiberarts.com
---
HeartStrings FiberArts / Jackie E-S Design Collections
From the classic to the uniquely appealing.

Skill-building, comprehensive instructions.
Yarn-generic patterns to support the yarns you already stock.
Featuring patterns for Knitted Lace and Beaded Knitting.