I write in the midst of gearing up the studio for a busy fall season ahead. This summer, I've allowed myself some time to rejuvenate the creative muses while taking some diversions into travel and recreational activities.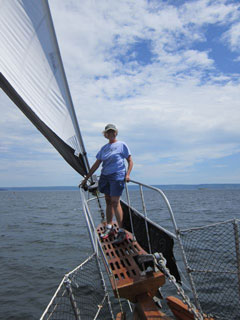 Jackie on the bow of the Amoeba sailboat
Lake Bras d'Or, Nova Scotia
But now it is time to buckle down and get back to work on exciting plans for new HeartStrings designs and services in upcoming months.
Meantime, as Fall quickly approaches, get ready for the knitting season to heat up again! So let's kick off the upcoming season with a special "stock up now" discount on Fall Favorites patterns. Read on ...
Best regards,
Jackie E-S / HeartStrings FiberArts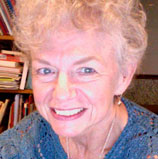 ---
Stock-up-now special on Fall Favorites
Fall is right around the corner. It's time to stock up now for a great knitting season ahead. To help you, I am offering 10% discount on the current wholesale prices of HeartStrings patterns in the Fall Favorites Collection.

Just place your order by August 31, 2011 - email, phone or fax. Normal minimums apply. You can add any other patterns you need to make the minimum, or to just take advantage of spreading the shipping cost over a larger number of patterns. The 10% discount will automatically be applied to the Fall Favorites Collection patterns shown below – no discount code required.
#H02 Playing in the Leaves
Here's a trio of knitted leaf designs to delight anyone and everyone. Shaped leaves to knit in lacy stitches include an Aspen Leaf, Maple Leaf and Oak Leaf. Click for free pdf download of sample cover page.
#A30 Maple Leaves Scarf
This delicate lace scarf is knitted in one piece end-to-end. The silhouette of yarn overs in the main pattern stitch outline a flurry of maple leaves. Click for free pdf download of sample cover page.
#H41 Colorful Spendor Scarf
Show off your favorite bright palette of fall colors in this simple lace scarf pattern. Dainty look-alike scalloped edgings begin and end this one-piece scarf. Click for free pdf download of sample cover page.
#A54 Oak Leaf
This beautiful small lace piece has many possibilities for use as a small doily, tasseled bookmark, applique embellishment, or just because it is fun to knit! Click for free pdf download of sample cover page.
#TSC05 Varsity Socks
Rah, rah, sis boom bah! Support your favorite Fall sports team by wearing their colors. Varsity Sox pattern is the September pattern along with eleven other monthly-themed sock knitting designs in the pattern book The Sock Journal.
---
I welcome your comments and suggestions. Don't hesitate to let me know how I am doing and how I can serve you even better. Best regards,
Jackie Erickson-Schweitzer
HeartStrings FiberArts
53 Parlange Dr, Destrehan LA 70047
Phone: 888-955-8094 (toll-free) or 985-764-8094
Toll-free Fax: 888-467-7840
Email: jackie@heartstringsfiberarts.com
---
HeartStrings FiberArts / Jackie E-S Design Collections
From the classic to the uniquely appealing.

Skill-building, comprehensive instructions.
Yarn-generic patterns to support the yarns you already stock.
Featuring patterns for Knitted Lace and Beaded Knitting.