Happy new year. Did you have a good holiday? I did, but now it is back to work!
The Winter 2011 TNNA Trade Show is just a few days away and I've included a brief TNNA Show Preview in this newsletter and at my website.
I hope you will also enjoy the other short articles/videos included with this newsletter. Feel free to share them with your customers, too.
Best wishes to you for a safe, healthy and prosperous year,
Jackie E-S / HeartStrings FiberArts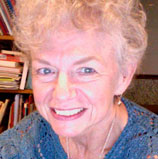 TNNA Show Preview
The Winter 2011 TNNA Trade Show is just a few days away. This TNNA Show Preview (click the link) will help with your plans for covering the showroom floor so that you don't miss what's new and exciting for HeartStrings. The preview highlights the vendors who will be representing HeartStrings at the show and what they will have to entice you.


Long Beach Convention Center
Long Beach, California
January 8-10, 2011
#443/445/447/449 Jade Sapphire
---
The Friday night Yarn Group Fashion Show just before opening day of TNNA Market is always a highlight. To get you in the mood, here are video clips from the last Fashion Show.
---
LetsKnit2gether Interview with Jackie E-S
In this latest episode of the LetsKnit2gether knitting web video series/podcast, Jackie E-S chats with CAT Susch about how she got started as an independent knitting designer and shows some examples of her latest designs exhibited at the TNNA Summer 2010 Show.
Jackie E-S / HeartStrings Designs shown in the interview:
---
Creating the White Lotus Stole
From trial swatches to finished project
While my design process has become more streamlined with practice, the order in which a design goes from concept to completion is seldom a straight-line course. There is ebb and flow, and gradual refinement toward an inner vision -- many steps (sometimes backwards), time, patience -- in plain words, work.
This is a brief story of my journey in creating the White Lotus Lace Shawl. Read the entire article on my blog ...
---
I welcome your comments and suggestions. Don't hesitate to let me know how I am doing and how I can serve you even better. Best regards,
Jackie Erickson-Schweitzer
HeartStrings FiberArts
53 Parlange Dr, Destrehan LA 70047
Phone: 888-955-8094 (toll-free) or 985-764-8094
Toll-free Fax: 888-467-7840
Email: jackie@heartstringsfiberarts.com
---
HeartStrings FiberArts / Jackie E-S Design Collections
From the classic to the uniquely appealing.

Skill-building, comprehensive instructions.
Yarn-generic patterns to support the yarns you already stock.
Featuring patterns for Knitted Lace and Beaded Knitting.