Dear industry partner,

Happy New Year. I hope this years brings you and your customers lots of time to knit and enjoy life. I'm looking forward to sharing with you ideas and inspiration for a new year of great knitting.

Mardi Gras comes early this year. And New Orleans is in the throes of gearing up for the Superbowl at the same time. Whew! Lots going on in the city here. At the same time, my fingers are working hard on sample models for new designs that will premiere at the TNNA Show next month. Can't wait to tell you about them soon.

When I am focusing on what's next, it's easy to lose sight of what's hot right now amongst the over 200 patterns in the HeartStrings line. So, in case you might have missed some of these before, check out the Top 10 to Begin 2013.
Warm wishes,

p.s. When it's chilly, there's nothing better than a warm, hand-knitted blanket or afghan like the Warm Hearts Comfortghan pictured above. You can even stay warm while you knit one — it's a built-in coverup as the size grows and grows! See patterns for afghans and blankets in Warm-Up Knitting below.
---
Top 10 to Begin 2013
Taken from the 'demand rating' reported by Shopatron, this is the top 10 list as 2012 ended and 2013 begins. 'Demand rating' is an indicator of the what is the most popular and drawing the most consumer interest. It is not only based on quantity sold, but on the activity and "buzz" of consumers viewing and talking about the patterns with their knitting friends. Let this help you identify patterns that you might not have thought to stock before. You can click the pictures to find out more information and download a free cover sheet for the patterns.


| | |
| --- | --- |
| Bitty Beady Christmas Tree | Playing in the Leaves |
| | |
| --- | --- |
| Flared Lace Smoke Ring | Thinking of You |
| | |
| --- | --- |
| V-Start Neck Kerchief | Colorful Splendor |
| | |
| --- | --- |
| Lacyflakes | Beaded Stress Ball |
| | |
| --- | --- |
| Filigree Lace | Flames of Fall |
Would love to hear what you think as that helps me focus new designs for the types of patterns you and your customers want and like.

Share your ideas at the HeartStringsFiberArts Facebook page or the Ravelry HeartStrings group. Looking forward to hearing from you. What you say and share counts!


---
Make Your Web Product Listings Stand Out
I offer Marketing Materials Support for all HeartStrings patterns. You have permission to use HeartStrings logo, flyers, sample pattern cover pages, my photos and descriptive text in your HeartStrings patterns promotions, e.g. your newsletters, website, catalog, in-store computer kiosk, etc.

To avoid the internet search engines like Google raising Duplicate Content warnings (which dings both of us on page rankings), it's best to re-write text descriptions in your own way.

You are welcome to use my idea, but word it to make it your own. Search engines reward unique content. Nothing is less unique than a product description used by thousands of sites. Options include rewriting stock descriptions to be unique, or engaging customers to rate and review products to contribute their own unique content to the product pages.

If you have questions or need help with Marketing Materials for HeartStrings patterns, let me know.


---
Warm-Up Knitting: Afghans and Blankets

HeartStrings patterns for afghans and blankets span the range of easy to challenging. So there is something for everyone to knit.


| | |
| --- | --- |
| Warm Hearts | Filigree Lace-edged |
| | |
| --- | --- |
| Elegantly Simple | Lacie Blankie |
When it's chilly, there's nothing better than a warm, hand-knitted blanket or afghan. You can even even stay warm while you knit one — it's a built-in coverup. So let's get knitting!

p.s. The Elegantly Simple Baby Blanket is donationware and a charity knitting pattern. If you have a charity initiative in your shop for prayer shawls or baby blankets in your shop, consider featuring low-cost, washable yarn to go along with this pattern. Your customers can download the pattern for free; donations are appreciated but not required.


---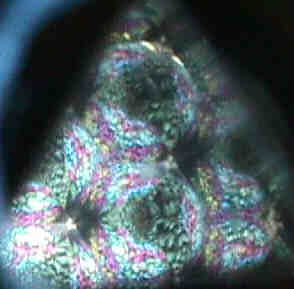 Think about what fun your customers would have using a teleidoscope (similar to a kaleidoscope) to look at yarns in your store. No doubt that more yarn will go home with them. Why? Read on about playing with color ...
Nifty Nuggets
Do You Sell Beads?
I've begun a "Bits of Beads" series for 2013 with my online group of KnitHeartStrings members. Bits of Beads/Bits of Lace (BOBBOL 2013) continues the popular Bits of Lace 2012 Series with the addition of bit-size projects for building skills in beading. If you sell beads, I invite you to contact me to be listed on the Bead Sources page. We have 3000+ members and growing, so it's quite likely I can send some business your way.

Circular Needle for Flat Knitting
When there will be lots of stitches, I like to work with a circular needle even if just working back and forth such as for knitting a blanket. Read on ...

Fiber Corner
Wool damage — bad me! Learn what NOT to do so you don't have this type of disappointment. Read on ...